Interview
NSO Founder Completes $7.5 Million Raise For Cyber Defense Platform Orchestra
Orchestra CEO Omri Lavie says Covid-19 crisis increases comapnies' cybersecurity needs
Cybersecurity company Orchestra Group, founded and managed by Omri Lavie, one of the founders of the well known mobile surveillance company NSO Group Technologies, has raised $7.5 million on a valuation of $18 million. The first round of funding for the company was led by Prytek, a multinational venture capital firm based out of London, chaired by former Bank Hapoalim chairman Yair Sarousi. Prytek has set up an international marketing, distribution and sales network for the products of its portfolio companies, which brings them additional revenue and speeds up the company's growth and increases its value. German-Israeli fund Target Global also participated in the round.

Unlike NSO, which focuses on surveillance, Orchestra is targeting the defensive cybersecurity market. The company develops a platform that synchronizes the various security products that exist in the organization, and analyzes and builds organizational security policies.

Lavie founded Orchestra in 2018 together with chief technology officer Jacob Ukelson and chief operating officer Isaac Zack. The company employs 35 people, most of them in its Tel Aviv offices.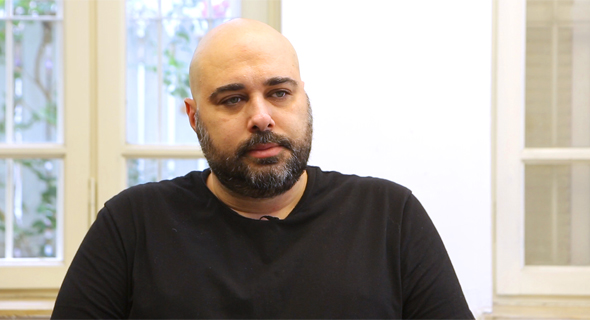 Omri LAvie, Founder of Orchestra and NSO. Photo: Ta Azoulay

"Orchestra has clients and earnings of several million dollars. We started the round before the outbreak of the coronavirus (Covid-19) pandemic. We had planned to purchase one of Prytek's portfolio companies and ended up raising money from them," Lavie told Calcalist in an interview Sunday. He said the funds would go towards planned purchases by Orchestra. "We are in negotiations with one company and aim to close a deal in the coming months. There are quite a few companies that are not in a good place right now and are looking for a good home rather than to close down," Lavie said.

Lavie doesn't seem concerned that the economic crisis will negatively impact the flow of funds into the tech sector and the cybersecurity industry in particular. "In every crisis, there is a tendency to tighten the belt. In this case, the solution is remote work meaning the need for cybersecurity will be even greater."

Lavie still owns a chunk of NSO stock as part of a buyback deal with Francisco Partners at an $800 million valuation a year ago. The group's name was embroiled in the murder of Saudi journalist Jamal Khashoggi by the Saudi government, a connection that the company denies. But Lavie says he is not worried about potential investors associating his name with NSO's."So far it's helped me rather than hurt me," he said. He thinks the company's reputational challenge is a result of regulatory issues. "NSO's field of operation is extremely narrow and entrenched in regulations and oversight as opposed to defensive cybersecurity operations, which is a huge and unregulated field," he said.

NSO was once again in the headlines recently after the company claimed it had developed a platform that can track the movement and actions of people infected with Covid-19 going backward two weeks. The system is reportedly already garnering interest in Israel and abroad.