Conference Call
Bringg CEO: Covid-19 Crisis Preceded Our Strategic Plan by 5 Years
CEO of Tel Aviv-based on-demand delivery management startup says company determined to make most of opportunities presented by Covid-19 pandemic
Very few companies have escaped the economic tsunami unleashed by the coronavirus (Covid-19) pandemic. However, there are also the likes of Tel Aviv-based Bringg Delivery Technologies Ltd., which has not only avoided the ill effects of the financial slowdown but is now prospering more than ever.

Talking on Conference Call, Calcalist's online convention on tech in the coronavirus era, Guy Bloch, the CEO of the on-demand delivery management startup, said Covid-19 completely transformed the company's timeline. "The crisis preceded our strategic plan by five years," Bloch told CTech editor-in-chief Elihay Vidal. "While other companies are cutting back we found ourselves shifting up a gear. We are helping businesses become digital and survive this new world."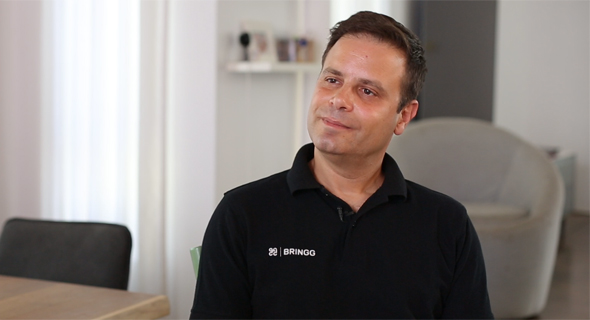 Guy Bloch. Photo: computer screenshot

Last month Bringg launched new software dedicated to small businesses and provided it for free to companies in the food and beverage industry. Bringg intended to launch its small business shipping management software later this year, but because of the increase in deliveries due to the coronavirus pandemic, the launch was pushed forward. Founded in 2013, Bringg develops Uber-like management software for third-party delivery suppliers and counts Coca-Cola, Panera Bread, McDonald's, and Walmart among its clients. Bringg is active in 50

countries worldwide and employs some 130 people. The company has raised $57.5 million to date, according to PitchBook data.

"We expected everything that coronavirus has now made a reality to happen sometime between 2022 and 2025," Bloch said. "All our strategic

plans were built around the best way to be ready when that time arrives and to be able to support that market. Covid-19 suddenly accelerated everything and it is all happening now already. A vacuum was quickly created as people either didn't or couldn't leave their homes and all the small and big businesses needed to find a way to reach their customers. Some of our clients have seen their total deliveries increase by 800-900% every week."

Bloch broke down the thinking behind Bringg's software. "Our solution is a system that knows how to connect all the different components

related to deliveries: orders, inventory, storage, drivers and more," he explained. "The data belongs to our clients. We provide an operating system that knows how to combine all the information and provide the best possible result."

Bringg announced earlier this month that it raised $30 million in a Series D funding round. "We began the round before the arrival of coronavirus and its goal wasn't to keep the company afloat but to help build our workforce and support our growth," explained Bloch. "We are now seeing in the market ttalent that it previously took us months to recruit. There is far greater gratitude from employees these days and there is also a greater willingness to compromise on financial terms and to get through this period together."