Bringg to Layoff 10% of Employees in Israel
CEO Guy Bloch changes his tune after telling Calcalist earlier this week that "while other companies are cutting back we found ourselves shifting up a gear"
Very few companies have escaped the economic tsunami unleashed by the coronavirus (Covid-19) pandemic, and despite the recent statements by Guy Bloch, the CEO of the on-demand delivery management Bringg Delivery Technologies Ltd. is not one of them. The Tel Aviv-based company has summoned approximately 10% of its employees, on Holocaust Remembrance Day (Tuesday), to a Zoom meeting where they were informed that most of them will be laid off, according to one person familiar with the matter who spoke to Calcalist on condition of anonymity.

Bringg has yet to respond to Calcalist's request for comment.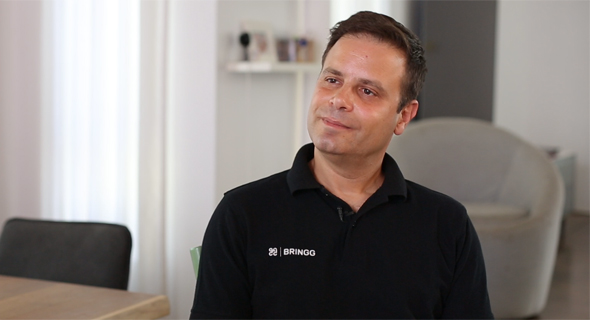 Guy Bloch, Bringg CEO. Photo: computer screnshot

On Monday, Bloch told CTech editor-in-chief, Elihay Vidal, that "while other companies are cutting back we found ourselves shifting up a gear. We are helping businesses become digital and survive this new world."

Bringg currently employs a team of 110 people in Israel, and between 10-15 are set to get laid off, that person said. It is unclear if they are to get laid off because of the coronavirus pandemic, or for unrelated reasons.

Founded in 2013, Bringg develops an Uber-like management software for third-party delivery suppliers and counts Coca-Cola, Panera Bread, McDonald's, and Walmart among its clients. Bringg is active in 50 countries worldwide and employs some 130 people. The company has raised $57.5 million to date, according to PitchBook data. Bringg announced earlier this month that it raised $30 million in a Series D funding round.