Covid-19 Cutbacks
It's Not Easy Being Green: Cannabis Company Syqe to Fire 10% of Workforce
Manufacturer of medical marijuana inhaler firing 10 workers, sending 10 more on unpaid vacation
The Coronavirus (Covid-19) outbreak is starting to impact the Israeli Cannabis sector. Individuals at Syqe Medical Ltd. told Calcalist on condition of anonymity Sunday that the company that manufactures cannabis inhalers has called in 10 workers, who make up 10% of the company's employees, to pre-termination hearings with another 10 sent on unpaid vacation. Syqe also carried out a company-wide pay cut for all its remaining employees.

Syqe was founded in 2011 by CEO Perry Davidson. The company is chaired by former Israeli Health Ministry Director-General Eitan Hai-Am.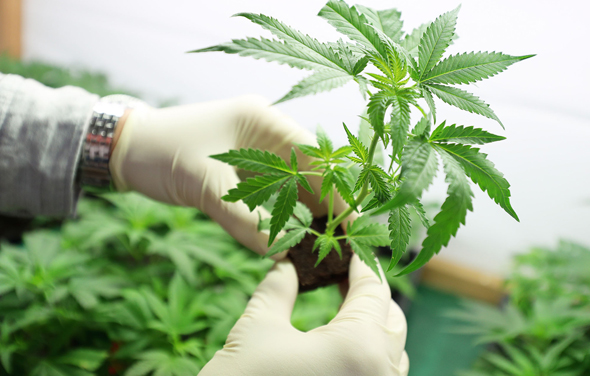 Cannabis (illustration). Photo: Shutterstock

Syqe launched the first metered-dose inhaler, designed for precise delivery of cannabis and other medicinal plants' molecules, in 2019. It has raised a total of $83 million to date from investors like Phillip Morris, OurCrowd, Shavit Capital, and PRM, the investment arm of the Martin Bauer Group.

"The coronavirus pandemic has led to a crisis in the Israeli and international market. We, like other companies here and abroad, were unfortunately forced to take steps to reduce personnel expenditures. In an effort to maintain our workforce we have cut the company's expenses as much as we could, including avoiding unnecessary expenditures and instilling temporary pay cuts. We believe things will return to normal following the crisis," the company said in response to an inquiry by Calcalist.