Eight Years and $83 Million Later, Syqe Medical Releases First Cannabis Inhaler
Teva will market the company's inhalers exclusively in Israel, after signing a marketing and distribution agreement with Syqe in 2016
Tel Aviv-based cannabis company Syqe Medical Ltd. has unveiled its first cannabis inhaler Wednesday, after having invested $83 million and eight years into its development. The company will begin distributing its product in Israel before expanding to other countries, Syqe's founder Perry Davidson said in a Wednesday interview with Calcalist.

For daily updates, subscribe to our newsletter by clicking here.

The metered-dose inhaler is roughly pocket-sized, and is designed for precise delivery of cannabis and other medicinal plants' molecules. The inhaler will be priced at NIS 1,950 (approximately $545), the company said in a statement.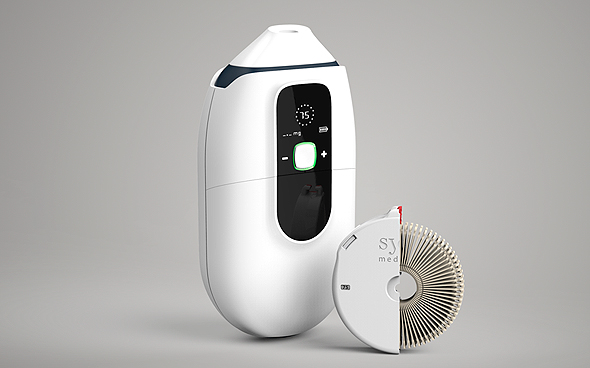 Syqe's inhaler. Photo: Syqe

Tel Aviv-listed Teva Pharmaceutical Industries Ltd. will market the company's inhalers exclusively in Israel, after signing a marketing and distribution agreement with Syqe in 2016. Syqe will be responsible for the production of the inhaler and its accompanying disposable containers and Teva will distribute the inhalers to doctors, nurses, hospitals, clinics, and pharmacies.

The company has raised a total of $83 million to date and employs a team of 100 people. The company is working towards receiving FDA approval for its inhaler, Davidson said.