Data Saves the Day: Qualitest AI Expert on Being Recruited to Help Israel Combat Covid-19
Data scientist Ron Ritter shares his experiences from the government's task force to stop the spread of coronavirus
When Israeli Prime Minister Benjamin Netanyahu stands at the podium and boasts of Israel's rapid and effective containment of the coronavirus (Covid-19) pandemic compared to other countries, he can do so in part because he trusts the data he's reading off of— statistics and variables compiled, validated and tested by the likes of Ron Ritter, head of artificial intelligence and data science, at Qualitest Group.

As the virus was making its way around the world to Israel, Ritter answered the call to join a research task force, working towards analyzing data and providing insights to help shape the country's response.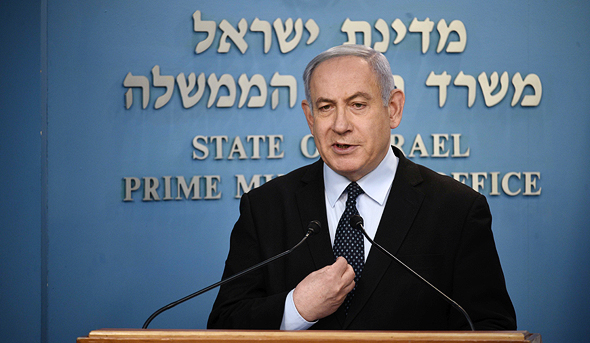 Prime Minister Benjamin Netanyahu holds a press briefing preventing the spread of Covid-19. Photo: Yoav Dudkevitch

"I was asked to contribute our abilities to understand patterns, create predictions and analyze response capabilities," Ritter told CTech in an interview on Wednesday. To do so, Ritter and the AI team at Qualitest Israel, the local branch of the Fairfield, Connecticut-based quality assurance and testing solutions giant, created an index that presents countries' relative ability to cope with the medical challenge.

The time-relative index presents a standardized growth rate of confirmed infections based on the change rate of the last two days. "Countries should strive to be on the negative side of the chart where the growth rate is lower than the global median on that relative day," explained Ritter.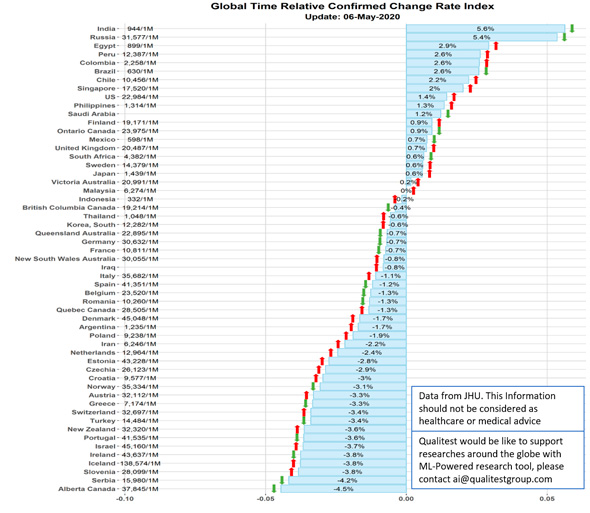 Qualitest chart showing growth rate of confirmed Covid-19 infections. Photo: Courtesy

Ritter said the task force, which is made up of dozens of people from a range of private, public, and security organizations, worked on their studies and on formulating recommendations remotely, a sort of open-source GitHub project, just with stronger security, more validation, and much higher stakes.

"During this challenging time, we must all do what we can to combat the spread of Covid-19. For many, that is staying at home and following the WHO guidelines – I am fortunate to be in a position to aid Israel's battle against the pandemic by bringing my data science experience along with the full force of Qualitest's expertise to assist the Ministry of Health, and it is an honor to do so," said Ritter.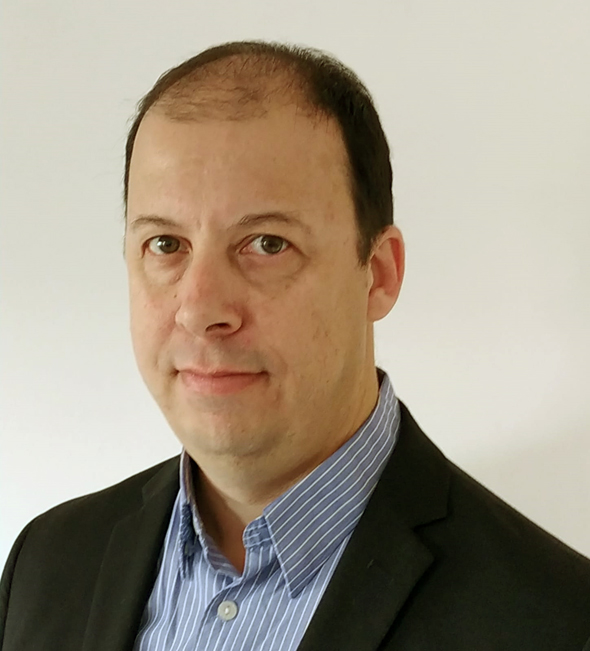 Ron Ritter, Qualitest. Photo: Courtesy

The data was able to successfully predict the high infection rates in the U.S. and U.K. and, according to Ritter, the next major outbreaks are taking place in Russia and India.

"Our index shows that in the beginning, Israel didn't cope as well compared to other countries, but today we are one of the best respondents," said Ritter. "One of the critical factors was the strict social distancing regulations put in place by the government, relatively early on."

Analyzing complex data of various types and from numerous sources is Ritter's bread and butter. A veteran of the AI, business intelligence, and machine learning tech sector, he co-founded with Basel Deeb prediction analytics solutions provider AlgoTrace in 2017. Two years later, in December 2019, it was acquired by Qualitest and Ritter took over as head of AI and data science at the 3,500-strong multinational company.

"Qualitest bought AlgoTrace to improve testing of our clients AI systems," Shai Liberman, the managing director of Qualitest Israel and Eastern Europe told CTech. "The team provides our clients with important statistical models to predict project success rates, improve their systems, and shorten pipelines."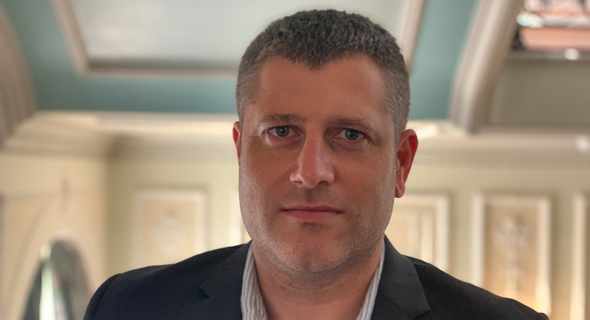 Shai Liberman, managing director of Qualitest Israel & Eastern Europe. Photo: Courtesy

Founded in Israel in 1997 by Ayal Zylberman and Eli Margolin, Qualitest has grown to become the largest QA company in the world with upwards of 400 clients across all sectors including governments, security organizations, and industry leaders in the fields of entertainment, social media, and software.

Liberman said that the recent pandemic and the restrictions that followed forced the company to adjust rapidly to the new-normal. "Lots of things are changing. We are constantly in touch with our clients, helping them build and carry out their business continuity plans, providing the data and expertise to back it up."

"The recent developments also saw lots of demand from the cybersecurity business. People who are working from home are far more exposed to malware and hacking attempts, which have gone up by hundreds of percent," Liberman added. "We are also helping states tackle national projects, like the rise of e-learning."