As Meat Shortages Spread Globally, These 6 Startups Offer Alternative Cuts
From cellulose-printed hamburgers to lab-grown steaks, these Israel-based startups are developing meat alternatives for everyday consumption
For years, the foodtech sector attracted much buzz, yet, seemed to have little to do with what we actually put on our plates every day. But, with advances in 3D-printing technologies, the rise in climate change awareness, and the current fears of a global meat shortage due to the coronavirus (Covid-19) crisis, it seems alternative meat options are becoming more desirable and viable by the minute.

Luckily, many companies out there are hoping to ride the growing trend of environmentally sustainable and ecological food consumption. From cellulose-printed hamburgers to lab-grown steaks, below are six Israel-based startups developing cruelty-free and environmentally friendly alternatives to everyday products.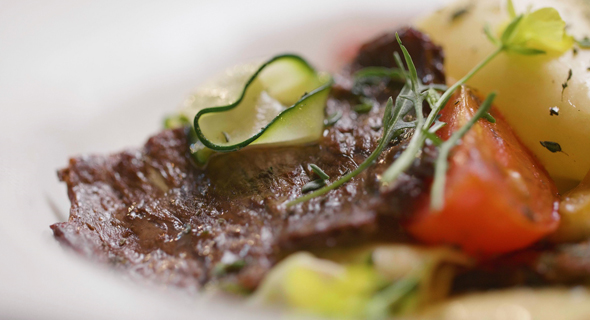 Aleph Farm's lab-grown steak. Photo: Aleph Farms

Redefine Meat

Founded: 2018

Based in: Ness Ziona

Funding raised to date: $6 million

Redefine Meat Ltd. develops 3D-printing technology for alternative meat products. Redefine Meat uses digital models and food formulations to produce an animal-free product that has the appearance, texture, and flavor of whole muscle meat, according to the company's statements.

Redefine Meat is aiming to start serving its products in restaurants by the end of 2020 and start commercial production by 2021. The company's printed products mimic the mouthfeel of real beef steak, including fat and fiber, with a price tag of $35 per kilogram, Redefine Meat founders Adam Lahav and Eshchar Ben-Shitrit said in a September interview with Calcalist.

Future Meat

Founded: 2018

Based in: Jerusalem

Funding raised to date: $16.2 million

Future Meat Technologies Ltd. develops technology that produces meat from animal cells, without the need to raise or slaughter animals. The company's focus is on the cost-efficient production of fat and muscle cells in small-scale rejuvenating bioreactors.

The company intends to launch a pilot cultured meat production facility in Tel Aviv's south later this year, the company said in previous statements.

SuperMeat

Founded: 2015

Based in: Tel Aviv

Funding raised to date: $3 million

The company produces edible lab-grown meat by culturing cells that have been extracted from live chicken. The process eliminates the need to propogate and raise animals for slaughter. According to the company, cultured meat products minimize exposure to food-borne illnesses and reduce pollution and water consumption by the food industry. SuperMeat products are produced using 99% less land and 98% less water than conventional meat products, and emit 96% fewer greenhouse gases, according to the company.

SuperMeat already has more than $240,000 in pre-orders done via an Indiegogo crowdfunding campaign in 2016. SuperMeat previously stated it aims to bring its lab-grown poultry meat to market by 2022 at a price point similar to traditionally manufactured chicken products.

MeaTech

Founded: 2018

Based in: Ness Ziona

Funding raised to date: Undisclosed

MeaTech Ltd. aims to turn umbilical cord samples from cows into fully-fledged meat. A cell line is developed for cell reproduction, then cells are differentiated into inks with different cell types such as fat and muscle. The cell types are then 3D-bioprinted, and what is bio-printed is then placed in incubators to mature and grow.

Aleph Farms

Founded: 2017

Based in: Rehovot

Funding raised to date: $14 million

Aleph Farms Ltd. was founded by The Kitchen, the food-tech incubator of Israeli food processing company Strauss Group Ltd., in collaboration with research university Technion Israel Institute of Technology. In statements, the company has said it is able to reproduce different types of beef cells, such as muscle, fat, and blood vessel cells, to create a structure that closely resembles that of a conventional cut of meat. In December of 2018, the company unveiled its first lab-grown minute steak.

SavorEat

Founded: 2016

Based in: Rehovot

Funding raised to date: $2 million

SavorEat Ltd., formerly known as Chef-It, is working to develop a machine that can instantly print a vegan burger from a cartridge containing plant-based proteins, fats, flavor components, and cellulose, a fiber that can be manipulated into a variety of textures, including that of beef muscle and fat. The machine is designed to use infrared light to cook the burger as it prints.

Earlier this year, Israeli hamburger restaurant group Burgus Burger Bar (BBB) announced it will take part in the final stages of SavorEat's product development. Once the company's printed burgers are market-ready, they will be served exclusively—for a limited time—at BBB restaurants. A pilot is planned for mid-2021.