Prominent Journalist to Sue Netanyahu's Son for Posting Sexist and Offensive Tweets About Her
Television network and anchor allege Yair Netanyahu's statements were "misogynist and bordering on sexual harassment"
Veteran television journalist and anchor Dana Weiss and the N12 news network will sue Yair Netanyahu, Prime Minister Benjamin Netanyahu's son, for "misogynist and bordering on sexual harassment statements posted by him on Twitter," they announced in a statement.

"Does anyone know how Dana Weiss got such a senior position at the network? … Articulate? No. Smart? No. Interesting…", the younger Netanyahu, who is no stranger to controversy, mused on Sunday on his popular feed that has nearly 80,000 followers.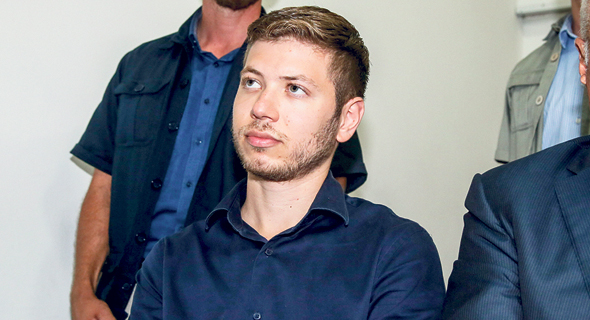 Yair Netanyahu. Photo: Yariv Katz

Though the tweet received hundreds of replies, with some making far more explicit allegations, some of which the prime minister's son retweeted, Weiss chose not to reply to the 28-year-old via the social network and instead decided to take the issue to court.

"These are false and grave statements that constitute defamation," the network said, adding the suit would be filed in the coming days.

"These statements speak for themselves. We are in the year 2020 and everyone must ask themselves whether they are willing to live in a reality in which women are forced to suffer insults, sexual innuendo, and vicious slander in order to justify their success," Weiss, 51, wrote in a statement. "A red line has knowingly been crossed and it is our duty to put an end to this wayward behavior that permits the humiliation of women through fake news and lies that reach the threshold of defamation and sexual harassment."

Yair Netanyahu has often butted heads with the popular Israeli news network, including with Weiss herself. Last year, Weiss was recorded calling Yair Netanyahu a "shitty kid" after he reportedly held up a flight to Washington, that Weiss was on, covering the prime minister's state visit to the U.S. capital. Weiss, who has worked in journalism for more than 25 years, later apologized for the namecalling.

Yair Netanyahu later threatened that the network should "expect a negative response" after recalling that the same news organization had published secret recordings of him on a night out visiting strip clubs with his friends along with state-employed bodyguards.

Yair Netanyahu has no official capacity in his father's administration, but has been a key campaigner and advocate on his behalf as the prime minister faces trial on charges of corruption.