"Israel is Delusional in Thinking that the Covid-19 Crisis is Over"
Veteran fund manager Gili Raanan offers a reminder that "when it rains in New York, everyone gets wet"
Gili Raanan, the founding partner of venture capital firm Cybersart, which announced last week it had raised $100 million for its second cybersecurity-focused fund, is unimpressed with Israel's apparent return to normalcy following Covid-19. In an interview with Calcalist to mark the new fund, he and his new partner Lior Simon warn against complacency. "I think Israel is delusional about things going back to normal. I am very pessimistic about the situation in the U.S., which will no doubt impact us on many levels. If the situation in the U.S. remains dire, there won't be any partying in Tel Aviv. If it rains in New York, everyone gets wet," he said.

"I believe the health crisis, and as a direct result, the economic crisis will be very acute," Raanan said. "Predictions that retail consumption will remain 30% lower than they were before the outbreak will trickle down everywhere, companies will sell less and the entire ecosystem will suffer. The travel and hospitality industries have experienced a major blow and can't see any relief on the horizon. Cyber companies will also sell less, both directly and indirectly."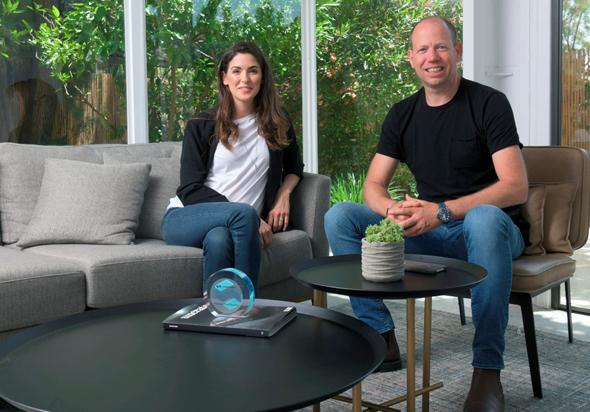 Cyberstarts partners Gili Raanan (right) and Lior Simon. Photo: Yossi Zeliger

"We are likely entering a trial and error period when it comes to tourism. There will be attempts to open borders and authorize flights before the industry can figure out where the problems lie and where routine operations can be carried out," added Lior Simon, who in the past worked with Raanan at Sequoia Capital and joined as a partner in the new fund.

Do you think that companies will require more cyber capabilities?

"It's a complex matter. This wasn't an atom bomb level event, and still, we are seeing a 30% impact on sales for the two years to come. There are too many cyber companies in the field, including companies that only provide a single feature and are not a real company. This was the case prior to the crisis and is doubly so now," said Raanan.

The cyber industry is a byproduct of technological and commercial developments, Raanan explained. "When you offer new services, you open yourself up to new threats. The cyber industry is a product of the business you are active in or catering to. As we can see, we are talking about an industry with high tolerance to crises. The fact that employees switched over to work from home painted a threat assessment chart that is new to the organizations. When an employee uses their child's computer for work, that's a threat. When they use home internet connections, that's a threat. When they work from home and you can't see what they're doing, that's a threat. From a security perspective, all the changes that were brought about by WFH are not just new methods of doing things, but a new attack vector and also a new opportunity for tech firms in the space. The bottom line is we're looking for young startups that will stay around long term. No one is seeking to invest in a company for short-term gain, we're looking for companies that will have sales of hundreds of millions of dollars in a decade."

Where do you identify problems for the cyber industry?

"If you took on a company that was focused on a single vertical and that vertical was retail - the blow will be particularly heavy, especially if you are new to the scene. When you are new, you are the first one to be hurt and the first to have sales agreements canceled. If you build a company correctly, with numerous verticals, you may experience weakness in one but you will have the rest to lean on," said Raanan.

Unlike Cyberstart's first fund, which raised $52 million, the new one has already raised $100 million and is expected to provide larger returns to its investors. It too was joined by some of Israel's leading tech figures including: Shlomo Kramer and Marius Nacht from Check Point Mickey Boodaei and Rakesh Loonkar, two of the founders of Trusteer Inc., which was acquired by IBM in 2013; Palo Alto Networks Inc. founder Nir Zuk; and Assaf Rappaport, founder of cyber startup Beyond Security and the former general manager of Microsoft Israel's development center. The Sequoia Fund, in which Raanan is a partner and Simon had previously worked, also invested in Cyberstarts.

How will you select investments for the new fund?

"On the day that I signed the fund's finalizing documents I was very happy because I realized the scale of work, time, and talent that would be required to succeed with it. I think that the only path to success in this venture, like it was in the previous fund, is to locate the best teams Israel has to offer and together with them identify the biggest problems in the sector," Raanan said. "If you are solving a small problem you don't have a chance of building something grand. Armis Security, as well as a handful of other impressive Israeli companies, has proven to us that it is possible to build something big in the cyber industry.

"Most of the funds come from entrepreneurs and the rest comes from institutional investors.," he said. "I would be happy to invest in new entrepreneurs in the cyber ecosystem. Half of our investments were in entrepreneurs who were managing their first company and part were returning entrepreneurs. We don't have a strategy when it comes to this issue."

Will we see another Cyber Unicorn like Armis or Checkmarx?

"I believe so and it will be much sooner than you think," Raanan said.

So far, the fund has made six investments, with two of the companies, Fireblocks and Axis Security, having already raised $33 million in follow-on rounds. CyberStates has recruited 40 senior American data security consultants in major U.S. companies such as Starbucks, Home Depot, Walmart, United Airlines, MassMutual Insurance, and cloud-first companies such as DocuSign and Zoom. All have experience in procurement and implementation of cyber products in huge companies, and they support the fund's decision making and help the portfolio companies come up with the best product for the market.