IAI to acquire drone manufacturer Bluebird
Bluebird specializes in making relatively small unmanned aerial vehicles including a model that can take off and land vertically
Israel Aerospace Industries (IAI) is in advanced negotiations to acquire Israeli drone manufacturer Blubird Aero Systems Ltd. at a valuation of NIS 100 million (approximately $29 million), according to people with knowledge of the deal who spoke to Calcalist under the condition of anonymity.

Founded in 2002 by CEO Ronen Nadir, Bluebird specializes in making relatively small unmanned aerial vehicles suitable for a range of missions, including a model that can take off and land vertically, without the need for a runway. Nadir holds 20% of the shares in the company. Other prominent shareholders include India-based companies Cyient Ltd. and the Puranas Group. The company employs about 70 people.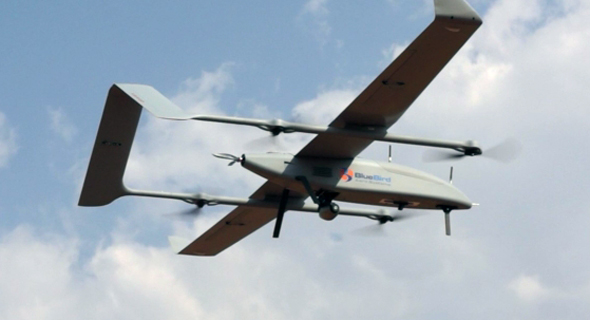 A Bluebird UAV. Photo: Bluebird

The development and production of unmanned planes have been one of the flagship activities of IAI since the 1980s. However, when it comes to smaller drones, IAI falls behind its competitors Elbit Systems Ltd. and Aeronautics Ltd., which was purchased last year by defense contractor Rafael Advanced Defense Systems Ltd. and Israeli businessman Avihai Stolero for NIS 850 million (approximately $250 million).

The Indian military is one of Bluebird's most prominent clients, alongside the Israel Defense Forces. Last year Bluebird signed a contract worth tens of millions of dollars with an undisclosed European country for the purchase of 150 multi-purpose drones. The company's aircrafts have been sold in the past to Greece, Mexico, Chile, and Spain in some of the cases to equip civilian government agencies with tools for agriculture and drug enforcement.

A report by Tel Aviv University's Institute for National Security Studies that examined the status of Israel's defense industry in light of changes in U.S. military aid to Israel recommended the merging of large and small defense companies in order to make them more competitive with their international rivals. The report identified a potential reduction in global military spending in light of the coronavirus pandemic and the financial crisis that followed it.