Israeli cannabis company InnoCan raises $3.7 million
InnoCan focuses on the development of several drug delivery platforms combining cannabidiol ("CBD") with other pharmaceutical ingredients
Israel-based InnoCan Pharma Ltd., a company developing over-the-counter cannabinoid-based drugs and treatments, has announced the closing of a $3.7 million prospectus offering of units on the Canadian Securities Exchange. The net proceeds raised under the offering will be used for research and product development, sales and marketing, and general and administrative expenses.

InnoCan focuses on the development of several drug delivery platforms combining cannabidiol ("CBD") with other pharmaceutical ingredients. InnoCan is collaborating with Tel Aviv University on the development of a new exosome-based technology that targets both central nervous system indications and coronavirus (Covid-19). CBD-loaded exosomes, extracellular vesicles that are present in tissues and can also be found in biological fluids including blood, urine, and cerebrospinal fluid, may hold the potential to provide a highly synergistic effect of anti-inflammatory properties and help in the recovery of infected lung cells. This product, which is expected to be administered by inhalation, will be tested against a variety of lung infections.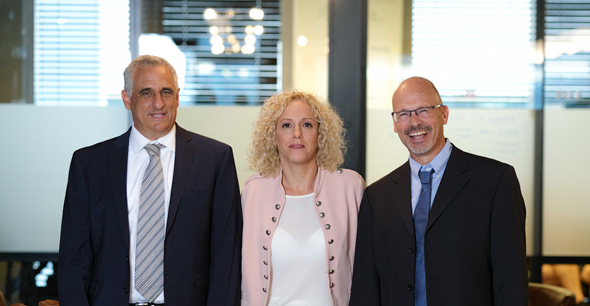 InnoCan co-founders Yoram Drucker, Iris Bincovich and Ron Mayron. Photo: Rotem Lahav
InnoCan Pharma Israel has entered into a worldwide exclusive research and license agreement with Yissum Research and Development Company, the commercial arm of the Hebrew University of Jerusalem, to develop a CBD drug delivery platform based on a unique-controlled release liposome, a spherical vesicle which can be used as a vehicle for administration of nutrients and pharmaceutical drugs, to be administered by injection. The company is also working on a dermal product integrating CBD with other pharmaceutical ingredients.
Co-founded in 2017 by CEO Iris Bincovich, Nir Avraham, Yoram Drucker, former co-founder of Brainstorm and Pluristem Therapeutics, and Ron Mayron, formerly the CEO of Teva Israel, InnoCan raised $4.4 million prior to its IPO in 2019, $3 million of the sum from Gibraltar-registered Solsken limited, which invests in cannabis companies. $850,000 million were invested by 522 people during a crowdfunding campaign InnoCan held in August 2019 on Pipelbiz.