Green Light: EU grants Panaxia certification for exporting medical cannabis
The EU-GMP certification granted to Panaxia is wider in scope than any previously granted to Israeli companies active in the European market
Israel-based cannabis outfit Panaxia Pharmaceutical Industries Ltd. announced Thursday that it received official EU-GMP certification enabling it to export medical marijuana to member countries of the EU.

Panaxia became the first publicly held medical cannabis company in Israel to receive the requested standard, and the second Israeli company overall, after BOL Pharma received the coveted standard in January, and even made its firstcommercial export to the U.K.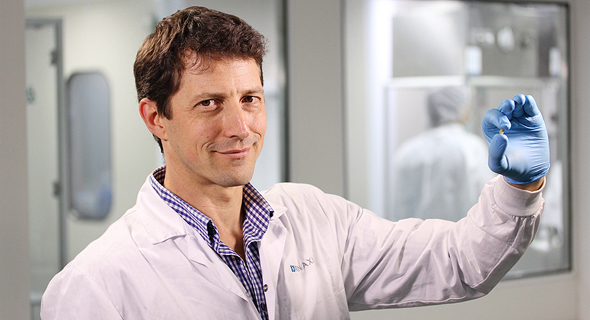 Dadi Segal, CEO of Panaxia Global. Photo: Jaron Levisohn
Though Israel's Ministry of Health, which acts as the regulator for the field, has yet to implement exports, obtaining the certificate is a major development for the Israeli cannabis market. Medical cannabis suppliers can now use the approved Panaxia manufacturing services to export their products to Europe. To this end, they must be certified by Panaxia and their products must be produced at the Panaxia facility.
The certification granted to Panaxia is wider in scope than any previously granted to Israeli companies active in the European market, enabling it to produce and export medical cannabis products in the form of buds, oils, and inhalation extracts.
Israeli medical cannabis companies, including Panaxia, set their sights on the German market as their first and major export destination when presenting to investors. It is estimated by the industry that the potential revenues of cannabis exports from Israel to all target countries is currently around $1 billion a year, for the first four years of export.
"EU-GMP certification enables us to accelerate completion of the process for regulatory registration of Panaxia products and brands in Germany, Denmark and other target countries in the European Union and brings us closer than ever to commercialization and sales jointly with our strategic partners who are the leaders in these markets, Neuraxpharm in Germany and STENOCARE in Denmark," Dadi Segal, CEO of Panaxia Global told Calcalist in a recent interview.
"The certification will allow Panaxia to begin realizing the business strategy we presented to investors, and the fact that of all of the Israeli factories seeking it, Panaxia is the only one to obtain certification, is a testament to the company's investment in its production facilities and the value attributed to its professional staff. Now all that remains is that the Ministry of Health allows companies to export without restrictions so that we can fully implement the business strategy, and take advantage of our competitive advantage in the target countries," Segal added.
It must be noted that certification is just the basis for export production and that the introduction of medical cannabis products for sale in European pharmacies can only be made after the products have completed registration procedures in EU countries, which take 6-18 months, depending on the specific country.