Analysis
With Exports Delayed, the Promise of Israel's Cannabis Industry Goes Up in Smoke
A glance at the 2019 financial reports by Israel's 11 public medical cannabis companies reveals a rather glum picture
Last week, the last of Israel's public medical cannabis companies published its financial report for 2019. A glance at the numbers presented by all 11 companies reveals a rather glum picture.

Five of these companies, all with activity mainly or exclusively dedicated to medical cannabis, finished the year with zero income, millions of shekels in losses, a high cash burning rate, exceeding for some of them the available cash in their coffers.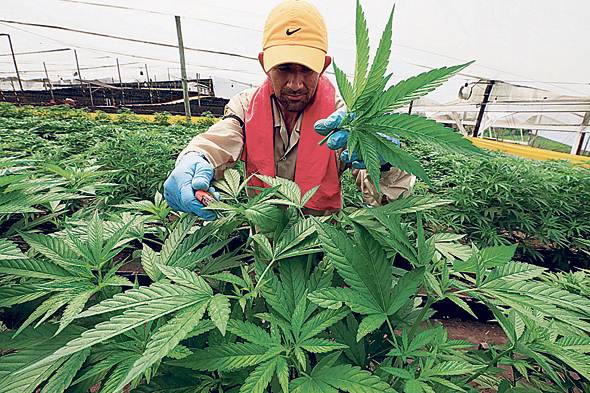 Cannabis farmer in Colombia. Photo: Reuters
Two of the remaining six companies managed to scrape several hundreds of thousands of shekels in revenue but these sums were negligible, considering the industry's vast potential. These companies, flaunting potential new and lucrative markets, managed to reach valuations and market capitalizations of millions of shekels, without any income or even a functioning production facility.
Only four Israeli public cannabis companies managed to show significant revenues in their 2019 reports: Seah Medical Group Ltd. reported NIS 28.8 million (approximately $8.2 million); Pharmocann Global Ltd. reported NIS 20.88 million (approximately $5.9 million); Panaxia Labs Israel Ltd. reported NIS 16.6 million (approximately $4.7 million); and Canndoc Ltd. reported NIS 9.5 million (approximately $2.7 million), according to its parent company InterCure Ltd.'s annual report. These four companies are veterans in the field, having operated in it for about a decade, and began seeing revenues before their initial public offerings (IPOs).
Most medical cannabis companies remain unprofitable but the operational profit they reported for 2019 was misleading as it contained data that was irrelevant to the company's cannabis activity, such as stock exchange registration fees and biological assets, the value of which is not comparable between companies.
A recent analysis by international accounting firm BDO shows that if the irrelevant sections—amounting to a total of NIS 349 million (approximately $99 million)—are taken out of the picture, only two of the four veteran companies ended 2019 with a positive bottom line: Seah Medical with NIS 9.2 million (approximately $2.6 million) in non-GAAP earnings and Pharmocann with NIS 3.6 million (approximately $1 million).
In the first quarter of 2019, the initial optimism of the industry persisted and stocks skyrocketed, as a line of former Israeli officials took prominent positions in cannabis companies. The younger companies were just starting out back then and every shelf corporation adorned with a cannabis throne was awarded hefty investments. Merger announcements and the annual reports for 2018 were all spiced up with optimistic forecasts meant to encourage investors to draw out their wallets.
2019 was supposed to be the year when these forecasts materialized but the reports clearly indicate it was mostly the turning point for the industry from promising to disappointing.
Together Pharma Ltd., chaired by former Israeli chief of police Yohanan Danino, for example, forecasted in March 2019 that it would end the year with NIS 252 million (approximately $71.4 million) in revenue. Instead, it ended it with NIS 0 revenue.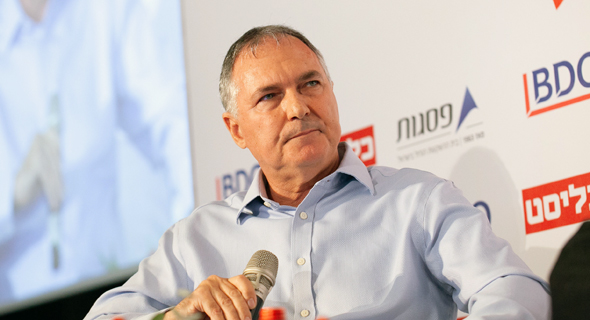 Former Israeli chief of police and chairman of Together Pharma, Yohanan Danino. Photo: Aner Green

Univo Pharmaceuticals Ltd. was another company to falsely prophesize when, in its 2018 reports, it forecasted NIS 6.8 million (approximately $1.9 million) in revenue for 2019, quickly changing its forecast in June that year to an "inconsequential amount." How inconsequential, you ask? Well, for the entirety of 2019, Univo raked in NIS 824,000 (approximately $234,000) in revenue but spent NIS 1.09 million (approximately $310,000) on producing its product. Univo ended 2019 with NIS 11.7 million ($3.3 million) in loss attributable to shareholders, but this did not stop the company from requesting, in the invitation to its shareholder meeting, a yearly bonus of NIS 3.7 million (approximately $1.05 million) be awarded to CEO and controlling stakeholder (22.85%) Golan Bitton.

This bonus was meant as a reward for reaching pre-set goals over a three-year period and is significantly higher than the bonus Bitton received last year, which amounted to NIS 1.9 million (approximately $540,000). In the meeting, held Tuesday, the shareholders refused to approve the bonus.

This is not the first time Bitton asked for monetary benefits without the company showing any substantial income. In July 2019, the shareholders approved raising his monthly salary from NIS 40,000 (approximately $11,400 at the time) to NIS 65,000 (approximately $18,500 at the time). This occurred just one month after the company announced it will not reach its revenue forecasts for the year.

In its 2019 report, Univo stated it is dependent on Bitton to "maintain its license for activity in the medical cannabis field." In the same report, the company stated its management costs and general expenses stood at a staggering NIS 5 million (approximately $1.4 million) in 2019, compared to just NIS 1.6 million (approximately $455,000) spent on research and development.

All of this did not stop Univo from announcing, in a filing to the Tel Aviv Stock Exchange on April 14, at the midst of the coronavirus (Covid-19) crisis, that its board approved the appointment of Bitton's sister in law, Sarit Bitton, as an accountant at a monthly salary of NIS 10,400 (approximately $3,000).

Ten months earlier, Univo's shareholders approved a NIS 200,000 (approximately $56,800) commission payable to a company owned by another of Bitton's relatives, Eliyahu Bitton. The commission was for arbitration of an investment deal by Israeli businessman Ido Hagag.

Veteran companies were also not shy in making big promises in their filings. On April 23, 2019, Intercure announced it has signed an agreement to set up a mega-farm in a kibbutz in southern Israel, which it planned to start operating later that year, producing up to 100 tonnes of medical cannabis a year. In its 2019 report, however, Intercure lowered the production potential of the farm to 88 tonnes. As of late April this year, the preconditions for the deal have yet to materialize, however, the company still forecasted in its 2019 report that the first stage of opening the farm will be completed by June.

The blame for this situation cannot be placed solely on the companies, as 2019 was an extremely turbulent year for the Israeli cannabis industry. It started when the government decided, in January, to allow the export of medical cannabis, a decision that has since been postponed to an unknown date due to bureaucratic hurdles and ministerial bickering.

The year continued with a combined market cap of NIS 5.04 billion (approximately $1.5 billion) for Israel's public cannabis companies but ended with almost half this sum gone.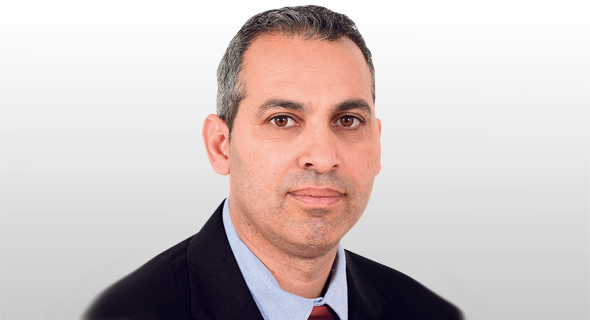 Doron Arami, head of the medical cannabis sector at BDO's Israeli branch. Photo: Yossi Israel
Throughout the year, these companies also had to endure reprimands from the Israel Securities Authority, which demanded various amendments, bringing companies to lower their valuations ahead of mergers and providing a factual basis for their forecasts.
In late 2019, the securities authority issued a warning about trade in speculative cannabis stocks, stating most of the traded companies had future plans and memorandums of understandings rather than actual operational businesses in the domain.
At the same time, a global trend cooling off the initial buzz of the cannabis industry, which started in Canada and spread to Israel, brought market caps and valuations even further down.
Ironically, what brought this drop to a halt was the coronavirus crisis. At its very beginning, the Israeli government dubbed cannabis companies a vital industry giving them a boost. At the same time, their business also began to grow as the local demand for medical cannabis doubled over the past year, from between 10 tonnes and 12 tonnes a year for 30,000 patients to 20 tonnes for 60,000 patients, and it is continuing to climb. As of the end of April, Israel's medical cannabis industry has become among the biggest in the world, with 65,000 patients consuming 2 tonnes of product a month or 24 tonnes a year.
There is still a big question mark, however, floating over many companies, which presented a much higher cash burning rate than earnings and cash reserves, requiring additional investments or shareholder loans, at a time when investors are wary of the risky industry.
Doron Arami, head of the medical cannabis sector at BDO's Israeli branch told Calcalist earlier this week that his firm's data shows their cash-burning rate will force most of these companies to find new financial resources by the year's end to avoid an even bigger deficit. "The fact that the export of medical cannabis from Israel has yet to become a reality is detrimental to these companies' operation and ability to raise money from new investors," he said. "At the end of the day, export is the only key to pushing Israel's cannabis industry forward and giving companies, young and old, a well-needed lifeline."
We are now nearing the end of the first half of 2020 and the export of medical cannabis from Israel has yet to be approved, not to mention implemented. The 2019 reports show that the companies are still getting investors' hopes up concerning global exports as a main source of income. The 2020 reports are likely to show better performance for some companies but investors in those companies that are left behind will likely feel the fiscal history is repeating itself and not for the better.