9 Israeli tech startups transforming the world of infotainment
Israel has hundreds of startups dedicated to the media industry. CTech has compiled a list highlighting those making an impact in the infotainment space worldwide.
While millions of people around the world remain locked indoors battling coronavirus (Covid-19) quarantines and lockdowns, more attention is drawn to companies that supply what we need to distract ourselves. 'Infotainment' is the term used to describe content that not only entertains us, but can also inform or educate its viewers. Israeli technology has been at the forefront of some of these innovations, with tech companies raising millions of dollars worth of investment to improve entertainment systems around the world. Calcalist has compiled a list of some of the most lucrative and innovative Israeli companies set to transform content consumption in the years to come.

Click here for Most Promising Israeli Startups 2020 - Covid-19 Edition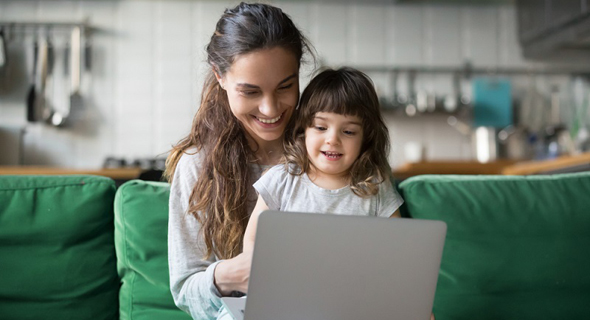 A mother and a daughter using a laptop. Photo: Shutterstock
1.
Name: JoyTunes
Product: Helps people learn how to play musical instruments from the comfort of their homes
Year founded: 2011
Funding: $43 million
Founders: Yigal Kaminka, Yuval Kaminka, Roey Izkovsky
There's never been a better time to be a company like JoyTunes Ltd. Covid-19 has seen a rise in people learning to play an instrument at home, and now millions of people have the opportunity to do just that. Using patented acoustic note recognition technology, users can learn how to play instruments via JoyTunes' apps, including Simply Piano and Piano Maestro. Today, it is used by 10% of all music teachers in the U.S. and has approximately one million people using it every week.
2.
Name: Eko
Product: Creates 'choice-driven' entertainment that educates and entertains its users
Year founded: 2010
Funding: $62 million
Founders: Barak Feldman, Tal Zubalsky, Yoni Bloch
Eko, incorporated as Interlude US, Inc., started as a company that made interactive videos but has since grown into much more. Partnering with brands like ESPN, MTV, and NBC, the company helps entertainment broadcasters create 'choice-driven' content for their viewers. This way, audiences can interact and earn personalized experiences in shows. The company even has 'Eko Originals', which are made by collaborating with studios like Sony, MGM, or Funny or Die.
3.
Name: IMGN Media
Product: Specialising in producing social content for Gen Z
Year founded: 2018
Funding: $3 million
Founders: Barak Shragai
IMGN Media describes itself as 'the voice of Gen Z'. Seeing how younger internet users expect personalized experiences, the company has attracted the attention of media giants like Netflix. Using its proprietary AI technology, IMGN Media assists editorial teams with the curation tools necessary to expand content publishing. By looking at things like content performance and trend analysis, the company also partners with musicians to help boost relevance through authentic experiences.
4.
Name: Green Productions
Product: Production studio focussing on commercial and corporate videos overseas.
Year founded: 2009
Funding: N/A
Founders: Gal Greenspan and Roi Kurland
Green Productions is based out of Israel and Australia, but its work can be seen all over the world. Initially starting as a production company for commercials and corporate videos, the team now also helps with live action and animated feature films. The production company has seen films premiere at the Cannes, Sundance, and Toronto film festivals, helping tell real stories about Israel and Israelis to global audiences.
5.
Name: Minute Media
Product: Digital publishing platform for sports and esports
Year founded: 2011
Funding: $160 million
Founders: Asaf Peled
The average internet user might not have heard about Minute Media, incorporated as Sportority Inc., but it's likely that they have consumed some of their content. It owns and operates several content-driven sites pertaining to sports, culture, and lifestyle. Sites like Mental Floss and 90min garner audiences totaling 20 million monthly readers, contributing to the daily conversations that are had online. Based in Tel Aviv, it also has offices in London, New York, São Paulo, and Manila.
6.
Name: Lightricks
Product: A network of apps to help content creators create, improve, and distribute their work
Year founded: 2013
Funding: $205 million
Founders: Zeev Farbman, Amit Goldstein, Itai Tsiddon, Nir Pochter, Yaron Inger
Lightricks Ltd. helps artists, businesses, and users create compelling content through their network of apps. Apps like Facetune and Enlight can help even the most novice of phone users become creative icons with their easy-to-use applications. Within the apps, users can easily edit photos, videos, and soundbites and post them on social media. It has helped thousands of content creators and businesses stand out in the crowd.
7.
Name: EX:CO
Product: Listicles, quizzes, and polls dedicated to young pop culture and entertainment
Year founded: 2013
Funding: $65.7 million
Founders: Tom Pachys and Shaul Olmert
EX:CO, formerly known as Playbuzz has made an impact on the web with how its content can help steer conversations in pop culture. Its quizzes, listicles, and interactive stories are consumed by millions of Gen Z readers a month, and its site was even one of Facebook's most-shared publishers in 2015. It was co-founded by Shaul Olmert, the son of former Israeli Prime Minister Ehud Olmert, and relies on individual content creators to contribute to its site.
8.
Name: Wibbitz Ltd.
Product: Uses automation technology to create online videos from text and images
Year founded: 2011
Funding: $30.8 million
Founders: Yotam Cohen, Zohar Dayan
As the majority of content pivoted from text to video, thousands of publications needed to find a way to create quick and effective videos for news consumption. Enter Wibbitz Ltd., the 'quickest and easiest' online video editor. Using its automated technology, editorial teams can react to breaking news stories or trending topics by easily building short-form videos suitable for distribution. Nowadays, Wibbitz is used by brands like NBC and companies like Taboola to keep up to date with their content production and social media communication.
9.
Name: WSC Sports
Product: AI-driven platform that creates customized short-form videos from sporting events
Year founded: 2011
Funding: $39 million
Founders: Daniel Shichman, Aviv Arnon, Shmulik Yoffe, Hy Gal
W.S.C. Sports Technologies is used by clients like the NBA, March Madness, and Cricket Australia to bring viewers the best sports replays possible. Using its unique AI platform, the company analyzes live sports events and instantly identifies the key moments that occur in each game as they happen. It then automatically creates personalized videos that highlight key moments for instant publication on social media or television.