This company's tools give employers a sneak peek at their workers' productivity at home
Erez Buganim, deputy CEO of Tel Aviv-listed workforce management company SYNEL, believes companies must find ways to learn what their employees' are doing when working from home during and after the Covid-19 era
Over the past few months, as many companies shifted towards working from home in light of the coronavirus (Covid-19) outbreak, quite a few reported productivity was surprisingly up when employees didn't go to the office at all.

A survey conducted among 1,000 U.S. employees by Australian online gig marketplace Airtasker Pty. Ltd. before the outbreak indicated those who worked from home put in an average 1.4 extra work days compared to their office-bound colleagues. This amounts to more than three additional workweeks a year.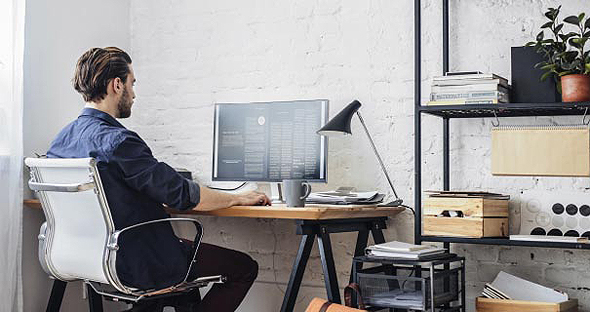 Work from home (illustration). Photo: Shutterstock

On the other side of this coin, however, are the employees who are paying for this newly found productivity by losing their life-work balance and suffering from quicker burnout. Of those working remotely, 29% reported difficulty in finding the right balance between their private and professional lives and 31% said they had to take days off to maintain their mental health.

In the midst of the coronavirus crisis, working from home became something different as it was done under full or partial lockdowns in Israel and almost anywhere else in the world. A report released by British market intelligence firm Valour Consultancy in May found that the extensive transition to work from home only had a minuscule negative effect of 1% on worker productivity.

According to the report, employees worked an average of nearly 10 hours a day during lockdown, most of them during regular working hours, between 8 a.m. and 6 p.m.The main distraction at home came from social media services on which employees spent an average of two hours a day.

What has been happening in terms of work during and after the Covid-19 era is not how things are during normal times, according to Erez Buganim, deputy CEO of Tel Aviv-listed workforce management company SYNEL MLL PayWay Ltd.

"A lot of people are talking about how productivity will rise as a direct result of eliminating the daily commute and enhancing focus by removing distractions but it could go another way," Buganim said in an interview with Calclaist.

"When an employee is working from home during a crisis, their productivity and even their creativity rise because everything outside is closed and they are in a state of shock and uncertainty," Buganim said. During lockdown, he explained, employees' lives are different as they have nowhere to go and no social life, so their productivity is not affected.

Now, employees that continue to work from home are caught in the middle between a sense of freedom and the constant watchful eye of the employer that wants to know what they are doing, Buganim said. "Employees are suddenly expected to produce results without the supportive organizational environment they get at the office," he added.

Most companies have not completely and permanently shifted to remote work and are still trying to figure out how to assess productivity and monitor their employees while maintaining an emotional bond at a distance.

One of SYNEL's products is a workflow management tool that also monitors the employee's activity on their computer while working remotely. When an employee logs in, the software works in the background and manages their tasks as defined by their manager, Buganim said.

Through the software employers can define what constitutes work, he said, for example, as long as a certain work-related program is actively in use. They can also define the length of an acceptable break that, once exceeded, would stop the clock and send an alert to management, he added.

It is also possible to set the system to reward employees based on measured production goals, Buganim said adding he believes that at the end of the day even companies traditionally wary of monitoring employees will have to adopt some kind of tool to make sure the work is being done.