Israeli parliament votes to relaunch phone surveillance program as Covid-19 resurges
Lawmakers voted 53 to 38 in favor of bill permitting cellular tracking of phones as the number of infected breaks daily record
Israeli lawmakers voted in favor of a new law on Wednesday authorizing the Israel Security Agency (Shin Bet) to track cellular network data of citizens as part of the state's efforts to contain the spread of Covid-19. Wednesday also saw the country's highest ever number of new daily cases topping 800 confirmed infections.

Of the parliament's 120 members, 53 voted in favor of the government-backed bill and 38 against. The bill permitting the Shin Bet to monitor people's locations based on their cellular footprints was rushed through a deliberation process amid the surge in cases and the government's failure to construct an effective national epidemiological surveying operation and testing mechanism to sever the contagion chain without calling on the national security agency.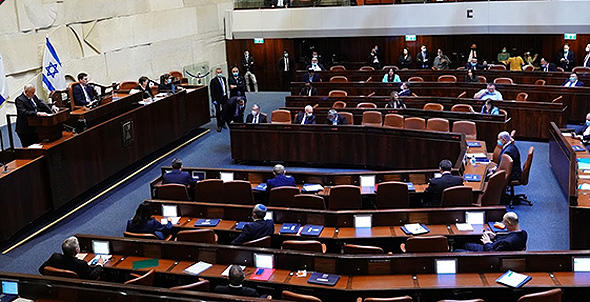 Lawmakers vote in the Israeli parliament. Photo:Adina Waldman

The law states that the government is permitted to enlist the Shin Bet to assist in epidemiological investigations if it falls under one of the following conditions: individual cases in which the survey cannot be completed using other measures, cases in which the number of new identifiable carriers climbs above 200, or any other "unusual circumstances."

The Health Ministry reported Wednesday evening that the total number of cases in Israel stood at 26,257 up by 868 people since the previous day. The total number of dead from the virus stands at 322.