LivePerson is giving up its offices, switching to full WFH model
Publicly traded customer engagement company responded to employee survey that found vast majority prefer to stay home
Nasdaq and Tel Aviv-listed customer engagement company LivePerson Inc. has decided to completely shift its work procedures and adopt a full work from home (WFH) model until a vaccine to Covid-19 is found, a person familiar with the move told Calcalist on condition of anonymity. As a result of the strategic shift, the company, which employs 1,300 people, 350 of them in Israel, will forgo its office real-estate rentals, saving it an estimated $12-15 million a year.
The person told Calcalist that LivePerson employees in Seattle have already been issued letters requesting them to clear out their personal belongings from their offices and that in Israel, the process is already underway.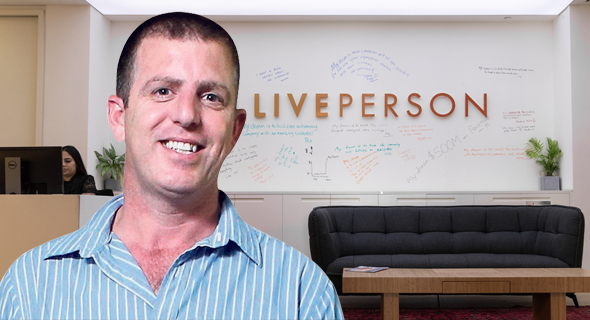 LivePerson Israel GM Yuval Matalon. Photo: Micha Lobaton and Nimrod Glickman
LivePerson's offices take up 70,000 square foot on three floors in an office building in the central city of Ra'anana, where rent costs $5million a year. The company did not renew its lease with the building owned by the Tidhar Group and insurance company Migdal and evacuated the premises when the contract ran out this week. The company will gradually be leaving its other offices around the globe.
The decision to shift to work from home came after the company conducted an internal survey among its employees that found that 70% prefer to stay home until a vaccine is found. The company also found, based on figures from recent months that workers' productivity within WFH model did not decline, and decided to heed to their employees' request, making the office real estate they rented unnecessary.
LivePerson created a planning task force led by Israeli general manager Yuval Matalon, responsible for figuring out the best way to implement the model in the post-coronavirus period. The model currently being examined has employees all working from home with the company providing a budget for co-working space rental in various locations.
Employees were allocated $300 to purchase office equipment required to adequate work from their homes. Liveperson pledged that the savings from foregoing their office rentals would go to the workers in the form of up to 25% discounts on their vehicle leasing expenses, purchase of new computer equipment for home offices, personal budgets for meetings and shared-space rental, and other expenses.
LivePerson is a publicly traded software company that provides real-time intelligent customer engagement solutions that help companies enhance their relationship with their customers. The Covid-19 crisis is set to benefit the company which reported in its Q1 filings that it expected to grow in the second quarter, predicting earnings in the range of $83-85 million, compared to $70.9 in Q2 2019.
Revenue for the first quarter of this year increased by 17.4% to $78 million compared to $66.4 million last year. However, the company lowered its bottom line for its full-year revenue forecast to $340-355 million, compared with the $350-355 million predicted in the previous forecast.
Contrary to the stock prices of other tech companies that flourished during the coronavirus outbreak, LivePerson, which is currently traded at a valuation of $2.74 billion on the Tel Aviv Stock Exchange and Nasdaq, experienced a fall like the rest of the market, recovering only at the end of April and totaling a 10.8% increase since the start of the year.