Covid-19 cutbacks? These tech companies are hiring in Israel right now
With hundreds of thousands newly unemployed and companies big and small forced to cut back on staff, Calcalist has gathered a list of tech companies that are currently hiring
Israel is facing a difficult time as it is taking a step back to partial lockdown following a significant spike in the spread of coronavirus (Covid-19) in the country over the past few weeks. With hundreds of thousands of newly unemployed and companies big and small forced to cut back on staff, Calcalist has gathered a list of tech companies that are currently hiring.

Below is a list of companies that are looking to fill open positions as soon as possible.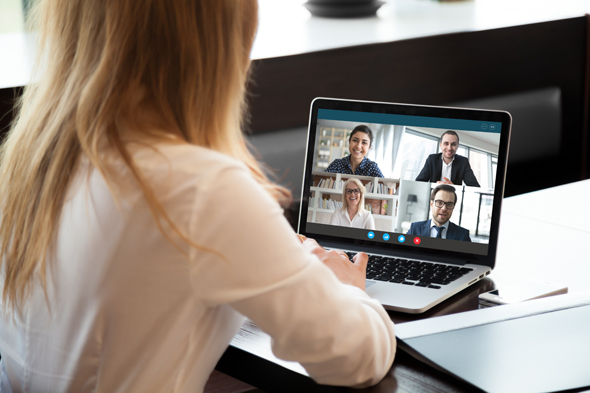 A remote job interview. Photo: Shutterstock
MyHeritage
Genealogy company MyHeritage Ltd. is looking to expand its coronavirus testing lab in Petah Tikva, in central Israel, to reach 10,000 tests a day. It is hiring dozens of new employees, with some positions open to those without prior lab experience.
Apply here
Elementor
Website Building Startup Elementor Ltd. is looking to hire 100 people from the fields of design, customer service, technical support, product management, and development. The company is based in Tel Aviv suburb Bnei Brak.
Verbit
Tel Aviv-based transcription startup Verbit Software Ltd. is looking to hire 20 people in Israel and Kyiv. Verbit develops an artificial intelligence system capable of automatically transcribing recorded speech. A human operator familiar with the relevant field, such as law, insurance, or mechanics, then checks the output for errors and inaccuracies. Interviews will be held remotely or in person, depending on the position. Transcribers in the field of law will work from home while developers and SDR professionals, like most of the company's employees, will be given the choice to work from home up to two days a week.
Kendago
Digital advertising firm Kendago B2C Media Solutions Ltd. is looking to hire 30 people for various positions at its offices in Kiryat Ono, a town in the Tel Aviv district. Among the open positions are pay-per-click digital campaign managers, top developers, graphic designers, copywriters, and social media professionals. The company is also looking to hire and train top of their class academics without professional experience for digital campaign management positions.
SentinelOne
Cybersecurity company SentinelOne, which specializes in end user security is currently looking to fill 14 positions in research, development, product management, DevOps, cyber, and automation roles. The recruiting process is all done remotely and only SentinalOne employees are allowed in the office.
Monday.com
Tel Aviv-based team management startup Monday.com Labs Ltd. is looking to hire some 300 people in sales, development, customer service, marketing, product management, and human resources, among other departments.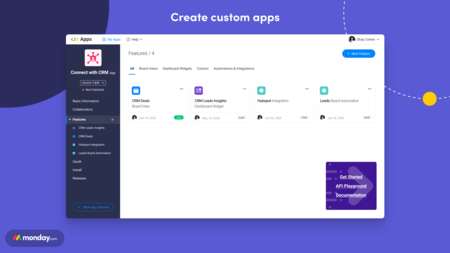 Monday's Platform. Photo: Screenshot
Wix
Tel Aviv-based Nasdaq-listed website building company Wix.com Ltd. is hiring for some 300 development, product, UX, marketing, design, customer service, and human resources positions. Interviews are done remotely and any employee that can successfully perform their job from home will work remotely.
NESS
Information technology company Ness Technologies Inc., which employs over 3,000 people, is looking to hire dozens of tech professionals in Israel for projects involving its customers. Among others, NESS is hiring developers, Q&A specialists, SAP developers, business intelligence professionals, information technology professionals, and system engineers. The location of the job depends on the specific project, with some projects being run remotely and others operating from the client's facilities.
Tracxpoint
Multi-disciplinary start-up company Tracxpoint is based in Nesher (Haifa) and specializes in AI, data mining, and real-time technology for the retail industry. The company is currently looking to hire talents in several fields such as Software, Mechanical, Operations, and more. All company employees are currently working from the office. The recruitment and onboarding processes are done on premises in compliance with Covid-19 regulations.
Fiverr
NYSE-listed online gig marketplace Fiverr Int. Ltd. is hiring dozens of marketing professionals, analysts, software developers, product managers, and designers. Since the beginning of the crisis, more than 50 people have joined Fiverr's team and all company employees are currently working from home.
Tipalti
Payment automation startup Tipalti Solutions Ltd. is recruiting some 100 people for its offices in Glil Yam, a kibbutz in central Israel. Among the open positions are project managers, software developers, and technical support. At least one interview must be held in person at the company's offices.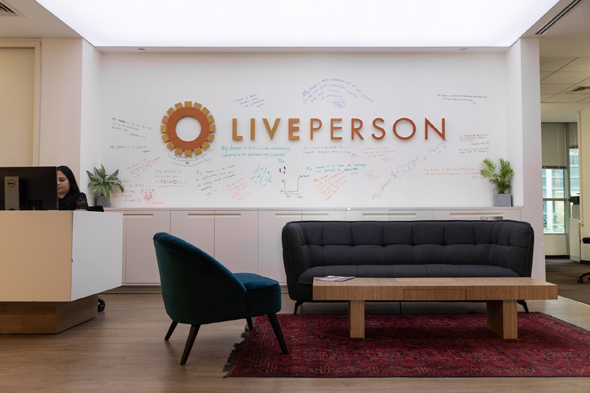 LivePerson office in Ra'anana. Photo: Micha Lobtov
LivePerson
Nasdaq and Tel Aviv-listed customer engagement company LivePerson Inc. has around 25 open positions including developers, senior product managers, and marketers.
Spot.io
Israeli cloud services company Spot.io., incorporated as Spotinst Ltd., is recruiting 40 people for various positions including in sales, marketing, research and development, management, and product. All company employees are currently working from home and recruitment and onboarding are also being done remotely. Last month, Spot.io was acquired by Nasdaq-listed hybrid cloud data services company NetApp Inc. and, according to CEO Amiram Shachar, the acquisition accelerated Spot.io's recruitment efforts.
Fyber
Mobile video ad development company Fyber NV is looking to hire 15 people for its development, sales, and marketing teams, working out of Petah Tikva, a town in the Tel Aviv district. The open positions include big data and iOS developers, head of full-stack development, operation manager for its research and development department, senior quality assurance engineer, DevOps engineer, and marketing content writer.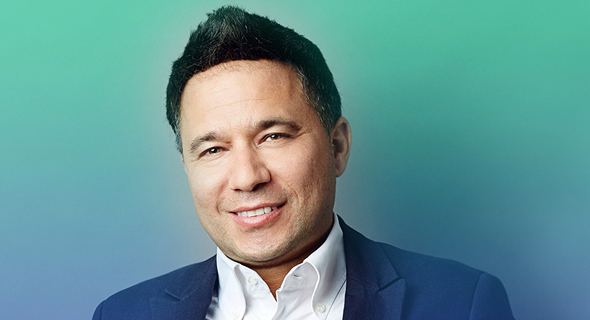 Fyber CEO Ziv Elul. Photo: Kopf and Kragen
Tailor Brands
Tel Aviv-based automated branding company Tailor Brands Ltd. is looking to hire some 10 people for its development, data, analytics, product management, and design teams. The recruitment process will be done remotely and include video meetings with multiple members of the team. All employees are currently working from home, only meeting in person in small groups when necessary in accordance with the updated health regulations.
Applied Materials
Hardware and software company Applied Materials Inc. is looking to hire some 45 people, including software developers, algorithm engineers, and customer support representatives. The company's development and manufacture center is located in Israeli central town Rehovot. According to Senior Human Resources Business Partner Ricki Aloni, all of Applied Materials' employees, except those working in its manufacturing plant, are working from home and interviews and the onboarding process will also be conducted online.
SQream
Data acceleration platform SQream Technologies Ltd. raised a $40 million round last June to expand its development center in Tel Aviv and is currently looking for deeptech development experts to join its ranks. The company is expected to recruit dozens more people by the end of the year and is mainly looking for experienced C ++ programmers, automation and cloud data developers, and development team leaders for work in its Tel Aviv offices. The recruiting and training processes are all done remotely due to the circumstances.
JFrog
Code management startup JFrog Ltd. has 120 open positions for developers, team leaders, DevOps engineers, product managers, and salespeople. The company's offices in Israel are in Tel Aviv and coastal town Netanya, but all work is currently done from home, as are interviews and onboarding.
Soluto
Tech support software company Soluto Ltd. is on the lookout for dozens of developers, product managers, product designers, and information technology professionals. Since the crisis started, the Tel Aviv-based company has hired 11 people. Interviews are done remotely and all employees are currently working from home.
Red Hat
Software company Red Hat Inc. is looking to hire 20 open code development and automation engineers for its development center in Raanana in central Israel. The company employs some 14,000 people worldwide, including over 300 engineers in Israel. All company employees are now working from home and recruitment is also done remotely.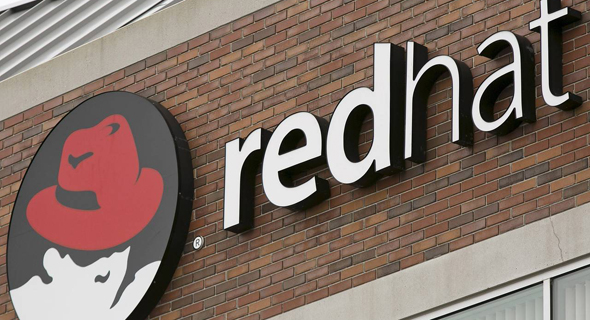 Red Hat Headquarters. Photo: Reuters
Citigroup
The Tel Aviv fintech development center of multinational investment bank Citigroup is looking to hire 20 people including data analysts and backend, frontend, and full-stack developers. Work is currently done remotely but during the recruitment process, one in-person meeting is required.
Experis
Tech job placement company Experis Ltd. is looking for hundreds of software engineers, developers, QA engineers, and information systems managers. The company has offices in Tel Aviv, Haifa, and Be'er Sheva.
Gong.io
Conversation analytics startup Gong.io Ltd. is recruiting dozens of people for its research and development center in Tel Aviv suburb Ramat Gan, which currently has a staff of 200. Since the beginning of the crisis, Gong.io has hired more than 15 people. Most of the recruitment process is done remotely.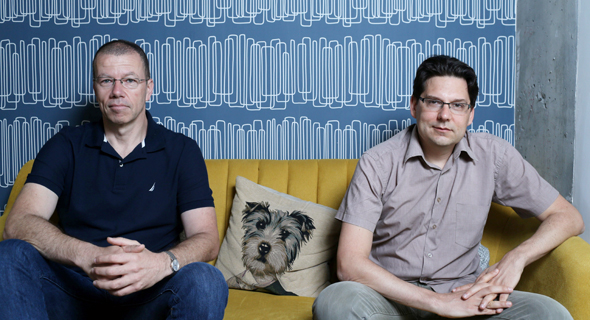 Going.io Founders Amit Ben-Dov and Elon Reshef. Photo: Amit Shel
Elad Systems
Tel Aviv-based Elad Software Systems Ltd. is looking to hire 50 people for its expert team. Those hired will be placed with Elad System's clients to develop and implement custom digital tools based on the Microsoft Dynamics platform. CEO Dagan Halevy told Calcalist the company intends to expand its recruitment efforts if the health situation in the country improves.
Trigo
Shopping automation startup Trigo Vision Ltd. is looking to hire 20 developers. According to the company, due to the coronavirus outbreak, it is experiencing a boost in demand for its cashier-less checkout technology as it reduces in-store crowds. Employees work out of the company's offices in Tel Aviv but recruitment is done remotely.
Philips Healthcare
Philips Healthcare, the medtech and health business of Dutch technology company Koninklijke Philips NV is looking to hire some 60 people, mostly in Haifa, for software, electronics, system engineering, manufacture line, and QA positions. Some of the positions can be done from home, while others require either partial or full attendance.
ControlUp
Enterprise computer management company ControlUp Technologies Ltd. is hiring for about a dozen positions in development, marketing, sales, and administration. Located in Rishon LeZion in central Israel, the company currently employs some 150 people, 100 of them in Israel.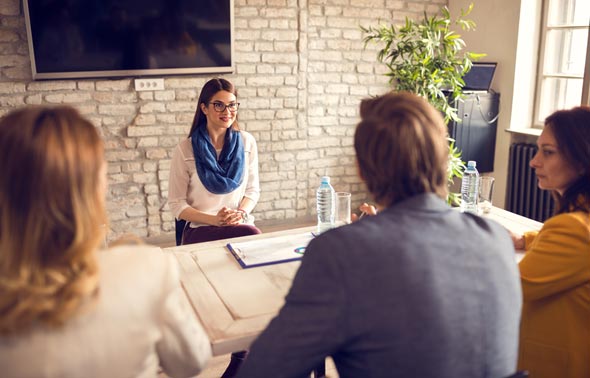 A job candidate being interviewed Photo: Shutterstock
Plus500
Haifa-based trading firm Plus500 Ltd. is looking to hire around 10 software engineers, including Android and iOS, server, and data developers. The company is also hiring for various positions in its marketing team, as well as industrial engineers.
Cybereason
Cybersecurity company Cybereason Inc. is looking to hire 30 financial analysts, product managers, developers, salespeople, and support professionals. Cybereason specializes in endpoint detection and response software. The company's Israel office is located in Tel Aviv and candidates will optimally visit the location at least once before signing, though this is not a requirement in the Covid-19 era.
Salt Security
Salt Security Inc., which develops protection tools for application programming interfaces (API), intends to grow its workforce from 30 people to 50 by the end of the year. The company operates a research and development center in Tel Aviv and is currently looking for engineers and cyber analysts, among other tech professionals. The hiring process is done completely online.
Forter
Tel Aviv-based payment fraud prevention company Forter Inc. is looking for 15 new employees, including a senior data scientist, a senior backend engineer, a business development representative, and a senior researcher. All employees are currently from home and recruitment and onboarding are also done remotely, but candidates interested in doing so may come to an in-person meeting at the office before signing.
Imperva
Information security company Imperva Inc. currently employs over 400 people in its Israeli offices in Tel Aviv and Rehovot. As part of its global strategy, the company intends to expand in Israel, hiring an additional 50 people including developers, software architects, managers, analysts, and UX designers. Currently, employees only arrive at the office for one day a week, working from home for the rest of the time. Interviews are conducted remotely.
IntSights
IntSights Cyber Intelligence Ltd., which develops a database that aggregates threat intelligence and provides organizations with tailored threat analyses is recruiting for various development positions including automation engineers, backend team leaders, machine learning engineers, and senior DevOps. All interviews will be done remotely and the work itself is also conducted from home at this time.