Court rejects Amnesty International petition to withdraw NSO's export license
Judge said she is satisfied that the defense ministry's oversight of defense exports is sufficient
The Tel Aviv District Court rejected on Monday a petition by Amnesty International to withdraw cyber surveillance company NSO Group's exporting license. Judge Rachel Barkai wrote in her verdict that she was convinced that "the process by which marketing and/or defense export licenses are granted is a sensitive and meticulous one during which export applications are thoroughly examined by the various defense agencies that deal with matters of national security, foreign relations, and other technological aspects. Licenses are granted only after a meticulous process and export is subject to subsequent close supervision and monitoring by the authorities and, if necessary, insofar as it is used in violation of the terms of the license, and in particular when there is a violation of human rights, audit procedures are taken or export licenses are suspended."

In May of last year, about 30 petitioners from Israel, including Amnesty International Israel activists, filed a petition in the Tel Aviv District Court seeking an order from the Ministry of Defense to revoke NSO's export license.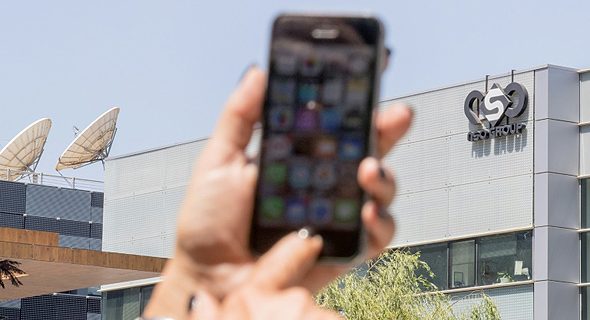 NSO Group's office. Photo: AFP

The petition alleged that in June 2018 there was an attempt, which may have succeeded, to take control of an Amnesty International member's mobile phone using NSO's Pegasus tool. In January it was decided that the hearing would take place behind closed doors following a request by the Ministry of Defense.

"The petitioners did not lay down sufficient evidence to substantiate the claim that an attempt was made to monitor a human rights activist through an attempt to penetrate his telephone device, nor that this attempt was made by the respondent," Barkai wrote in her ruling.

In response to the ruling, NSO said it would continue to provide lifesaving technology to states and intelligence services.

Amnesty International called the ruling shameful and said it made all Israelis complicit in human rights violations.

"We sadly accept the decision of the Tel Aviv District Court, which in our view is shameful, though not surprising: the Ministry of Defense has granted immunity to human rights violations for many years and the court serves as a rubber stamp for this immunity," the rights group said. "The ruling, which ignores the mountain of evidence we filed regarding human rights violations carried out by using NSO's spying tools, joins a long list of decisions and policies adopted by Israeli governments making them complicit in crimes by way of exporting weapons to dark regimes, under the guise of "national security and foreign relations."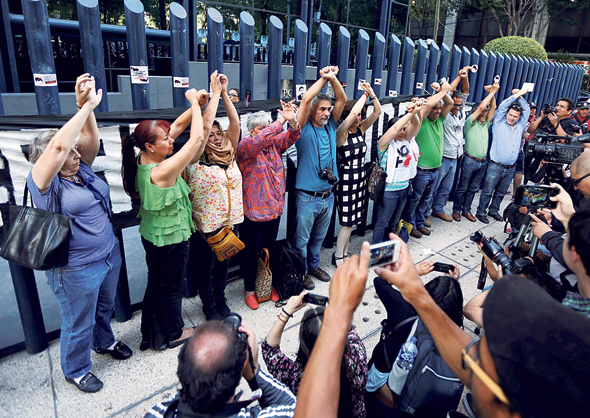 Mexican activists protest NSO practices. Photo: Reuters
"The verdict grants groundless marks of excellence to the Ministry of Defense and completely ignores our claims, and the evidence and testimonies we filed as if people all over the world were not anxiously looking to the court for answers. At no point did the state say it was conducting an investigation into the claims, even though NSO told its representatives that it was in possession of client records from the time period in question. In this embarrassing ruling, the court imposed an impossible burden of proof on civil society: to provide an accurate and specific breakdown of the relationship between defense companies operating with the approval and confidentiality of the Ministry of Defense and regimes that violate human rights. In doing so, it implies that the court requires civil society to present the specific export license, which is subject to sweeping security confidentiality. It is precisely because of the confidentiality enjoyed by the Ministry of Defense, that this has become a burden that only the court can bear and that is precisely the reason why in our petition we asked the court to clarify the issue at this specific level of accuracy.
"Moreover, the verdict serves to encourage a private company to continue to rake in huge profits from right-suppressing regimes. NSO and its executives line their own pockets, but when the Ministry of Defense gives the company a stamp of approval, it makes all Israeli citizens partners to the persecution of human rights activists, who bravely stand up to regimes who suppress individual freedom and human liberty," read the response.
Amnesty urged Israelis to support changes to the legislation that regulates oversight of the defense industry exports, bringing it parallel to the laws currently in place in Europe and the U.S.