Reaching less than 50% its capacity, Via's Tel Aviv shuttle service gets another year on the road
The Israeli transportation ministry recently approved Via's ride-sharing service Bubble for an additional period of one year, likely realizing the need to monitor public transportation passengers is crucial in fighting off the current health crisis
In February, shortly before the coronavirus (Covid-19) pandemic broke out in Israel, Bubble, the Tel Aviv ridesharing service by New York-headquartered ridesharing company Via Transportation Inc., reached a milestone of an average 4.5 passengers per vehicle an hour and 5.4 during rush hour. For a service operating 10-seater vehicles, these may sound like relatively low numbers, yet they were enough for the Israeli Ministry of Transport and Road Safety to greenlight the project for an additional year, past its pilot period.

The decision likely came from an understanding that the crisis had a damaging effect on Bubble's activity, on the one hand, and, on the other hand, that a tool allowing authorities to monitor passengers can be vital during a pandemic.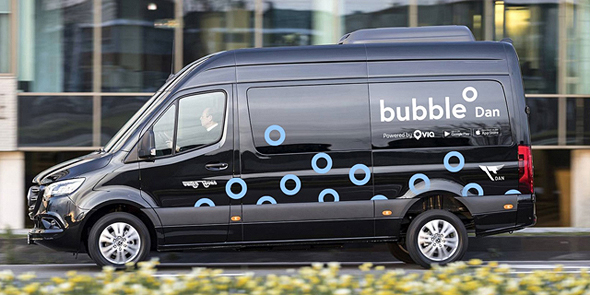 Via's Bubble ride-sharing vehicles. Poto: Dan Transportation

Unlike other public transportation services, Bubble, operated in collaboration with public transit company Dan Bus Co., does not run on a predetermined course, stopping at designated stations. Instead, it covers a specific area, currently including central and northern Tel Aviv as well as adjacent suburbs Ramat Gan and Givatayim. Passengers book rides through a dedicated app, specifying their desired pick up and drop off locations and the app matches these with the closest bus stops.

According to Bubble's data, a passenger walks an average of 205 meters to their pickup point and 214 meters from their dropoff point to their destination. The draft of Israel's annual economic arrangements law, a catch-all government-backed bill that includes various items of unrelated legislation and policy proposals, includes a section that would allow shuttle services, such as Bubble, to stop anywhere, not just at existing bus stops, thus reducing the walking distance.

The service operates Sunday to Thursday, between 6 a.m. and 10 p.m., with fares ranging between NIS 10 and NIS 15 (approximately $2.9-$4.3), about twice as much as a bus ride but significantly less than a standard taxi. An average ride on Bubble is 5.6 kilometers, which would translate to around NIS 50 (approximately $14.5) in a taxi.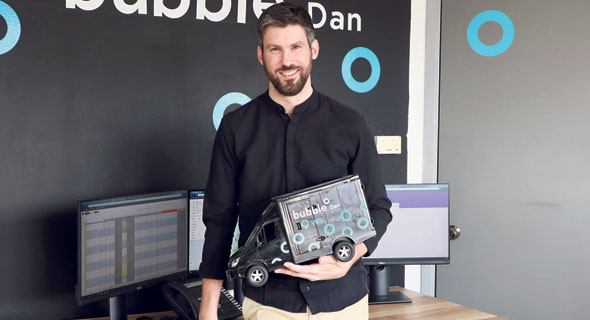 Bubble's general manager, Itai Rogatka. Photo: Dana Koppel

Via already operates similar services in 120 cities and is also planning to launch a Jerusalem service. In Israel, Via's competition includes a collaboration between public transit app developer Moovit App Global Ltd. and local operator Egged Israel Transport Cooperative Society Ltd., who operate an on-demand shuttle service in Haifa.

Bubble launched in mid-2019 with just 21 vehicles and only reached its intended capacity of 100 cars in November. This allowed it to reduce the average waiting time from 13.2 minutes to 12.4 minutes. This also meant a significant rise in the average number of passengers per hour, from 61 in May 2019 to 285 in February 2020. The average number of daily rides made through the service was 5,095, at the time.

While these numbers do show improvement they are still low for a fleet of 100 vehicles, established at a public investment of tens of millions of shekels a year.

Then came Covid-19 and made things even worse. As was the case with other public transit services, the number of passengers on Bubble's shuttles plummeted, reaching its lowest in April with an average of 49 total passengers per hour of service and just 1.5 passengers per vehicle on average during rush hour. In May, as Tel Aviv was slowly released from lockdown, these numbers rose to 148 passengers an hour and 4.4 passengers per vehicle during rush hour.

The service is seeing fewer users riding to and from work but more active users in general, especially older people who are afraid to take the bus but are looking for a more affordable solution than a taxi, Bubble's general manager, Itai Rogatka, told Calcalist.

According to Via's Co-Founder and Chief Technology Officer Oren Shoval, 60,000 users registered for Bubble since its launch but only between 20,000 and 30,000 people have used it. "We are not even close to reaching our potential," he said in an interview. "A lot of people don't know us yet," he added. Via's vision is for its vehicles to look like busses and cost the same, taking into account the distance traveled, Shoval said.

According to a recent Bubble user survey, around 35% of its users have used the service to replace rides in their private vehicles or by taxi. Bubble estimates this translates to a reduction of about 190,000 private vehicle rides since the service launched last year. About 75% of rides were to and from workplaces and conducted during rush hours. The busiest times on the service are 8 a.m., with an average of 849 rider requests, and 6 p.m., with 777 requests.

According to Shoval, January and February were very good months for Bubble considering the fleet only reached its target number of vehicles in November. He also emphasized that, currently, the number of passengers is still limited per the country's health regulations. The maximum number of passengers per vehicle is now seven.

According to Shoval, Covid-19 helped accelerate the adoption of smart transportation as it made reserving a seat and knowing exactly who was on each vehicle vital to monitoring the chain of infection.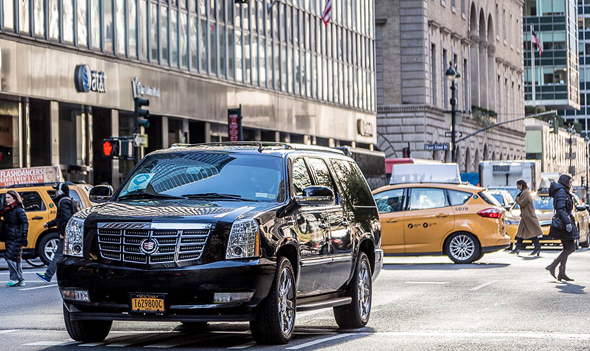 A Via van in the streets of New York. Photo: Via

Globally, Via makes 2.3 million rides a month, and, according to Shoval, over 90% of cities that ran Via pilots decided to extend the service beyond the initial period agreed upon.

In August 2019, Via landed one of its most important contracts to date when the New York City Department of Education chose it to manage its school bus system. According to Shoval, before Via, the operation of the bus fleet cost the city $1.5 billion a year.

Per the agreement, Via will provide New York with an automated school bus routing system that would allow schools, parents, and students to track buses in real-time and receive updates on any changes to the service. This type of transparency, Shoval said, has become critical since the Covid-19 crisis started, especially in light of estimates that the education system will continue to operate in small groups.

Now, between 5% and 10% of all drivers in the city's school bus system are on standby ready to cover for any last-minute changes, Shoval said, adding that using Via's system eliminates the need for standby drivers, leading to a significant reduction in costs for the city.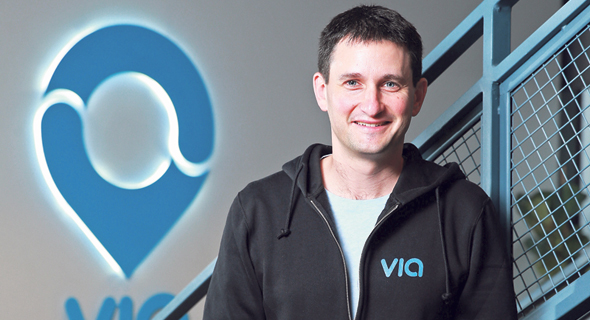 Via founder Oren Shoval. Photo: Orel Cohen

Managing transportation systems is where Via is aiming for in its future business model. Ideally, it will be able to disconnect itself completely from the vehicles conducting the rides and will be paid by the number of users its software facilitates. "We want to supply software to public transportation operators, making transit systems smart," Shoval said. "You could have a single central system that controls the entire mass transit system, with some lines remaining on a fixed route and others offering flexibility," he said. The size of the vehicles and the pickup points will be adjusted according to traffic and demand, he explained, and this could potentially save authorities billions of dollars.

If this sounds a lot like Moovit's vision for the future of public transportation, rest assured that it is no accident. According to several people associated with Via who spoke to Calcalist on condition of anonymity, Intel was considering to acquire Via as an autonomous public transportation management technology but eventually chose to go with Moovit, which it acquired in May, for around $1 billion. Via's valuation is now more than double, after reaching $2.25 billion at the time of its latest $400 million funding round in March.