Analysis
Even those who keep their jobs will need to keep their feet on firm soil
"For the first time in our careers, being fired is not just being on your way to the next great thing, it means a prolonged unemployment period "
When you work in tech you get used to saying goodbye to people. This isn't because they are being fired but because they keep moving from one company to another on their own behalf. They know that at any given moment they can improve their terms of employment, make more money, find a new and bigger challenge, or just a nicer boss. People leave all of the time.

A few years back, an Israeli entrepreneur who has made an exit was asked why he keeps on working even though he has millions in the bank. His reply was in the spirit of "I know I can leave at any time, and that is what being free means." A similar sense of freedom was also the main asset of every Israeli tech worker. It wasn't so much the money as knowing that they are always needed and can always find work.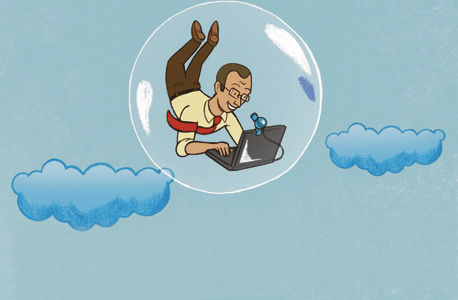 A caricature of a tech worker in a bubble. Illustration: Racheli Shalev

Very few of those in the tech industry today experienced the crash of the beginning of the decade. Most of these people entered a professional world in which as long as you are good enough, and sometimes even if you are mediocre, you will be in demand and offered good terms.

All of a sudden, this is no longer the case. The market changed and people no longer leave on their own accord just to step up professionally or increase their pay. At the company where I work, the head of business development, along with other employees, was put on unpaid leave at the beginning of the crisis, which later turned into a permanent goodbye.

SPECIAL - The industry is hanging by a thread: 10 laid off tech pros tell their stories

Being fired has always been a risk at any startup, that is nothing new, but now it is a whole different ballpark. For the first time in our careers, we are at a state where being fired is not just being on your way to the next great thing, it means a prolonged unemployment period that requires painful compromises. We are no longer the crème de la crème of the Israeli workforce, enjoying high salaries, improved working conditions, and perks. Even those who get to keep their jobs will no longer be spoiled and are cleansing themselves of this hubris.

The deeper the crisis gets, the more profound the results of this revolution will be. Workers unions, for example, were always considered outcasts in tech companies. At Intel they used to tell us they took care of their employees so they did not need a union. Will we now see a union-boom in the tech industry?

And what about assistance from the state? Tech is known for its support of a free market and many in the industry claim they shouldn't pay high taxes "for bums who don't want to work."

Now, some of these free-market supporters are collecting unemployment checks and this might be the only silver lining in all of this: there is a chance that tech workers will become more humble, with their feet closer to the ground, and that even they, who insisted on living in a bubble, will finally discover solidarity.

Ariel Greisas is an algorithm developer and data scientist