Interview
Check Point CEO Gil Shwed says he plans to reduce real-estate holdings in Israel
Most of the company's employees combine work from home and office attendance, reducing the need for extensive office space
The financial reports released on Wednesday by Israeli cyber giant Check Point were fascinating, not because of the figures, but rather because of the words that accompanied them. It started from the get-go, when the company's founder and CEO Gil Shwed was overheard complaining at the start of the press conference, which was held over Zoom, about being placed on mute. "I'll mute and un-mute myself when I need to," he said. Later he explained how Zoom has become a central tool even for one of the most information security-conscious people in the world.

How is it that Check Point, which exposed major security breaches in Zoom, uses its software?

"It is a company that is very dear to me, not because I have any personal acquaintance with the people there, but because it has helped us cope with the coronavirus crisis. Even though just this week we helped them prevent a cyber-attack and fortify the platform, we found them overall to be reliable and safe even though everyone likes to slam them on security issues," Shwed said.
Checkpoint CEO Gil Shwed in a 2019 interview with Sophie Shulman. Photo: Amit Shaal

The Covid-19 crisis has been good for Check Point. Shwed's company has always been very profitable, to the degree that it was criticized for not investing enough in the future in order to profit at present, but the global shutdown only increased its profits. The company's net income leaped to $196.4 million in the second quarter, partly due to a decrease in expenses, and not necessarily voluntarily.

"The high profits are not only the result of our activity but mainly due to a sharp decline in the flights and entertainment expenses," Shwed said. In stark contrast to apocalyptic expectations, most of the companies that have published their reports for the second quarter so far actually surpassed profit forecasts.

What else did you save on apart from flights?

"It's not just that people haven't flown for four months. It is also due to savings in vehicle expenses since people don't travel to meetings and on hospitality expenses on clients, which have gone down significantly. There are also no big marketing events where you take out a hotel and feed all the participants. These expenses add up to hundreds of dollars per participant. What's incredible is that nowadays we meet with more clients, only we do it on Zoom with far lower expenses," Shwed said.

These changes are reflected in a decrease of several million dollars in the marketing and sales expenses clauses, which shrank by $3 million to $140 million and another $1 million in the general and management expense clauses.

How have your own methods changed?

"Nowadays, because of Zoom, I meet with a lot more clients since it doesn't require months of planning and to dedicate a week of my time to fly out to New York," he added.

Will these changes reverse after the pandemic is over or will they stick and shift existing operation procedures?

"We will live in a hybrid world. People still desire human interaction, but a lot more of what we do will be done virtually from home. We are beginning to prepare for that and build work plans for the future," said Shwed. "What will the office of the future look like? Who will come in and who will work from home? How do you foster teamwork? Many conceptions that developed over decades will change, and one of them is how one measures work. Merely coming to the office for nine hours a day is no longer a relevant assessment measure."

What kind of feedback are you receiving from employees about the shift in work practices?

"A survey we conducted found that 55% of employees wanted work from home to become the basis of employment in the future, which is a very high percentage. Almost 100% of the employees predict that in the future work will be a hybrid combination of office and home based employment," Shwed revealed. "Fewer than 10% said they wanted to work solely from home and a similar number said they wanted to work solely in the office. The numbers are pretty consistent across all our global offices and all positions."

With this in mind, Shwed's next declaration was only natural, though it may shock the real-estate market: "We will be reducing our real estate holdings in Israel because we realize that we can provide welfare in the office without expanding it further."

Check Point has been on a real estate buying spree in Tel Aviv in recent years, significantly expanding office space on the campus it owns and even renting three floors in a nearby tower. About 2,400 of the company's 5,400 employees are employed in Tel Aviv.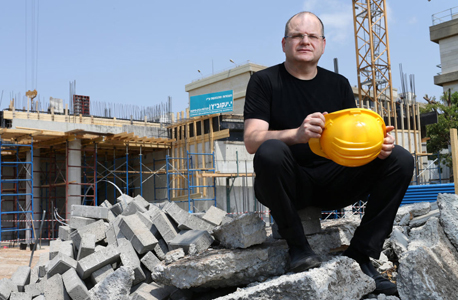 Checkpoint CEO Gil Shwed at the start of construction of its new building in 2016. Photo: Amit Shaal

Have you reduced your personnel in light of the Covid-19 crisis?

"We have no plans to reduce the workforce, the opposite is true. We see that many companies are being more cautious in recruiting new employees, with many halting them altogether. For us, it's the other way around. We hired 100 employees, some of them in Israel, in the last quarter. We are trying to avoid layoffs, even due to performance, because we appreciate the difficult circumstances," Shwed added.

Check Point didn't only surpass its profit forecast, but also the analysts' forecasts for revenue, which reached $506 million in the second quarter, $18 million higher than expected. The company did not provide forecasts for the third quarter with the publication of the report and yesterday too Shwed announced that the uncertainty is still too high to predict what might happen for the rest of the year. Revenues in the second quarter increased by about 4% compared to the previous quarter and compared to the corresponding quarter in 2019.

What are your forecasts for the rest of the year?

"We see a nice order backlog and the last quarter has been very good, but on the other hand the world remains closed. There is an understanding that the world is more connected and needs more security, but it is impossible to build a model yet since the trends change too often," Shwed said.

Has the shift to working from home led to more cyber attacks?

"There are more attacks on distance learning activities and also more attacks under the guise of sending a resume, against the background of the unusual unemployment rates in most countries. Humanity must prepare for the cyber pandemic that will come. I do not want to predict anything," Shwed said, "but you have to remember that in a health pandemic every person can infect one or two other people. In cyber, one infected computer can infect dozens, and the doubling rate can be minutes or seconds."

Has the coronavirus crisis affected the value of companies?

"Quite surprisingly we do not see a decline in the valuations of companies we are interested in acquiring. We would be happy to buy more companies, but it will not get easier. Valuations ​​have not dropped significantly, in either public or private companies. Many companies are able to raise new investments and still have money. Perhaps it's related to the fact that the tech industry is presenting results that aren't too bad."