Tech entrepreneur Moshe Hogeg pivots to the energy sector
In a rare move, the blockchain mogul invested $8 million in Tshuva's Delek Group
A surprising investor swept in to help Itzhak Tshuva complete Delek Group's Financing round last Tuesday. A person familiar with the details told Calcalist on condition of anonymity that tech entrepreneur Moshe Hogeg purchased shares totaling NIS 25-30 million (approximately $8 million) making him the biggest investor aside from Tshuva himself. As a result of the investment, Hogeg now owns 2% to 2.5% of Delek Group's shares.

Hogeg, who is also the owner of the Beitar Jerusalem soccer team, made the investment through a private company that he owns, as a mid-to-long term financial investment. Hogeg declined to comment on the report.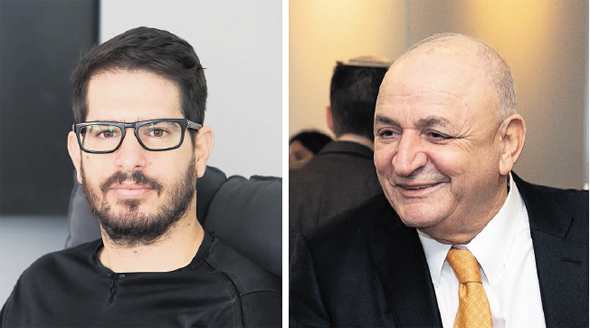 Moshe Hogeg (left) and Yitzhak Tshuva. Photo: Orel Cohen and Eyal Tueg

Investment in an Israeli holding company like the Delek Group, which is active in the energy sector, is an unusual move for tech entrepreneurs, who tend to invest their earnings in startups, existing tech companies or real-estate companies.

The fact that Hogeg invested despite the question marks surrounding Delek Group's ability to service its NIS 5.8 billion debt to its bondholders and in light of the junk yields in which the seven different series are traded, makes the investment even more unusual. It appears Hogeg believes in the group's ability to survive and even garner him value.

Hogeg is the founder of venture capital fund Singulariteam. Last January, he benefitted from a $7 million partial exit after Moonactive, the operator of the popular game Coin Master, raised $125 million in a secondary issue at a value of $1.25 billion. After the issuance, Hogeg owns $100 million worth of the company's shares. He has also earned tens of millions of dollars from his various business activities in the blockchain industry.

That said, not all is rosy in Hogeg's kingdom, with several failures under his belt, including photo-sharing app Mobli, which he founded and later shut down as was his cryptocurrency-focused television news site BLOCKTV. Sirin Labs, his blockchain smartphone manufacturing company has had to lay off a quarter of its employees.

Hogeg was also the subject of a series of lawsuits; one by 17 Israeli businesspeople who demanded the disassembly of Singulariteam daughter company IDC and another by a Canadian citizen who accused him of circumventing financing regulations when raising money for another of his companies, Stox Technologies.

Last Tuesday, the Delek Group completed the second of four financing rounds, totaling half a billion shekels ($150 million), it undertook to carry out by April 2021. Last Tuesday, the company raised NIS 176 million ($51.6 million), although it was obligated to raise only NIS 163 million ($46.8 million). The volume of fundraising has increased beyond what was planned in light of the demand, which was for NIS 295 million ($86.5 million).