Israeli entrepreneur Moshe Hogeg sued for fraud once more
A Canadian investor in Hogeg's crypto project Stox, alleges the company was a sting operation disguised as a business venture
Yet another lawsuit against Israeli blockchain entrepreneur Moshe Hogeg and his Gibraltar-incorporated crypto company STX Technologies Ltd., also known as Stox, has been filed with the Tel Aviv District Court.

In the NIS 5 million (approximately $1.4 million) lawsuit, reviewed by Calcalist, a Canadian citizen, Brad Mills, alleged Stox is a sting operation disguised as a business venture.

In addition to Hogeg and Stox, Mills is also suing former Stox CEO Yossi Peretz and one of its co-founders Ophir Gertner, as well as two other companies owned by Hogeg, venture capital firm Singulariteam Ltd. and gaming company Commologic Ltd.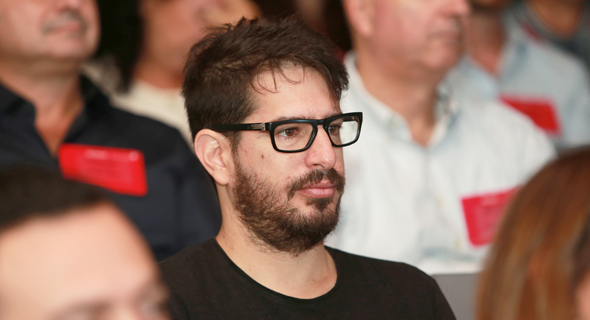 Moshe Hogeg. Photo: Orel Cohen
This is not the first time Hogeg and companies or people associated with him are being sued for similar reasons. In January 2019, a Chinese investor filed a similar lawsuit, demanding NIS 17 million (approximately $4.6 million at the time) in damages. The lawsuit was later dropped following a mitigation process.
Later that year, an American investor sued Hogeg in Seattle, alleging he misappropriated investor money to fund his acquisition of Israeli soccer team Beitar Jerusalem Football Club, a real estate deal in Kfar Shmaryahu, an affluent Tel Aviv suburb, and a donation to Tel Aviv University (TAU), which subsequently named a research institute after Hogeg.
Founded in 2013 as a subsidiary of Invest.com, Stox raised $34 million in an ICO of its namesake digital coin in August 2017. On its website, Stox presents itself as an open-source, Ethereum-based prediction market, in which the entrance fee for a prediction or wager is a single Stox token.
In his lawsuit, Mills claimed he invested over $1 million worth of digital currency ether in Stox, before learning the project was fraudulent.
According to the lawsuit, the defendants diluted the value of the Stox coin by distributing 22.5% of the coins that were meant to remain locked, contrary to their previous commitments. Stox was ultimately shut down in October 2018, letting all of its employees go, at the instruction of the defendants, the lawsuit further alleged.
"Recently, information regarding serious irregularities concerning investor funds has reached the plaintiff, indicating the project's coffers were emptied out for the personal benefit of Hogeg and the other defendants," the lawsuit stated. The lawsuit mentioned among these private uses "Hogeg's lavish lifestyle that includes the purchase of expensive real estate, luxury cars, private jets, and soccer team Beitar Jerusalem, as well as donations to public institutions meant to glorify his name."
Mills also claimed that when he approached Hogeg about his conduct, the Israeli entrepreneur assured him Stox was a sure investment and attempted to convince him to invest further. Mills also claimed that, in a private conversation, Gertner admitted he was not forthcoming with investors and that Hogeg is completely in charge of the project.
Hogeg has yet to respond to Calcalist's request for comment.
Mills is represented by Zohar Lande, Noa Havdala, Michael Dubin, and Asaf Glazner of Tel Aviv-based law firm Barnea Jaffa Lande.