First-ever AI-based autonomous traffic management platform unveiled in Phoenix, Arizona, thanks to Israeli-founded company
NoTraffic uses its AI to optimize traffic management systems and improve traffic flow in urban areas
NoTraffic Ltd. announced on Monday that it will install its autonomous traffic management platform in Phoenix, Arizona. The technology will be located on Glendale Avenue between Central and SR 51. After testing in the U.S. and other countries, NoTraffic has shown that it can reduce vehicle delay times by roughly 40 percent.

"We are grateful to partner with the City of Phoenix, the fifth-largest city in the United States," says Tal Kreisler, CEO of NoTraffic. "I believe we will see impactful tech initiatives moving front and center, playing a pivotal role in how the world emerges from Covid-19 and the economic recession that accompanies it."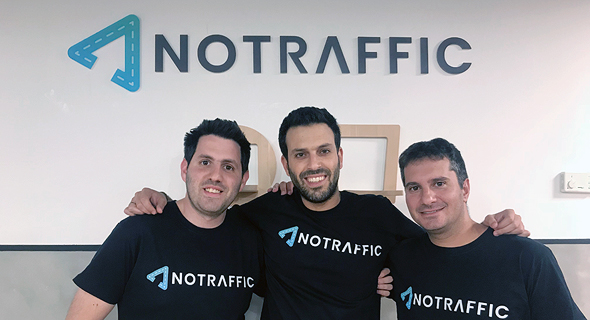 NoTraffic Founders Or Sela, Tal Kreisler, Uriel Katz. Photo: NoTraffic
NoTraffic is an American company - founded by three Israelis - which automatically operates traffic light grids and helps create a smooth and efficient journey for vehicles. In addition to reducing congestion, its system also helps with other services, such as Emergency Vehicle Preemption (EVP), Transit Signal Priority (TSP), pedestrian prioritization.
It does this by optimizing traffic light grids with smart sensors and prepares the road infrastructure for the connected and autonomous era. NoTraffic can detect different travel modes such as cars, bikes, buses, or pedestrians — and changes the lights according to the needs of each. The platform then enables each city to implemented traffic policies that maximize traffic flows and make the streets safer.
All data is processed at the edge—in this case, the intersection—and remains completely anonymized.
The project is part of the Maricopa Association of Governments (MAG) emerging technologies initiative, designed to test new technologies before large investments are made. Its partners include the City of Phoenix, Greater Phoenix Economic Council, Arizona State University, University of Arizona, and Northern Arizona University. According to Crunchbase, NoTraffic has raised $6.9 million in seed.
Arizona has long been an innovation-friendly US state, with many Israeli companies working with locals to produce technologies and partnerships. In 2018, Governor Doug Ducey legalized the deployment of autonomous vehicles - making Arizona the first state in the country to do so.