Israeli programmer reveals uphill battle to launch Facebook Shops remotely
The Israeli team took over from the London office to create a new multi-app tool for e-commerce solutions
Facebook's Israel campus played a crucial role in the development of the social media giant's new platform, Shops. The platform rolled out on Tuesday makes it easier for businesses to set up digital storefronts and sell products online. Despite having to work remotely during the Coronavirus (Covid-19) pandemic, the Tel Aviv-based team managed to connect to the London office via tools like Workplace and Portal to help accomplish their goal.

"Building a product at Facebook is typically a lively, in-person collaboration among engineers, product managers, designers, researchers, and data scientists. But in the case of Facebook Shops, the team that was meant to bring the product to market never made it to the office," read a blog post by the company.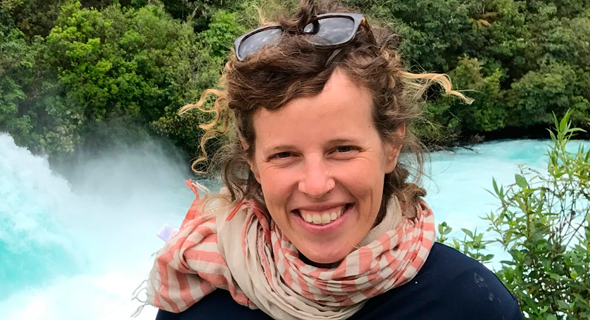 Facebook software engineer Ayelet Lejtman. Photo: PR

Ayelet Lejtman, a software engineer based in Facebook's Tel Aviv office, spoke to CTech about how joining the team had its challenges but ultimately became a win-win for Israel and Facebook.

"It was challenging from both sides: working remotely with teams from other offices, and also getting to know a lot of new things without meeting each other," she told CTech in an exclusive interview. "I think it was a great choice for them to work on it in Israel because I think we have amazing machine learning engineers. I think the technology in Israel is very strong and we know how to move fast, which is also important. I think the two things make it very appealing."

Lejtman explained that the main purpose of the team in Israel, which consisted of tens of engineers, was to build a computer vision model helping identify and extract features from product images, such as color, material, or design. In addition, its naural language processing model can analyze and contexualize text searches inputted by the user.

Drawing on six years of knowledge and data, engineers could develop finely-tuned machine learning algorithms to help with accurate recommendations based on someone's search request for e-commerce items.

Lockdowns around the world put a strain on small local businesses, so Facebook knew it had to act fast to alleviate some of their pain. What began as a commerce solution was becoming a potential lifeline for business owners and workers. And the race to release Facebook Shops had now gone from a marathon to a sprint.

"We knew the product could provide relief to businesses affected by COVID-19," said Gareth Reakes, the Director of Software Engineering for Commerce Opportunities in Facebook's London office. "Now we're hoping that having a stronger online presence across Facebook's family of apps allows them to rebound faster."

Facebook's own data demonstrated that 31% of SMBs currently aren't operating, yet its apps have so far generated more than 200 billion euros ($236 billion) for businesses in the European Union.

Facebook Shops was first announced in May but has evolved from a beta version to a worldwide release. Today, its technology works across Facebook's entire family of apps to make sure the customer experience remains the same. The company has also expanded Live Shopping on Instagram and introduced news features to Live Shopping on Facebook, according to the post.