Work from home? Facebook expanding Tel Aviv office space despite Covid-19
Social media giant to take over two floors in trendy office tower vacated by Magic Leap who carried out a round of layoffs
While the Covid-19 pandemic has resulted in many companies sending their employees to work from home and in some cases to completely forego using offices, Facebook is actually expanding its office space in Tel Aviv. Following in the footsteps of Microsoft Israel, which recently announced its plans to acquire more office space in Tel Aviv, Facebook Israel has signed a deal to rent two additional floors in the Azrieli Sarona Tower, a person with knowledge of the deal told Calcalist under the condition of anonymity.

Facebook Israel has agreed to rent the 47th and 48th floors, which had until recently been used by Magic Leap, an augmented reality (AR) startup, which recently fired a significant amount of its staff and no longer requires the space.

The two additional floors give Facebook another 5,000 square meters of office space to the 24,000 square meters it currently occupies across 10 floors in the tower. The deal is estimated to be worth NIS 750,000 (approximately $220,000) a month and NIS 45 million (approximately $13 million) over five years.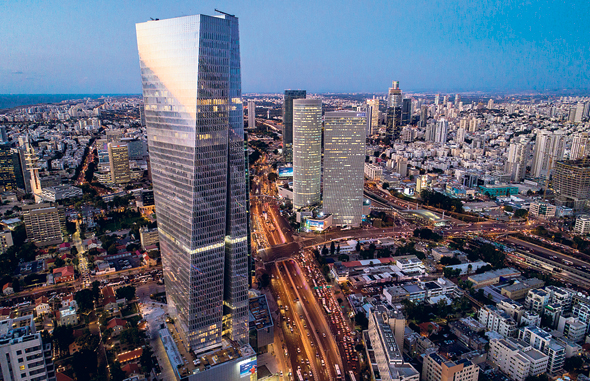 Azrieli Sarona Tower. Photo: Lavi Aerial Photography
Facebook's employees are currently working from home and the company has yet to set a date of return to the offices. Facebook founder Mark Zuckerberg said a couple of months ago that Facebook is planning for a significant portion of its employees to continue to work from home, but he was talking about a 10-year plan which will largely affect the company's engineering department in the U.S.
"Facebook's R&D center in Israel is a significant growth engine for Facebook Global and plays an integral part in products like Facebook Lite, Express and WiFi," said Tzach Hadar, Director of Product Management at Facebook. "Hundreds of engineers, product managers, designers and analysts work in the Tel Aviv office during normal times. As the center is undergoing constant growth we are expanding our activity to an additional floor which was previously occupied by Magic Leap. We also hired some of Magic Leap's workforce and provided solutions for employees who were hit by the crisis. We welcome this move and are certain that this new space, together with the talented workforce, will help us in our mission to continue and lead Facebook to excellence and innovation."
The Azrieli Group did not respond to a request to comment.
The office real-estate industry in Israel has recently suffered several blows after prominent tech companies announced their intention to significantly reduce the use of office space as they shift to a work from home model. Earlier this month, Calcalist revealed that LivePerson Inc, which employs 1,300 people, 350 of them in Israel, plans to forego using offices altogether. Check Point CEO Gil Shwed also recently stated his plans to reduce his company's office space.
A recent study by Standards & Poor Maalot, predicted that office real-estate value in Israel will drop by as much as 10% due to the Covid-19 crisis.