Israel Arab sector presented with huge opportunity in UAE deal
Alan Feld, co-founder and Managing Partner at Vintage Investment Partners, and Yifat Oron, Leumitech CEO, believe that the agreement could prove to be significant for the local tech market already in the near future
The upcoming agreement with the UAE presents an excellent opportunity for the Israeli economy as a whole and its Arab sector in particular, Alan Feld, co-founder and Managing Partner at Vintage Investment Partners, and Yifat Oron, Leumitech CEO, said during Calcalist's online conference on the business potential the UAE presents for Israel. The two senior investment executives believe that the agreement could prove to be significant for the local tech market already in the near future.

"The UAE did an interesting job with their economy by diversifying it. One of the sectors they are focusing on is tech," noted Feld. "They have done many interesting things in the tech sector, mainly focusing on financial technologies. During my visit there a few months ago I was very impressed with their progress."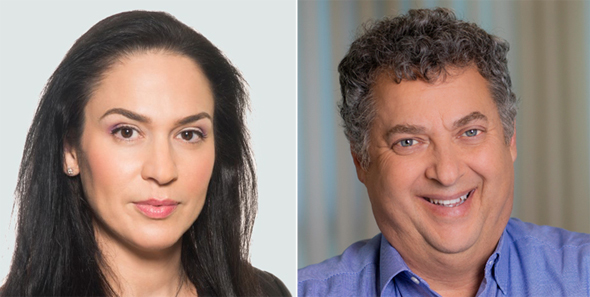 Alan Feld (right), co-founder and Managing Partner at Vintage Investment Partners, and Yifat Oron, Leumitech CEO. Photo: Eric Sultan and Yoram Reshef
Oron explained that the Gulf states see themselves as a gateway to all of Asia. "They have a very large free trade zone. They have the smartest cities in the world. Dubai is the world's 12th largest financial center so it attracts any company active in the fintech sector," said Oron. "There is a mutual interest for companies in both countries to forge partnerships. I believe that Israeli companies will initially approach investors there to see if there is a match from a business and cultural standpoint, which I believe there is due to their Western way of thinking."
Feld doesn't think companies and investors from the Emirates will want to initially invest directly in Israeli firms. "I think they will start with indirect investments in funds and other organizations with which they want to partner," he said. "We have a lot to learn from them in the finance world and I believe we can cooperate with them."
"This is a great opportunity for tech companies in Israel's Arab sector," added Oron. "There are many opportunities in the UAE in e-commerce and knowing the language and understanding the opportunities is extremely important."