Facebook finally bans Holocaust denial on its platform
The social media giant has faced months of scrutiny for failing to distinguish between free-speech and anti-Semitism
Facebook CEO Mark Zuckerberg has announced in a post that the social media giant is including Holocaust denial as part of its policies combatting hate speech.

The platform, which has more than 2.7 billion monthly users, has been accused of having a 'conceptual blindspot' surrounding anti-Semitism and the promotion of groups that deny the existence of the Holocaust - one of the most violent acts of the 20th century.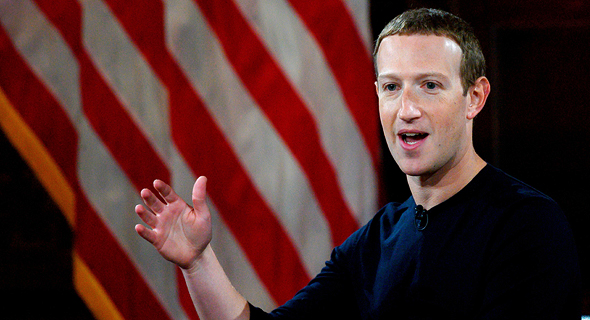 Mark Zuckerberg. Photo: AFP

"We've long taken down posts that praise hate crimes or mass murder, including the Holocaust," Zuckerberg wrote in a post. "But with rising anti-Semitism, we're expanding our policy to prohibit any content that denies or distorts the Holocaust as well. If people search for the Holocaust on Facebook, we'll start directing you to authoritative sources to get accurate information."

While posts that include Holocaust denial have been taken down by the platform in the past, it was done in the guise of 'traditional' violence and not explicitly violence that targeted Judaism and undermined the history of its people.

In August, CTech spoke with researches from the Institute of Strategic Dialogue (ISD) who found that there was a myriad of groups that 'actively promote' Holocaust denial, often referring to it as a 'Holohoax'. Facebook "treats it almost more like a form of disinformation and something they don't want to be the arbiter of truth about, rather than a contemporary expression of anti-Semitism," said Researcher Jakob Guhl, co-author of ISD's study 'Hosting the Holohoax: A Snapshot of Holocaust Denial Across Social Media'.

At the time, Facebook sent CTech the following statement: "While we do not take down content simply for being untruthful, many posts that deny the Holocaust often violate our policies against hate speech and are removed. Striking the right balance between keeping people safe and allowing free speech is difficult and we know many people strongly disagree with our position."

Facebook joins YouTube in banning the term 'Holohoax' and Holocaust denial, whereas other platforms like Twitter, TikTok, and Reddit still need to play catch up. While Holocaust denial remains illegal in 16 countries in Europe and Israel, social media platforms have generally been slow to adopt it into their policy due to the risk of being seen as stifling free speech.