Analysis
Follow the likes: How social media giants affect marketing
TikTok might be the latest app to attract young people, but its fate is just as unpredictable as that of its predecessors
TikTok has been making a lot of headlines recently, with the new social media platform seemingly taking the world by storm. It's 800 million monthly members - 41% of which are under the age of 25 - have kept themselves busy during the global lockdown by posting mostly innocuous videos of themselves dancing, singing, or playing at home. For brands and marketers, this makes it the number one spot to attract the attention of Gen-Z.

While the influencer space is most dominant in the beauty, fashion, or food sectors, tech companies are increasingly seeking services to make themselves more attractive to young people too. "I can't think of a brand now that isn't promoting themselves through social media," Elma Beganovich told CTech in an interview. Beganovich is the co-founder and COO of A&E, an influencer marketing agency. She co-founded it with her sister, Amra, after they both left careers in economics and law. In the past, the agency has worked with companies like HTC, Uber, and Huawei.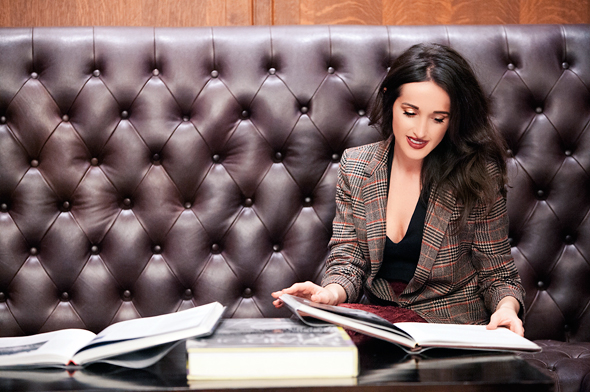 Elma Beganovich Co-Founder and COO. Photo: amraandelma.com
Influencer Marketing
A&E partners with brands who wish to raise their status and online presence via social media. This is achieved by creating social and content strategies, managing social accounts, or hosting physical events (pre-Covid-19). Over the last six years, they've helped companies improve their presence on all the major platforms including Facebook, Twitter, Instagram, Snapchat, and, most recently TikTok.
Beganovich told CTech that marketing on TikTok today is similar to how it was on legacy platforms like Facebook a few years ago. Its AI algorithm makes sure that new users are seeing more of what they like at the start of their relationship with the product. A common tactic among social media companies is to gradually decrease the amount of this content over time once users are already addicted to the platform. Then, users might start seeing fewer posts from their friends and influencers they admire and more from companies who are paying to appear in their timeline.
"The algorithm and the AI starts out being much looser in the beginning, because the goal of the social media platform is to get as much engagement between the users so that they spend more time using it and invite their friends." In contrast, Instagram only shows users 15% of the content belonging to pages they like, and Facebook only 3%. At this moment in time, TikTok is the most 'free-market' social media platform which has the most direct relationship between users and influencers.
Eventually, Beganovich admits, TikTok will do the same. "I've seen it from Facebook, Twitter, Instagram, it will be a matter of time. That's the business model."
The changes in marketing have given birth to the rise of a new form of advertising: via an 'influencer'. A social media influencer is usually a young person who frequently posts content on platforms and acquires a large following online. Brands and companies then pay those influencers money to promote a product or service. Influencers like Kylie Jenner can earn as much as $1.2 million for every post she uploads to her 189 million Instagram followers.
'Battle For The Likes'
Social media platforms have become old enough that we are starting to see 'generations' appear in both the companies and the userbase. Facebook is a legacy platform, it owns Instagram - dominated by millennials - but now TikTok seems to position itself perfectly as the next big thing for Gen-Z (those aged between 15-25). Consequently, it is the latest platform to get swarmed by brands as they play catch up with young people around the world.
"Influencers started sharing their videos on Instagram telling their audience to go to TikTok, so there was this swap, if you will."
One impressive feat by TikTok is how quickly it has managed to fracture audiences into two different spaces. Content on TikTok is different to that of Instagram, Twitter, or Facebook. Therefore, the followers that are accumulated and the community that is fostered remains unique. This could be a problem for Facebook, whose platform is increasingly seen as old and outdated by teenagers. If Facebook doesn't compete soon, it risks losing out on the next generation.
"Teenagers don't want to be on the same platforms as their parents," said Beganovich. "It's deemed uncool. They certainly don't want their mothers monitoring what they're viewing."
Facebook recently launched Instagram Reels - its answer to TikTok - to help stay in the game.
This battle has been fought before. In 2016, Instagram created Instagram Stories which acted as a direct attack on the then-popular Snapchat. Once Instagram could offer the same features as its competitor, there was no reason why influencers and brands would split their content between two places. Behold, Facebook reclaimed the youth that keeps its platform relevant.
Today, Beganovich told CTech, Snapchat is practically a wasteland.
"The entire business model of a social network depends on other people. People go where their friends are, that is the only value of the platform… that was basically the death of Snapchat in terms of their influencer marketing. We saw a significant decrease in clients asking us to do anything on Snapchat," she said.
The Future of TikTok
TikTok has other issues coming its way. President Trump recently ordered a ban on the app in the U.S. unless it was sold to an American company, and questions are continuously raised about its connection to the Chinese government.
Companies like Microsoft and Twitter have held preliminary talks about purchasing the American arm of TikTok, but all this uncertainty about its future has sent the influencer community, and its users, into chaos.
"Early influencers, of course, panicked especially because influencers are making a livelihood that revolves around their social media stardom and popularity. I know that influencers have been panicking and considering exiting TikTok because if it's banned from the U.S. then there's no point in their investment of time and effort."
TikTok's numbers are still growing, but its future is still not safe. With wars being raged against it by American governments and tech companies, as well as reports of anti-Semitic behavior by its users, influencers may not be able to enjoy its platform for much longer. In the battle of the social media giants, the doors are still open for anyone to claim the crown.