Mileutis raises $20 million to reduce antibiotic use in cows
The company aims to cease the use of antibiotics in the dairy industry by replacing it with a viable alternative
Mileutis Ltd., a company based in Ness Ziona, Israel raised $20 million to develop a drug that is designed to treat mastitis in cows. The private venture capital company, U.S.-based NovaQuest Capital Management LLC, which specializes in health and life sciences and oversees some $2 billion in investments, invested in the Israeli company. NovaQuest's investment is the first of its kind in the health and life sciences sector and the first for Mileutis.

In an interview with Calcalist, CEO David Javier Iscovich said "We have a product that will replace antibiotics. In the past, health organizations have noted that antibiotic resistance is growing, especially among animals. Humans are developing resistance to bacteria that we ingest from dairy consumption. Therefore, we developed a product that works with our immune systems, and can be administered to cows simply as a drug. Our product functions as a vaccine and as a medicine," he said.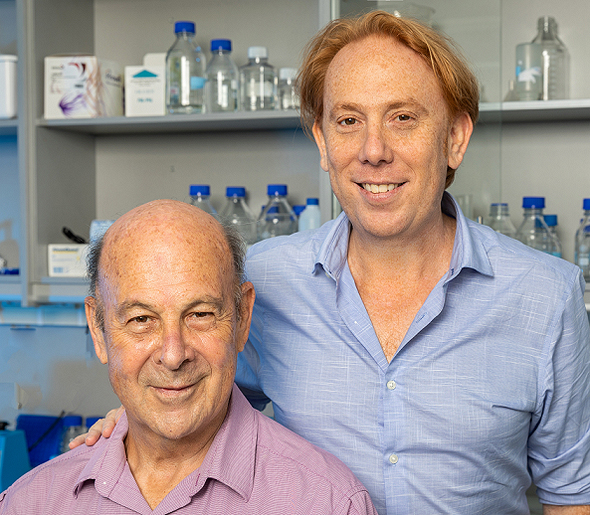 Mileutis Co-founders David and Dr. Jose Iscovich (left). Photo: Eyal Toag


"Mastitis is a serious disease prevalent in dairy farms, especially due to the antibiotic that is injected into cows to treat it. We are working toward removing the use of that harmful antibiotic from dairy farms," Iscovich said. "We have several companies that want to make use of our technology and sell it worldwide. Currently, we are waiting to receive approval from the Israeli Ministry of Agriculture. We established a production line in Ness Ziona with clean rooms and labs, and conducted testing in dairy farms in kibbutzim and moshavim that are happy to cooperate with us."

"We are using our investment money to spread the use of the product in Israel, Europe, and the U.S. The fund that invested in our company, invests mainly in drugs that are intended for humans, this is the first time that they are investing in a drug catered to animals. They realized that we could yield them a higher return on investments than if our product was a drug engineered for humans. Until now, we've raised money from private investors. The company was founded by my father and I in 2004. We created a drug that took 14 years to develop. Once we completed the R&D stage, we submitted it for approval. We used our private investments wisely, especially from Kobi Lustgarten, Managing Director of L.KOBIC Animal Health Ltd, and other foreign investors, such as Ori Inbar from SCR Dairy that was later sold, among others."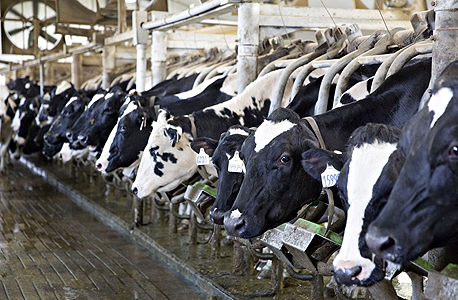 Cows in a dairy farm (Ilustrative). Photo: Bloomberg


The new investment will support the research and development of the company's main product, Imilac, which is designed to treat the most serious health issue of dairy cows, mastitis, which causes between $20-30 million in economic damage every year. Today, the main treatment that is used to prevent dairy cows from getting ill is the widespread use of an antibiotic that leads to antibiotic resistance, and is one of the biggest health hazards to humans. For the first time in years, Mileutis' groundbreaking technology presents a safe and viable alternative.

Mileutis has developed a line of biological products that are derived from proteins that naturally exist in milk. This line is the first to use specific peptides, or parts of proteins, that increase immunological activity in the immune system of the cow's udder, thereby allowing for proper treatment and prevention against the disease. The company believes that lmilac, along with similar technologies are leading a revolution in animal health, and particularly of cows in dairy farms. The company bases its estimates on clinical research that yielded significant statistical results.

Mileutis has a highly experienced R&D team that includes veterinarians and researchers led by President, Co-founder, and Head Scientist Dr. Jose Iscovich. The company employs about 30 employees in Ness Ziona and is currently recruiting additional staff for its R&D and operations teams.

The increase in the number of antibiotic-resistant bacteria, or antimicrobial resistance (AMR) is one of the biggest health concerns in the 21st century. According to the United States Centers for Disease Control and Prevention, it causes one death every 15 minutes in the U.S. alone. It is estimated that antibiotic resistance kills about 700,000 people worldwide every year. In addition, a report published by the British government, this number is expected to grow to 10 million by 2050.

"We are thrilled to continue empowering innovation in the life sciences by funding the development and commercialization of Mileutis' technology," said Jonathan Tunnicliffe, NovaQuest Chief Investment Officer. "We are excited to have Mileutis as our first partner in this space and we look forward to continuing to work with them to bring these exciting products to market." Brian Axe, NovaQuest Principal, said, "We believe Mileutis' product line and technology platform represent a paradigm shift that is much needed in the industry that will not only improve animal and human health by enabling more sustainable milk production, but will also enhance the wellbeing of dairy cows."

Mileutis was represented by Adv. Gary Copelovitz, Head of the International Department at Lipa Meir & Co.