Israeli high tech delegation departs for the Emirates in search of collaborations
The delegation, led by entrepreneur and JVP founder Erel Margalit, includes 13 CEOs from cyber, fintech, and foodtech industries
DUBAI— A delegation of Israeli tech companies led by Jerusalem Venture Partners Fund and entrepreneur Erel Margalit embarked for the UAE on Sunday. Over four days, the delegation will hold meetings with senior officials and innovation and investment counterparts in Dubai and Abu Dhabi to build cooperation between the two nations' business sectors.

"We have already quietly been doing business in the fields of cyber and fintech with Dubai for several years. The thought that Israeli tech companies are going to meet with a series of entrepreneurs who want us to invest in them and help them build bridges to the U.S. is crazy," Margalit told Calcalist.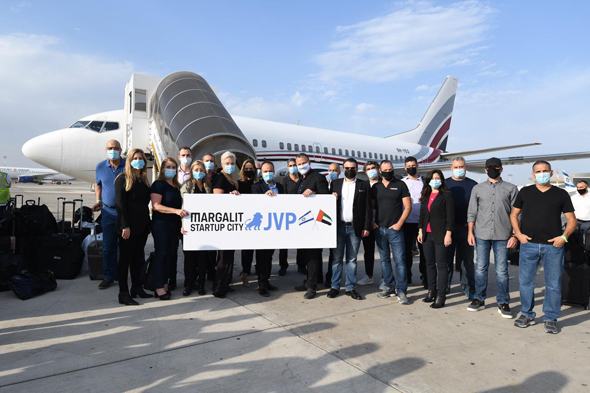 JVP Delegation on the way to the Emirates. Photo: Elad Gutman

"The Emirates are investing all over the region and they are the big investors in Egypt, Morocco, Jordan and it is going to be a pleasure to work with them on very big things," he continued. "We have companies here that provide solutions for companies in Dubai but also new models that will take us to the whole Arab world. There are huge areas of activity such as Fintech, Insurtech, and others. The field of digital medicine is massive and very important here. The cybersecurity industry too is extremely important for a country that is located 10 km from Iran and under constant threat by the regime," says Margalit.

The trip will include a first-of-its-kind 'round table' meeting between entrepreneurs from both counties. Ahead of their departure, the delegation received a welcome from the UAE government. It was invited to the Emirates by the Dubai International Financial Center (DIFC), a body that manages the free trade zones in the region.

The delegation consisted of Israeli companies from a variety of booming sectors, such as cyber, fintech, insurtech, and foodtech industries.

"We have wonderful investors such as the French government, the Finnish government, the state of New York, the state of Alaska, and more. We will be happy to welcome investors to our fund from the UAE as well, with partners who will open doors for us throughout the Arab world," Margalit told Calcalist.

Jerusalem Venture Partners was founded in 1993 and has invested in more than 150 companies from Israel, the U.S., and Europe. Its investment strategy focuses on identifying opportunities and helping frame a strong network of partners from around the world. It has a network of 'Margalit Startup Cities' that act as campuses for early-stage portfolio companies located in Jerusalem, New York, Be'er Sheva, and the Galilee.

Meir Orbach was in Dubai as a guest of JVP.