JVP founder launches Margalit Startup City as Israel prepares for second lockdown
Speaking to CTech ahead of the launch, Erel Margalit urges Israel to follow the European, not American pandemic exit strategy
Despite Israel being on the verge of a second lockdown due to Covid-19, Jerusalem Venture Partners (JVP) founder and chairman Erel Margalit on Monday announced plans to expand the Margalit JVP Startup City by more than 50,000 square meters. In an event streamed live due to social distancing restrictions, he was joined by Jerusalem Mayor Moshe Leon as they celebrated Israel's technological and cultural institutions.

The new complex will be a high-tech center that is expected to focus on four main areas of Israeli innovation: foodtech, cybersecurity, media, and healthcare. During the event, Margalit toured the premises where he spoke with startups that each represent a particular part of the ecosystem and share a direct connection to JVP and Magalit Startup City.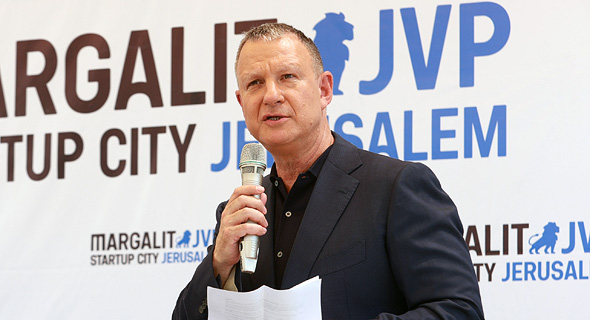 Erel Margalit speaking at the launch event in Jerusalem. Photo: Calcalist

"In Jerusalem, you have the Jewish quarter, the Christian Quarter, the Armenian Quarter - this is the creative quarter," said Margalit speaking with CTech ahead of the event. "This is the project engulfing creativity, new technology companies, new artistic creators, a new dynamic creative quarter."

The extension of the Margalit Startup City comes at a time where countries around the world are starting to open up their economies, and companies are eager to return to work after global lockdowns. Always a critic of national lockdowns as a method to contain Covid-19, Margalit believes that the country should take a more European approach to focus on opening up businesses to get people financially and emotionally healthy again.

"The countries that are winning around the world are the countries that are acting in a different manner and not taking the entire country as one lump or region," he explained. "I think that everything needs to open. You don't open 100% but you open."

The comments come a few days before Israel prepares for its second national lockdown over the Jewish High Holidays of September. While Startup Nation finds ways to use big data technologies to track and isolate heavy cases of Covid-19 for other countries, Margalit likened the return to lockdown life for Israelis to a cobbler going barefoot.

As well as the Jerusalem center for startups, Margalit is also helping New York City establish a tech ecosystem similar to the ones coming out of communities in Israel. While he said New Yorkers were particularly affected by the Coronavirus, it's time to open up again and get people back to work there, too.

"The business leaders in New York and on the West Coast need a wakeup call," said Margalit. "People that are successful... it's lovely that they're in the Hamptons, or Connecticut, or upstate, but the communities within the cities need them and they need to be more present."

The Margalit Startup City Center fully intends to be as present as possible while still abiding by social distancing rules and regulations. In fact, 70 meters below the center is the second station for the high rail train that connects to Tel Aviv - making it easy for employees and visitors to remain engaged in business and cultural activities.

Margalit hopes that Israel will eventually take a European approach to the fluctuation of Covid-19 cases seen over time. He described the leaders as more transparent about their past mistakes and more willing to "differentiate between politics and professional dealings."

"Europe is finding a good path to go back to work and has to support their small business and their individuals. They have a good system of welfare and business support… I think leadership in general around the world is now doing a little bit of a refresh where leaders are more attentive, what I would call 'civil leaders'," he added.