FinTech Gateways
Ornit Shinar: Citi Venture Investing's runaway success
By helping establish the Fintech accelerator program as part of the TLV Innovation Lab, Shinar laid the foundation for some of today's most significant landmarks
Name: Ornit Shinar

Title: Head of External Innovation & Venture Investing Israel at Citi

Notable facts:
Founded a networking organization for women in tech
Speaks seven languages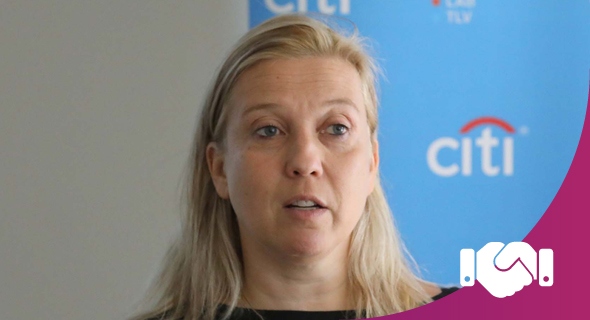 Ornit Shinar. Photo: Amit Shaal
As Citi Ventures' Director & Venture Investing Lead, Israel, Ornit Shinar meets with and invests in some of the most exciting new Fintech companies coming out of Startup Nation. Her story starts when she clerked for the President of the Israeli Supreme Court and obtained her joint honors degree in English Law and French Law from the London School of Economics. Later, Shinar would attend The Hebrew University of Jerusalem and graduate with an LLM cum laude.
Shinar's expertise is mainly in areas pertaining to Security and Enterprise IT, Commerce and Payments, Data Analytics, and Machine Learning. Before her move into the space, Ornit got her career started in sales where she worked as Europe's Director of Sales at Commtouch. They must have known they had a star on their hands since she generated more than 600% of her personal quota.
In 2013, she accepted the position of co-chair of Citi Women in Business Israel. This was due to her success as a co-founder and CEO of Sendm, a cross-network communication offered to three million people in 60 different countries. Her time at Citi was cut short after less than two years - but she was about to make a return after a few more successes.
In the years 2014-2017, Ornit Shinar ran External Innovation and Business Development for Lenovo in Europe and Israel. There, she invested in technologies that would relate to Cloud technologies and AI - some of the foundations behind today's Fintech services. In March 2017, she was invited back to Citi to join Citi Ventures to lead its investment activities in Israel and establish the Fontech accelerator program as part of the TLV Innovation Lab.
Outside of the VC space, Shinar is a seasoned linguist and can speak seven languages: Dutch, English, French, German, Hebrew, Italian, and Spanish. In 2014, Israeli newspaper Haaretz selected her as one of the Top 66 Women You Should Know. When asked about her work, she said: "I thrive on helping entrepreneurs turn their dreams into a reality, seeing ideas grow into products and startups turn into successful companies."