HealthTech Gateways
Samuel Cronin: Bridging the gap between the U.K. and Israel
Cronin offers Israeli startups the opportunity to expand funding and increase outside-the-box thinking by reaching out to the British market
Name: Samuel Cronin

Position: Healthcare Innovation Manager of U.K.-Israel Tech Hub, a division of the British Embassy in Israel

Notable facts:
Tech Hub has formed over 200 partnerships, valued at $129 million
Boosted British economy by $1.3 billion
Assists companies in fields of biopharmaceutical and diagnostic research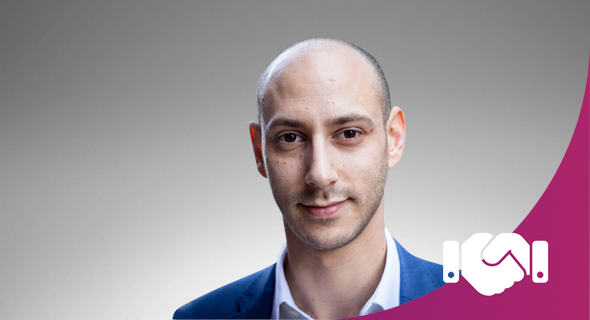 Samuel Cronin. Photo: David Jacobson for the UK Israel Tech Hub

The U.K.-Israel Tech Hub has made leaps and bounds in the field of partnering technological innovation with capital investments. The Hub was originally founded by the U.K. government to encourage economic growth between British and Israeli companies, and runs out of the British Embassy in Tel Aviv. The Hub is open to all, and offers consultations while promoting partnerships to propel innovative technologies forward in a faster and more efficient manner.

Samuel Cronin serves as the Healthcare Innovation Manager of the joint U.K.-Israel Tech Hub, and works directly with Israeli startups, helping them connect with those in the British industry. The Hub assists multinational corporations to solve their innovation challenges by using new technologies and scientific research that are based in Israel. Launched in 2011, the Tech Hub has formed over 200 partnerships that are valued at $129 million, helping boost the U.K. economy by $1.3 billion.

Cronin's Hub mainly works with companies in the healthcare sector that deal in biopharmaceutical and diagnostic research, and improvise medical devices, data security, and the digitized healthcare sector. Cronin believes that by building these alliances, Israeli startups will be presented with more solutions to their financial quandaries and have more success in branching out globally.

Telemedicine must expand in Israel in order for the country to move forward, he says. Now, with the coronavirus (Covid-19) raging, Israeli clinics have begun to offer doctors the ability to communicate with patients remotely using online systems. Cronin thinks that the digital aspect of healthcare must not be treated like any other new high tech fad, and its challenges, concerns, and regulations must be examined and addressed thoroughly before Israel is able to move forward in this aspect.

"Startups need to treat the challenges of digital health the same way all other challenges in healthcare are handled. When developing new technologies, it is impossible to ignore the deep fundamentals of healthcare provision, payment structures, regulation, the underlying science, and clinical research as these all are crucial," he said in 2019, in an article in Calcalist.

A deeper understanding of the medical field is needed, and the necessity of future products needs to be discussed. Cronin calls on Israeli startups to consult international experts, and look outside the box for solutions. Lastly, he holds that digitized healthcare must be less complicated and more hands-on, so that eldery, the young, and doctors alike can access the systems.

In the past, Cronin has served as a guest lecturer at Tel Aviv University and Ben-Gurion University, after pursuing scientific degrees and working in business, writing for high tech companies, startups, and academia.