Israel hosts 3-day virtual Bootcamp for female Italian entrepreneurs
The 3-day event, hosted by UniCredit Bank, was held remotely and served to assist Italian companies with their global efforts
Last week saw the completion of UniCredit Start Lab, a three-day virtual Bootcamp helping female Italian entrepreneurs learn about Israel's approach to scaling up startups for a global audience and market. It was headed by TrekFounders' co-founder and CEO, Yossi Dan, who oversaw three days of Bootcamp seminars and one day for all 20 startups to pitch their companies to a panel of Israeli judges.

The 20 Italian companies related to a variety of industries, including life sciences, cleantech, and digital services. The pitch event targeted an audience of investors and business partners from Tel Aviv, Israel, and abroad. Dan's team, who addressed the entrepreneurs, included Cecile Blilious, Head of Impact and Sustainability at Pitango Venture Capital; Nadav Kidron, CEO of Oramed Pharmaceuticals and Board member at IATI; Noga Kap, Managing Partner of i3 Equity Partners; and Uri Weinheber, VC Investor, and Investment Committee Member at IBI Tech Fund.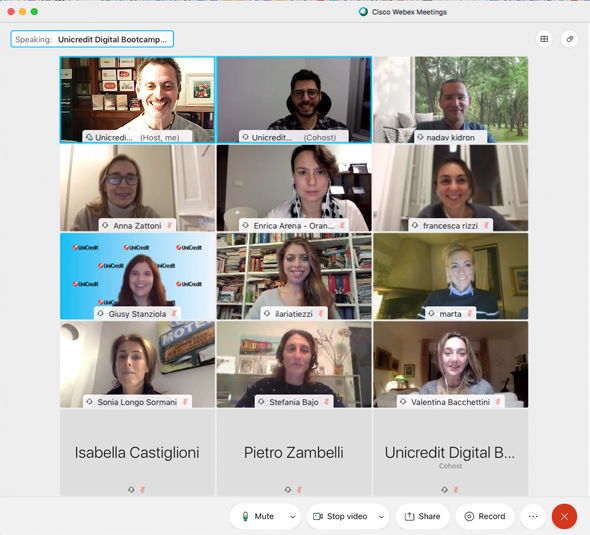 Group Photo (Yossi Dan Top Left). Photo: TrekFounders

"My big dream is to build Israel into the best innovation school in the world," Dan told CTech a few days after the pitch day. He explained how one of Israel's biggest strengths is the ability to go global and attract the attention of U.S. markets and Silicon Valley.

Mentors who took part to guide the entrepreneurs included Tania Amar, Assaf Luxembourg, Alon Laor, and Oren Sea. All mentors have had experience in business and development, marketing, startups, and global strategies.

"We have worked very hard and with each of them. We set up a customized plan to go global and these are the next steps for them to test and launch their activity outside of Italy," Dan explained. "What we provide is a fantastic overview of an ecosystem and good mentors that can help them upscale everything they're doing and everything they know to go global"

Israel has a modest population of nine million people and yet is considered a startup powerhouse with more startups per capita than any other nation. Italy has a much larger population - north of 60 million people - and yet the country never found its groove in marketing its tech companies to global audiences and wider markets.

CTech spoke with Alessia Moltani, one of Unicredit Start Lab's participants and Comftech's co-founder and CEO. Her company provides smart wearable garments for babies and the elderly that can track valuable insights such as movement, heart rate, temperature, and more. She described the experience of working with Israelis with two words:

"It's a lot of fun and a lot of focus," she told CTech about her time on the three-day Bootcamp and her preparation for the pitch in front of Israeli investors. This year would have been Moltani's first visit to the Startup Nation, but due to Covid-19 restrictions, she will have to wait a bit longer.

"They (the mentors) often stressed the importance of thinking internationally from the beginning," she said. "It is typical of Israel to do that… the Israeli way of nursing startups and scale-ups and to educate them - Israel has a specific way, and a successful way of doing that, so it's important for us to understand that."

Many of the mentors and participants have remained in touch and plan to assist each other in scaling up to eventually reach overseas audiences. "It is an organic relationship," Dan stressed to CTech. "I don't like limitations - I think that limitations are not a good thing."

UniCredit is a pan-European Bank and has access to 13 core markets across its European banking network. Its business platform, UniCredit Start Lab is dedicated to innovative businesses and hosts 600 registered startups applying for business support in banking services. In seven years, UniCredit Start Lab has evaluated more than 5,000 projects in four sectors - cleantech digital, innovative, the 'Made In Italy' brand, and life sciences.

TrekFounders is the training initiative of Challengy. In the past, Yossi Dan has hosted a variety of events, including 24H Bootcamp TLV alongside Amar and Luxembourg, which was Israel's largest-ever online startup Bootcamp.