INSIDE LOOK: How 24H Bootcamp TLV gave rise to 100 startups in one day
CTech was invited to 24H Bootcamp TLV to watch the operations in real-time from their WeWork operations building. Here's how it played out
Entrepreneurs and investors gathered online this week to take part in a 24-hour bootcamp in an attempt to create 100 new startups amid the coronavirus (Covid-19) crisis. While the event took place online, operations were run from WeWork Hazerem and CTech was invited to see how a team of pro-bono volunteers managed to pull off Israel's "biggest 24-hour online bootcamp" ever.

"I can tell you that anytime I can help even one person, I feel good. Now, imagine we have 200 (participants) connected. I feel 200 times as good," Yossi Dan told CTech a few moments after the bootcamp went live online. Dan is the chief of Challengy's Innovation Lab and led the bootcamp together with Tania Amar and marketing professional Assaf Luxembourg.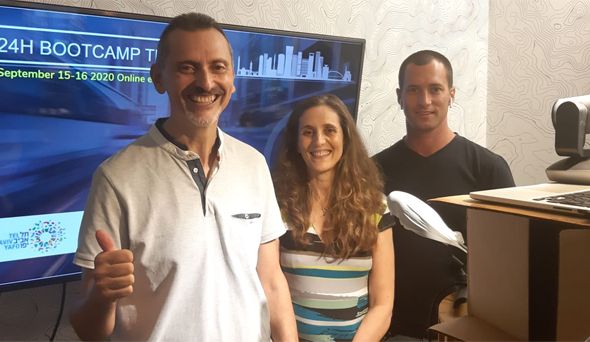 24H Bootcamp TLV organisers Yossi Dan, Tania Amar, and Assaf Luxembourg. Photo: Oshy Ellman

The aim of the event was to help push new entrepreneurs forward to the next level of their startup journey. Due to Covid-19, thousands of people have been left out of work and were encouraged to use it as an opportunity to reenter the workforce. For 24 hours, participants would be able to work on their own projects while also enjoying speakers who shared valuable insights into entrepreneurship. Speakers included Israeli lawmaker Nir Barkat, OurCrowd CEO Jon Medved, and Israel Innovation Authority CEO Aharon Aharon, among others.

The event was hosted by the Tel Aviv Municipality and Google for Startups - and supported by WeWork which facilitated the 'war room' for operations. Here, whiteboards, computers, and caffeinated organizers met to match-make young entrepreneurs with experienced mentors online in an attempt to create the next big startup. CTech was the only member of the press allowed in to speak with the organizers on the ground.

"When you have an idea for a project, you actually feel alone," Dan told CTech in one of the two-minute breaks he took between workshops and keynote speakers. "It is so tough to develop things. The bootcamp is a safe playground where you come and mentors and speakers are here to empower the participants and help them develop their project."

In total, the team of volunteers managed 100 different projects, 20 speakers, and 60 mentors over Zoom calls and WhatsApp groups - 420 people in total. The first night had three hours of keynote speakers and then the teams were left to work on their project idea overnight until activities began at 9 a.m. the next day.

While it may have felt calm online, team organizers were running frantically behind the scenes from room to room, where there were three different live-streamed rooms and one large space for the operations. The speakers ended their activities at 9 p.m., but Dan told CTech he was up until 1:30 in the morning making sure that all technical issues were resolved and the aspiring entrepreneurs had all they needed to make their mission a success.

The next day, CTech returned to catch the last leg of the journey. Some of the volunteers were wearing the same clothes as the night before and there were plenty of coffee cups scattered across tables, but spirits remained high as the 50 remaining teams took part in the semi-finals.

The semi-finalists were divided into three groups of 10 where they each had one minute to present their startup to a judge. Some of the teams were already established before taking part in the bootcamp, but most were created on the day - meaning they had to meet, choose an idea, work on the planning, and present their pitch all in the course of 24 hours.

To help with this process, Dan had developed four 'sprints' to act as checkpoints throughout the event. Each sprint required one hour of work and resulted in one slide for their final presentation in front of early-stage investors. They focused on 'Team and Ideas,' 'Customers,' 'Product,' and 'Sales'; and a fifth sprint was the pitch and presentation itself. This way, all projects abided by the same templates and had equal footing in their chances of being selected for the final eight.

CTech sat in and heard 10 of the pitches from the new startups. They varied in their cause, addressing anything from payment products, academia, female fertility services, or Covid-19 smart office employee designation. Soon, a winner will be announced from the 100 initial projects and the project will have a chance at securing funding.

While it wasn't the first time Yossi Dan had organized an online event, he told CTech it was the biggest in scope in scale he had ever worked on. The hope is that people gained insights and confidence to work with a new team on a unique idea to help them be one of the #100StartupsChallenge.

A winner was supposed to be announced at the end of the 24-hours, but the judges were unable to make their final decision. After taking a break over the holidays, it is expected that the winner will be announced one week after the event.