A peek into Microsoft's green new Israeli mega campus
The campus, which spans 46,000 square meters, will serve thousands of local and visiting Microsoft employees
Microsoft has unveiled its new flagship building based in Israel's city of Herzliya, which plans to host staff from sales, developers, engineers, researchers, and members from its venture fund, M12. It has been designed to support innovation and accessibility while remaining environmentally friendly and symbolizes the company's confidence in local talent.

The office is the first office in the country to carry a 'LEED V4 Gold certification' for its design, an international standard for environmentally-friendly buildings. In total, it is 46,000 square meters with a 3,500 square meter garden and 8,000 square meters of open space.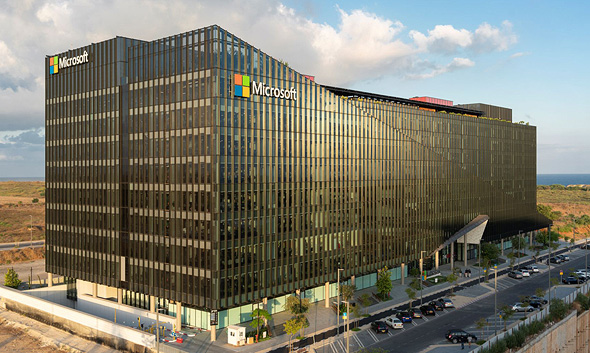 Microsoft's new mega campus. Photo: Amit Garon

"The innovative campus in Herzliya is a long-term investment in Israel by Microsoft," said Michal Braverman-Blumenstyk, CVP and General Manager of Microsoft Israel R&D. "Microsoft's sustainability value has been incorporated into every aspect of the campus, and a great deal of thought was put into every detail, from convenient transportation, through accessibility and integration of diverse populations, to wellbeing in food, fitness, and leisure."

There are a myriad of steps that have been taken by Microsoft to make sure it is inclusive, sustainable, and innovative. It will use technologies such as WaterGen, which generates water from air moisture, as well as a GreenWall platform to nurture vegetation growth. Power to the building will partly be provided by 800 square meters of photovoltaic cells.

"The new campus brings a new experience to all of Microsoft's employees in Israel, and I'm happy for this personal and professional union," added Ronit Atad, General Manager, Microsoft Israel. "The physical proximity will empower us and improve our service to our customers and partners. This new innovative tech center will allow us to offer our customers and partners the best and most cutting-edge solutions that will lead them to success and digital independence."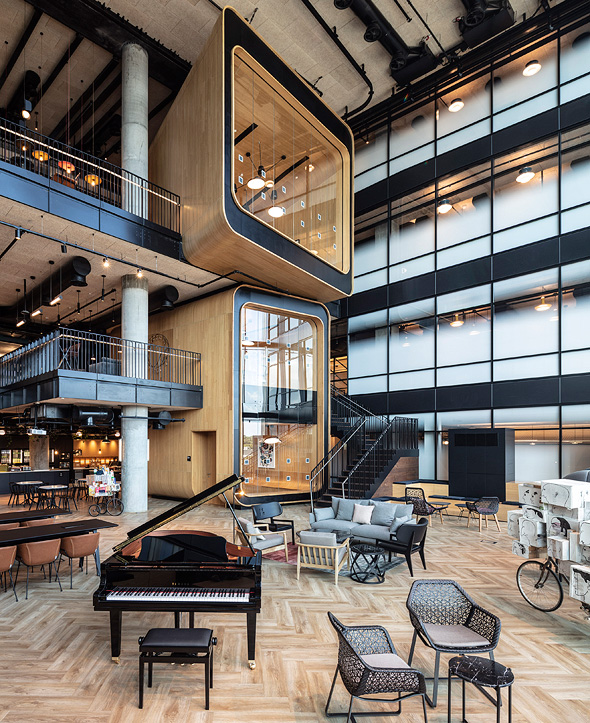 Inside Microsoft's new campus. Photo: Amit Garon

To maintain the wellbeing of Microsoft employees, the building has playrooms, nursing rooms, balconies, a basketball and volleyball court, a yoga room, a 1,000-square meter gym, a music room, and even a dog park for employee pets. For those who commute from Tel Aviv or other cities, there are folding bikes available and parking places with electrical charging spots.

Unsurprisingly, the news comes after Microsoft was recently named as Israel's number one company to work for in Israel for the second year in a row, according to Dun & Bradstreet. The new campus was designed by Yashar Architects with Vered Gindi Architects and Ami Szmelcman responsible for the building's interiors. It was built by The Tidhar Group.