Novotalk sets out to become 'Duolingo' for people with speech disorders
Using a blend of human clinicians and artificial intelligence, users can practice speech therapies to overcome stuttering
Novotalk, an on-demand, digital therapy solution for people with speech disorders, hopes to become an end-to-end solution for those with speech impediments. Its speech therapy course is based on clinically-validated Fluency Shaping methods from Israel's Hadassah Medical Center, a leading speech and language clinic.

"Stuttering is a life-challenging experience," explains Novotalk's President and occasional interim CEO, Zohar Beeri. "They can't freely speak their minds or talk about their ambitions or about their projects. It's a disabling condition."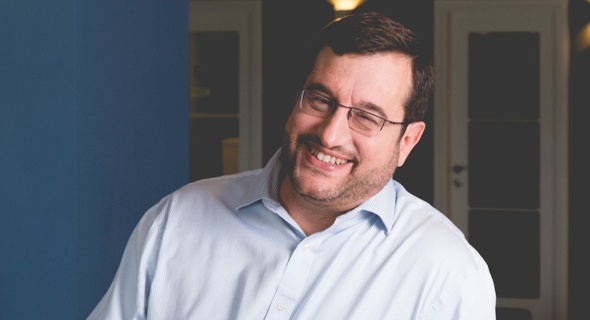 Novotalk's chairman and CEO, Zohar Beeri. Photo: PR

Beeri, who comes from a family of medical professionals, joined the Novotalk team in 2016 after successful stints in the IT sector. Returning to Israel from 10 years in New York, he wanted his next challenge to be at "the intersection of technology and medicine."

Enter Novotalk. The platform was created by a graduate of Hadassah who developed an algorithm capable of listening to speech output and analyzing the patterns to tailor specific exercises. What initially started as a telemedicine platform to connect patients with clinicians who would rely on the data to guide their classes, soon turned into an entirely virtual and AI-based solution for people with speech impediments.

"With a lot of nerves, we pulled the plug on the physician, and their results were better without them," Beeri tells CTech. "They felt much more confident with trial and error when they felt the clinician was not there." Now, users talk directly into their computer and smartphone and combine therapies such as Cognitive Behavioral Therapy (CBT), which is a psycho-social intervention that aims to improve mental health through changing attitudes, to help patients speak clearly.

"With (something like) Duolingo, you have a choice. Learning a new language is a voluntary decision. When you have a speech impediment, you don't have many choices, you need to have speech therapy," Beeri said when comparing the desire to learn a second language with the need of perfecting a first.

It is estimated that more than 370 million people will suffer from stuttering or some form of speech impediment at some point in their lives, with chronic cases impacting more than 70 million - including the next President of the United States. The effects, which can vary from each person, can be debilitating. Novotalk's solution offers a 12-week program where users can check-in any time and speak with 'Emily', a virtual Avatar to guide and serve each user.

Since stuttering is chronic, patients have a 6/7 chance of relapsing at the end of their treatment, Novotalk doesn't call itself a problem solver. Instead, it provides the tools for chronic stutterers to improve, and persist with, their communication. The initial subscription to Novotalk lasts one year (paid annually) but it is saved for a lifetime and ready to continue at a moment's notice. In Israel, the service is subsidized by an HMO but will cost around $44 a month once it launches in the United States.

"Most people who need speech therapy are not getting speech therapy," said Beeri. "It's either too expensive, or not enough clinicians are available to treat them, or in some countries, it doesn't even exist… We're democratizing this, we're making it available to everyone at reasonable prices. That's our mission," he added.