SavorEat raises over $12 million at $51 million valuation in first-ever Tel Aviv foodtech IPO
The company has developed technology that enables it to produce meat substitutes, which combines materials formulated from plant sources, a robot that employs 3D printing, and advanced cooking methods
Israeli startup SavorEat, which produces meat-like products made of plants, has raised NIS 42.6 million (approximately $12.8 million) in the first-ever foodtech Initial Public Offering (IPO) on the Tel Aviv Stock Exchange (TASE). The offering, led by Psagot Provident Funds, attracted leading Israeli institutional investors, including Mor Gemel and Meitav Dash. The company's valuation for the offering was NIS 170 million ($51.2 million). Leumi Partners served as the underwriters of the offering, which was accompanied by Horn & Co. Law Offices.
In July, investment houses Mor and Meitav Dash invested $3 million with an option for an additional investment of $1 million in SavorEat. The investment was made at a company valuation of $25 million.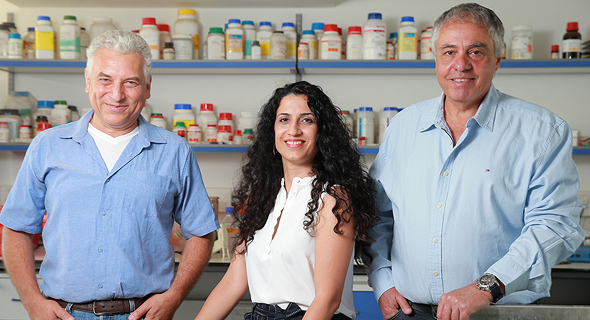 SavorEat founders chief scientist Oded Shosayev (from right), Racheli Vizman (CEO) and Ido Braslevsky. Photo: Sharon Biron

SavorEat was founded in 2018 by Racheli Vizman, who serves as CEO, chief scientist Oded Shosayev, and Ido Braslevsky. The company has developed technology that enables it to produce meat substitutes, which combines materials formulated from plant sources, a robot that employs 3D printing, and advanced cooking methods.

What makes SavorEat unique is its ability to produce and cook products that mimic the flavor and texture of meat (including fat, muscle, and tissue). The raw material comes from a plant source and is protected by a patent that allows optimization of the supply chain. Each dish is created within a "robotic chef," which combines autonomous production methods with a 3D printing and heating method that produces fully cooked portions. The roblooot enables the personalization of the dishes with no human contact.