Traffic management company Waycare launches new project with government agency to help manage busy highways during construction
The agency said it observed an 11-minute reduction in the average time spent clearing incidents off the roadway by using Waycare's tools
Israeli highway agency Netivei Ayalon has partnered with Waycare Technologies Ltd. to utilize its traffic management platform during construction on one of Israel's busiest highways. The AI-powered platform combines information from city infrastructure, crowd-sourced data, and anonymized data from connected vehicles to provide real-time tools for traffic management and analysis.

The project, called Fast Lanes, will be adding new lanes to Tel Aviv's busiest throughway, the Ayalon Highway for toll-paying cars, public transportation, High Occupancy Vehicles (HOV), and shuttles. Due to the expected congestion that will arise during the project, the government company will be relying on the platform from the private sector to help thousands of daily commuters.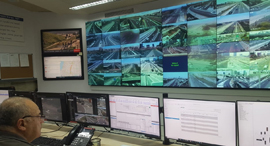 The waycare product in action. Photo: Waycare

"The Waycare system, which will be launched for the first time in Israel with Netivei Ayalon, will help us quickly identify problems and optimize our response," said Itamar Ben-Meir, CEO of Netevei Ayalon. "We see the application of advanced technologies on Israeli roads as an important component in providing diverse solutions to improving road safety."

Transportation Minister Miri Regev lauded the collaboration as another example of how problems can be solved through technological innovation. "I applaud the launch of the joint project with Netivei Ayalon and Waycare that marks another leap forward in technology, and upgrades our ability to identify and resolve problems in real-time, on Israel's most densely-trafficked roads," she said.

Until now, the SaaS platform has been deployed mainly in the U.S. to assist cities with their traffic management. CEO Noam Maital said how "as an Israeli company deployed throughout the U.S., we have been eager to bring our solutions back home in Israel."

According to Ayalon's initial testing of Waycare, the agency observed an 11-minute reduction in the average time spent clearing incidents off the roadway.

Waycare was founded in 2016 by Maital, Idan Hahn, and Shai Suzan. It uses AI to process data to help government agencies, law enforcement, or highway patrols with crash prediction, congestion detection, and incident clarification. To date, it has raised almost $10 million.