Tech@Work
Zoom interviews: "some candidates benefit from it, others feel uncomfortable."
Speaking with CTech, Moburst's Noy Regev highlighted how companies moving remote can have different effects on candidates during the hiring process
"I don't feel like the processes and operations changed much as we worked before in a similar structure between the Israel and U.S. team," explained Noy Regev, HR Manager of mobile app marketing agency Moburst. "A major issue, though, is interviewing on Zoom, because I believe that where some people benefit from it, others feel awkward and uncomfortable. Knowing how to perform well in an interview is a skill."

As companies and candidates alike adjust to the hiring process, Regev offers some insights for potential employees: "always check your microphone and camera are working before the interview, and sit in a quiet area without any potential distractions."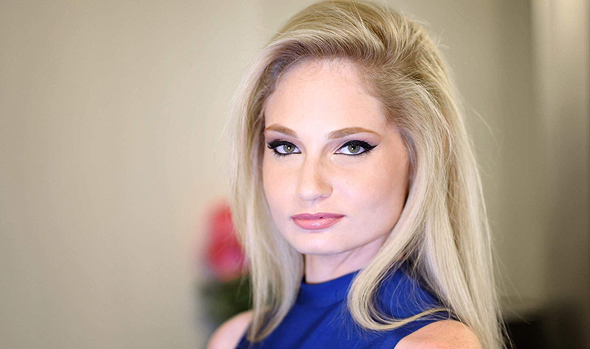 Noy Regev, HR Manager at Moburst. Photo: Moburst

Moburst's Noy Regev joins CTech as part of the HR Post-Covid series to share how the company manages to still find top talent.

Company Name: Moburst

HR Leader: Noy Regev

Field of Activity: Marketing and Advertising

Number of employees/location:

35 employees and counting in two offices: in Israel and New York.

Professional background of HR Manager:

I have a B.A. in Psychology and I just finished my M.A in Organizational Development and Consulting. I began my journey in the HR world at small startups, where I built HR processes from scratch.

Being the only HR manager at Moburst, I handle the entire HR spectrum, from recruitment to personal and professional development, employer branding, and employee welfare. I'm a firm believer in employees being the heart of the company, and therefore always put my employees first.

On a scale of 1-10, how much did the coronavirus pandemic disrupt operations at the company?

I would say 2 or 3. Even before Covid-19 days, most of the processes included computer remote work between international teams. This can be done from anywhere - I don't feel like the processes and operations changed much as we worked before in a similar structure between the Israel and U.S. team.

A major issue, though, is interviewing on Zoom, because I believe that where some people benefit from it, others feel awkward and uncomfortable. Knowing how to perform well in an interview is a skill - a small tip I'd offer to all candidates out there is to always check your microphone and camera are working before the interview, and sit in a quiet area without any potential distractions.

What interesting technological tools do you use in employee management/recruitment?

Nowadays, despite working full-time from home, it's important to us that we maintain close contact with our employees. That's why our Israeli team has a morning sync every day, and we bring everyone together for global sync each Thursday. Our global sync is where we catch up and share departmental updates with the whole team, keeping the Moburst family spirit alive!

We use Zoom and Google Hangouts on a daily basis and they work great for us. For client-related tasks, we use Asana so we can streamline task-related issues and due dates between the Israeli and American teams. Most of the documents are made in Google Sheets, Slides, and Docs so everyone can collaborate and we can track the changes.

On the recruitment side, we're currently working on a super cool recruitment campaign. So far only the first recruitment video that our creative team made has been published. It got amazing attention and received fantastic feedback, so keep your eyes peeled for more.

What positive and/or negative impact did the outbreak have on the human capital of the company?

As far as positive impacts go, I think for us it's that we've learned to appreciate the little things, like the company picnic we had last week - meeting each other after six months was amazing. We had a great time (while sticking to the Covid-19 regulations, of course) and remembered how much fun we have together.

The negative impact is that sometimes being on Zoom calls all day can be exhausting, and the internet connection likes to play tricks on us every once in a while. We've all been there, right? Another negative element is that we can't meet face to face with our American folks. In the past, each new U.S.-based employee would come to visit the Israeli office to kick off the work relationships. Nowadays it's all done in Zoom which is not the same as going to have a drink together.

What is the major challenge you are coping with these days?

I think the biggest challenge is keeping the morale high and the employees engaged, it's hard sitting all day every day in front of the computer at home, alone. So we gave our employees a cool Shiatzu bag to massage their back while they are working and we're having four syncs a week in order to catch up and keep all of our employees happy and engaged. Sending home a surprise alcoholic ice cream was really well received by all employees and we try to continue surprising them with the small things that make a very big impact.

Are you actively recruiting? If so, what is the process and where can the applicants find you?

Yes, we have 10 open positions at the moment, which you can find on our website.

Our process starts with a phone interview, leads to a professional manager interview, then a professional test and interview with our amazing co-founders. The last stages are the English test, and then references and a contract. Our whole process is currently through Zoom and usually takes 1-2 weeks.

Which changes forced upon you by the circumstances will stay in place after Covid-19 is over, and which are you most eager to revert back to normal?

We're definitely convinced that a hybrid work model is the way forward. Our employees are doing a wonderful job working from home, so when Covid-19 becomes a distant nightmare, we'll combine the work from home option with the office, too.

Another thing that we will keep on board is hiring people from all over Israel and the U.S., now that we know distance isn't an issue for us.

All in all, we would love to go back to face to face meeting and Happy Hours - we definitely miss those!