Israel's aMoon fund saw a 15-fold return on its investment in Seer
aMoon invested in the U.S. biomed company when it was valued at $228 million- after a Nasdaq IPO, its value ballooned to $3.5 billion
Marius Nacht and Yair Schindel's aMoon venture capital fund that invests primarily in healthcare and biomed companies recorded a handsome exit this week, after its portfolio company Seer Inc., went public on Nasdaq, earning the Israeli fund a 15-fold return on investment in less than a year.

When aMoon invested in Seer in December 2019 it was valued at $228 million. This week it completed its IPO at a valuation of $1.3 billion. Since the issuance, Seer's stock price has nearly tripled and it is now traded at a $3.5 million valuation. Alongside the public issuance, Seer also held a private sale in which several organizations purchased new Seer stock at the issuance price for a total sum of $135 million.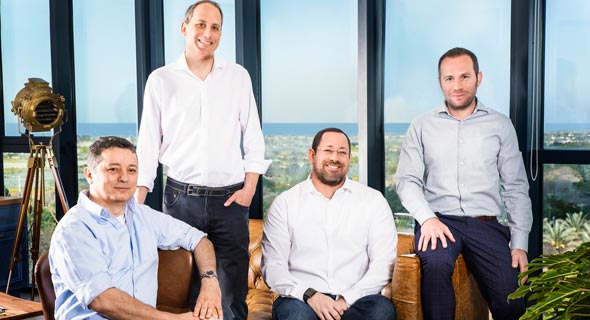 aMoon partners Isaac Devash (left) Todd Sone, Yair Schindel and Tomer Berkovitz. Photo: Guy Gilad

The rare move was initiated by aMoon in order to prevent the dilution of its shares in Seer. Another company that took part in the private sale was Japanese investment giant SoftBank, led by Masayoshi Son. Following the private issuance, aMoon kept its 10% stake in the company, which is now worth $300 million. Its investment was led by aMoon partner and CFO Tomer Berkovitz.

What contributed to Wall Street investor's interest in Seer, a biomed company with no earnings, is its family pedigree. One of its founders, the person who laid the technological foundations for its solution in his laboratory and currently sits on its board, is Professor Robert Langer, the scientist behind Moderna's mRNA Covid-19 vaccine. Langer, a chemical engineer from MIT, who has more than 1,000 patents registered under his name, became a billionaire this year due to the sharp increase in Moderna's stock price ahead of the launch of its vaccine. Langer controls 3% of Moderna's stock and 7% of Seer's.

Seer was founded three years ago in California and its solution also involves protein research. The company, which has no relation to Israel aside from aMoon's investment in it, developed Proteograph, which according to Seer "is an integrated solution consisting of consumables, automation instrumentation, and proprietary software that performs deep, unbiased proteomics analysis at scale in a matter of hours." Its breakthrough, particularly its ability to shorten analysis time from the standard two weeks to mere hours, significantly reduces the cost of the analysis process, which in turn makes it viable for the early detection of diseases in blood tests. One of Seer's first applications is the detection of early signs of lung cancer, a disease the symptoms of which usually only appear at advanced stages. The company's scientists even published a professional study showing how their technology could aid in diagnosing lung cancer at very early stages and as a result dramatically increase a patient's chances of survival. Like most biomed companies, Seer has no income yet. To date, it has supplied a single Proteograph system in October and is set to supply another one before the end of the year.

The fund saw less success with its investment in Israeli pharma company BiondVax, which failed to pass the final stage of clinical testing of its universal flu vaccine. The investment in BiondVax, however, was made out of aMoon's first fund, which was entirely funded by Check Point founder Marius Nacht's money.