Ecoppia's robots to clean one million solar energy panels in India in multi-million deal
Israeli company lands 450MW project that is set to go live in the first quarter of 2021
Israeli company Ecoppia, which has developed a platform for robotic solutions for solar panels, has struck a major deal with one of India's leading solar energy players, Azure Power. The agreement for the project of 450MW, which includes an estimated one million solar panels, was signed back in October and is scheduled to go live at the beginning of the first quarter of 2021.

The deal is estimated to be worth several millions of dollars. Ecoppia went public on the Tel Aviv Stock Exchange last month at a valuation of $1 billion before money, raising NIS 282 million (approximately $87 million) from investors. In July, U.S.-based real estate developer CIM Group invested $40 million into Ecoppia, making it the largest investor in the company.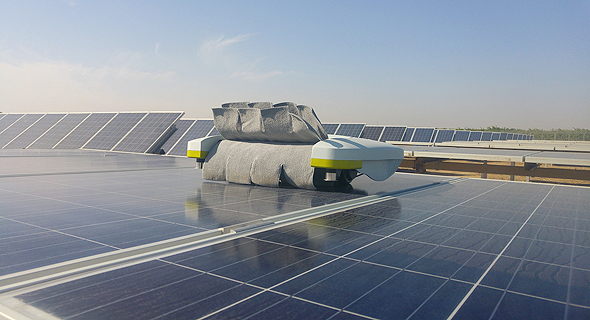 The Ecoppia cleaning robot. Photo: Courtesy

Despite the ongoing Covid-19 pandemic, Ecoppia has secured new projects for more than 10GW in the last four quarters, maintaining a compound annual growth rate (CAGR) of more than 280% in the last six years.

Without any physical presence, Ecoppia enabled its clients across the globe to keep an optimal production while avoiding soiling losses and potential damage, delivering operation continuity even during complete lockdown.

Ecoppia's cloud-based, water-free, autonomous robotic systems remove dust from solar panels on a daily basis leveraging advanced machine learning and IoT capabilities.

"We are thrilled to be working with such a company that sets high targets both in terms of volume and quality," said Jean Scemama, CEO of Ecoppia. "We see this long-term partnership as one of the growing signs that the solar industry is revolutionizing towards automated O&M. Ecoppia takes great pride in being at the forefront of this revolution, supporting the green recovery of the post Covid-19 era."

Azure Power developed India's first private utility scale solar project in 2009 and has been at the forefront in the sector as a developer and operator of solar projects since its inception in 2008. With its in-house engineering, procurement and construction expertise and advanced in-house operations and maintenance capability, Azure Power manages the entire development and operation process, providing low-cost solar power solutions to customers throughout India.