Team Finest announces first-ever funding for an Israeli eSports team
Backing from U.S. investment group will allow the organization to pay salaries, fund participation in international competitions
Israeli eSports organization Team Finest announced on Monday that it has raised more than NIS 2 million ($600,000) in funding, the first of its kind for a competitive Israeli gaming team. The sum may sound paltry in terms of Israeli startups, but it is significant for an organization like Team Finest. The round was backed by a group of private investors from the U.S. with a lot of experience in the sector. According to Team Finest, the group of private investors is invested in some of the largest companies in the field, including Gaming Enthusiast, a global eSports franchise that consists of seven professional eSports teams.

Team Finest employs 20 people, including 15 professional gamers and two coaches. It competes in four games: Fortnite, Counter-Strike, Valorant, and FIFA. Most of the players are Israeli, but there are members from Estonia, Azerbaijan, and the UK on the team too. The coaches hail from the U.S. and the UK.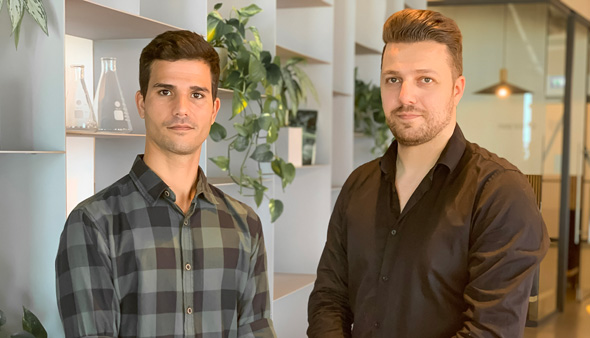 Team Finest co-founders Yotam Nachshon (left) and Ruvik Milkis. Photo: Yossi Levi
"Securing an initial investment enables us as an organization to jump-start our 2021 operations and pay salaries to our players and the rest of the team. We are also earmarking budgets for marketing activities and participation fees for international competitions," said the group's CMO Yotam Nachshon. "For now most of the competitions are being held online because of Covid-19 restrictions. Post-pandemic, the capital will help us fund participation in international events, including to pay for travel, accommodation, etc."
Recent years have seen competitive gaming grow immensely and enter the mainstream. The pandemic has boosted eSports even further. Restrictions on traditional sporting events have driven new audiences to the scene, especially as they became a mainstay on television sports channels, often for lack of an alternative.
According to research firm Newzoo, the global eSports market is valued at just over $950 million, growing from $775 million in 2018 and projected to reach $1.6 billion in 2023. In terms of viewership, in the U.S. eSports has already surpassed baseball and hockey and is expected to surpass football by 2022.
The massive growth has also caught the attention of athletes from more traditional sports, who have begun investing in eSports. Former NBA superstar Michael Jordan invested $26 million in aXiomatic and former soccer star David Beckham is one of the largest shareholders of Guild Esports, an umbrella organization that incorporates several teams competing in various disciplines. Beckham and Jordan are far from alone, the list includes the likes of Stephen Curry, Andre Iguodala, and Kevin Durant. Alongside the pro athletes, sports team owners are investing more and more in the gaming market.