HR Post Covid
Social interactions are part of our DNA, says Accenture Israel HR leader
Even though Covid-19 forced all 100 employees to work from home, Accenture Israel found a way to still maintain its dedication to interactions and work culture
"The value and positive impact on social interactions is a BIG part of the company's DNA," said Shelly Lev-Amado, Head of HR at Accenture Israel. "We in Accenture see welfare activities as a priority."
When its 100 employees suddenly had to work from home in 2020, the company's HR team made changes to make sure the company's DNA was still felt: virtual workouts, standup shows, tools for maintaining a healthy lifestyle at home, lectures, and cooking classes were all introduced informally to help the team bond even when they couldn't talk over a watercooler in the office.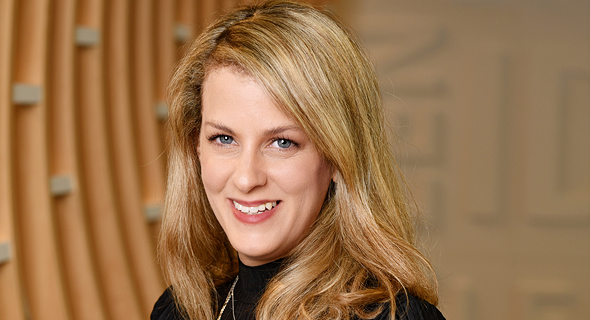 Accenture Israel's HR leader- Shelly Lev-Amado. Photo: Elad Gutman

Shelly Lev-Amado joined CTech for its HR Post-Covid series to explain how the services company pivoted its practices and remained a big part of their employees' lives - both at work and home.

Company name: Accenture Israel

HR Leader: Shelly Lev-Amado

Field of activity:

Accenture is a global professional services company with leading capabilities in digital, cloud, and security. Combining unmatched experience and specialized skills across more than 40 industries, we offer Strategy and Consulting, Interactive, Technology, and Operations services — all powered by the world's largest network of Advanced Technology and Intelligent Operations centers. Our worldwide 506,000 people deliver on the promise of technology and human ingenuity every day, serving clients in more than 120 countries. We embrace the power of change to create value and shared success for our clients, people, shareholders.

Number of Employees:

We have 100 employees divided between the two offices in Herzliya and Kfar Saba. The Israeli branch is focused on all aspects of digital transformation and combining unique talent. We provide Technology and Strategy consulting services as well as Cybersecurity, R&D Labs, and Ventures.

Professional Background:

I joined Accenture as a marketing manager back in 2007. For as long as I can remember, my passion was always the human capital and its impact on how the business works and operates. After five fulfilling years in Marketing and Communications, I had been offered a great opportunity to transfer to another role in the company, which to this day I'm grateful to lead the Human Resource practice in Israel, working side by side with the local leadership to understand business needs and grow current and future talent.

As part of my role, I provide coaching and insights on performance management, resource planning, employee relations, engagement, and retention activities within the drill-site business units as well as the implementation of Human Resources policies, practices, and procedures.

Over the years, I saw how HR practices evolved and shifted the mindset to focus on the employee experience and well-being.

I can honestly say that working in Accenture for over a decade has given me so many career development options and learning opportunities. Being part of such a big corporate (506,000 employees) that knows how to preserve its talent is very rewarding. This is why many of us stay in the company for many years contrary to the local market trend.

On a scale of 1-10, how much did the coronavirus pandemic disrupt operations at the company?

The change wasn't disruptive for us and proved our brand purpose, "Let There Be Change." During the first lockdown, we were focused on managing the situation. Together with our company's global leadership and our local CEO Shimon Elkabetz, we created a plan of working together despite the situation. We established virtual meetups and events and made sure our employees feel connected to the company with our manager's help. We even initiated an internal global campaign, "Staying Connected." The main HR focus is to enrich the virtual employee experience through informal events. We provide a virtual workout, standup show, tools for maintaining a healthy lifestyle at home, lectures, and cooking classes.

The pandemic proved our business resilience and agility. Being a global company, we were already working and collaborating remotely with our colleagues from more than 120 countries, so one can say that we were well prepared.

What interesting technological tools do you use in employee management/recruitment?

As a company that leads technology and innovation that manages more than 500,000 people worldwide, we have a culture of ongoing meaningful conversations and feedback systems to learn about our employees' aspirations and guide them with a professional perspective.

What positive and/or negative impact did the outbreak have on the human capital of the company?

Accenture is a company that encourages transparency, and our employees know and feel that every day through the leadership communications and even more during Covid-19 uncertain times. We didn't cut our workforce. We lead digital transformation in big organizations: cloud, security, etc., so we are planning on growing in headcount. In a way, the pandemic increased the employee's engagement and commitment to the company and our clients.

As a company, our employees are our biggest asset, and we saw that in uncertain times our job is to provide them with stability and demonstrate confidence through transparency by using frequent communications.

What are the two major challenges you are coping with these days?

Our main challenge is together helping the employees navigate in this new era. Workplaces need to do more than implement work-from-home policies to address people's needs.

It is all about changing mindsets. How can I be productive while homeschooling my kids? Are we ever going back to the office? These and many other questions, existing at the intersection of work and life and I, as HR lead, need to address those concerns.

Are you actively recruiting? If so, what is the process, and where can the applicants find you?

We are always looking for talent and, therefore, about to publish a few exciting positions. You can find us on the company website and on social media. Soon after Covid-19 started, our recruitment process became fully virtual and we are obligated to give the candidate a full Accenture experience by being attentive to all applicants.

Which changes forced upon you by the circumstances will stay in place after Covid-19 is over, and which are you most eager to revert back to normal?

The remote work is here to stay but in a more balanced way. Workplaces and employers will have to be more flexible than pre-Covid-19.

The value and positive impact on social interactions is a BIG part of the company DNA, and to that extent, I can say that it supports the business growth and success. We in Accenture see welfare activities as a priority.

We definitely miss the company parties and get-togethers outside the office. I hope they will become a reality soon.