20-Minute Leaders
"People think marketing is just events and billboards, it's not. It's actually a mix of art and science"
Meagen Eisenberg, CMO of TripActions talks to Michael Matias about the three things she focuses on when entering a new company
The success of a company heavily relies on its customers, and Meagen Eisenberg, former VP at DocuSign and current chief marketing officer at TripActions, is at the forefront of consumer acquisition and marketing innovation. Throughout her career, Eisenberg has worked at multiple prominent tech companies and has learned how to effectively build and lead a productive marketing team.
Whether it's training through phone recordings or utilizing a system that monitors website activity, advanced technologies now exist to help train and improve sales teams. Just like technology, the marketing arena is constantly evolving, and Eisenberg thoroughly embraces the challenge of learning how to change and improve her team's marketing skills.
Meagen sat down for an interview with Michael Matias, creator of the 20MinuteLeaders video podcast, and told him about the three key things she focuses on when entering a new company.
Click Here For More 20MinuteLeaders
Meagen, maybe you can give me a little bit of background about who you are and why are you so passionate about marketing.
Yes, since business school, my undergrad was in MIS computer science, but I pivoted to business school to marketing for tech companies and haven't looked back, and I love it. I definitely picked up the skills along the way. I started out in product marketing, switched over to lead generation, demand generation, understanding what it takes to build a pipeline for your sales team, and then more recently as a CMO learning more on the brand and building corporate communications.
I think when you look at companies at that scale, and when you come into a company, there are a few things I am trying to figure out: hiring the right people, because to scale, you need the right skillset and marketing has a lot of functions that are very different, whether it's product marketing, corporate marketing, demand and growth, web systems, operations, and then localization for Europe and Asia.
We have over 25 different technologies, and every company I have entered, whether it was DocuSign, MongoDB, or TripActions, I brought in a lot of MarTech and complemented that with a lot of SalesTech and partnering. That's where you get a lot of insights and data. And you can compete in the market when you know what's going on. Technology helps us innovate; that's why we buy softwares, that gives us a competitive advantage. That's why I love working at tech companies because you really can take markets better, and when you have information, you know what's working and what's not working.
Talk a little bit of this notion of lead generation. Why is this such a difficult and complicated subject?
When it comes to the scale, that's getting to the masses, and the masses don't always find the products the same way. Sometimes they read about it, sometimes a friend tells them about it, sometimes they see it on social media, sometimes you email them, or sometimes they are in an event. You have to figure out the persona you are targeting that's most likely to buy your product and get in front of them, so they are aware of you and then they take action. The marketing job is to understand who the buyer is, why they buy you, and then get in front of them. You are fishing out in a big ocean. You get to figure out where the fish are, you have to have the right bait, then you have got to bring them in and hand them off to scales to close them.
Is that the same process when you are a 20 person company or when you are a 200 person company? Is it the same sort of pipelines for trying to get the sales?
No, it's actually not. Just the same idea that you need to understand the persona you are targeting. When you are at a 20 person company, that's hand to hand combat. That is who you know in your network that can help you get introduced to the first 10, 20 companies that become customers, so it's very targeted and direct relationships. You usually have someone in Biz Dev or sales who has got this relationship with the target audience, whether it's finance, IT, or HR, depending on who you are selling to. You get in and you solve the problems. You are still trying to figure out product marketing fit in the beginning. So, do you know what is the core reason people are buying? You really don't know that when you are a 20-person company. You might get some bluebirds, you might get some stuff, but ultimately the product's going to pivot and shift around until you lock on something that many people want to buy. You really don't know in the early stage.
At what point do the sales start to dramatically impact the progression of the product?
If you have a lot of at-bats, a lot of conversations, a lot of demos, failures, and successes, you start to get familiar with the product. When you are scaling, you often bring in new reps who don't know the industry; they are just good at selling. It's your job in product marketing and sales enablement to train them or to bring in sales engineers who really deeply understand the industry and the product to help support them. Part of marketing and sales is to get your reps to be productive, and being productive is really knowing, so, there is sales training, there is ramping, and there is a knowledge base you have got to transfer. The faster you can do that, the better you are going to do in sales.
Are things going to change dramatically now in the way of selling B2B as a result of new social norms due to Covid?
Of course, things have changed in the short term. I don't think that's a long term change. There is an Oxford study that found for every dollar spent on travel and going to an in-person meeting, you return 12 dollars in revenue. It's hard to build a relationship over a virtual conference. People will get back to meet in person, C-level executives will travel. As soon as you are in a deal cycle, you are about to lose a customer to a competitor, I guarantee you are going to get on a plane and go fly, especially when it's an enterprise customer, to me, you are not going to wait for that. We have customers already traveling; there are industries—healthcare, retail, manufacturing—they are all out on the road traveling. Tech is sitting a little bit back on the sidelines because I think we are tech-savvy and we are all over the technologies that are out there, but folks are out there traveling. In the spring, maybe in winter, if vaccines start coming out, the comfort level goes up, and we have more and more knowledge every day, people will get back to travelling. Maybe it's 50% in the next year, or within a year and a half, it's back to full.
You keep talking about this idea of evolution and being able to be on the top of the game and being at the forefront. How do you personally do that?
I have advised over 25 companies. That's one way I keep up with what's going on because many of these companies have a limited budget, they are growth hacking, and I get a lot of ideas and see a lot of things that you could do without a lot of money. Secondly, I have a pretty good network with other heads of marketing, VPs of marketing, and CMOs. I exchange ideas with them all the time. There are a lot of office hours and networking going on there, and then I'm constantly following consumer brands. I think of how something got my attention. Whether it's in retail, in activities, and things for my kids, they are always giving me ideas. It's a mix of things that you see and hear, and I have a team of almost 30 people that is always coming up with new ideas that have different experiences.
What are three words that you would use to describe yourself?
It's executive mom, being in tech, and hard-working.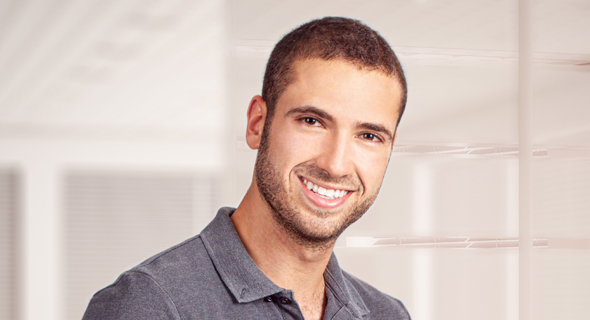 Michael Matias. Photo: Courtesy
Michael Matias, Forbes 30 Under 30, is the author of Age is Only an Int: Lessons I Learned as a Young Entrepreneur. He studies Artificial Intelligence at Stanford University, while working as a software engineer at Hippo Insurance and as a Senior Associate at J-Ventures. Matias previously served as an officer in the 8200 unit. 20MinuteLeaders is a tech entrepreneurship interview series featuring one-on-one interviews with fascinating founders, innovators and thought leaders sharing their journeys and experiences.
Contributing editors: Michael Matias, Amanda Katz