Survey: 70% of eCommerce companies prioritizing site performance improvements for 2021
According to a study by Israel-based Namogoo and Astound Commerce, companies have finally realized that remote shopping and online purchasing are here to stay
A new study from customer hijacking prevention company Namogoo Technologies Ltd. has revealed that 70% of eCommerce companies intend to make their site performance a number one priority in 2021 due to Covid-19 and the acceleration of the industry brought on by the pandemic.
The study suggests the consumer shift to online shopping was expedited by two years due to social distancing and lockdowns taking place, with customers trading the high streets for websites. Research from Namogoo shows that eCommerce sites are not fully prepared for the long-term effect of Covid-19 and will be investing in their platforms to improve their user acquisition and Customer Lifetime Value (CLV).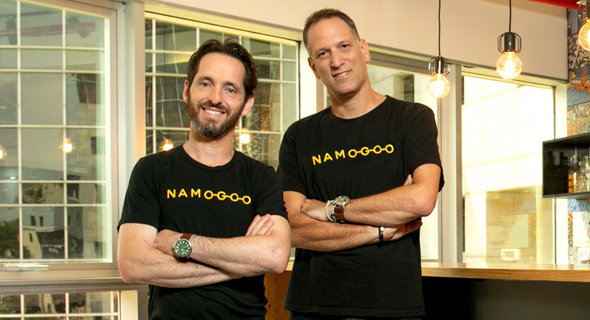 Namogoo co-founders Ohad Grinshpan and Chemi Katz. Photo: Efrat Sa'ar

"In March, the whole world stopped, and during Q2, people still thought it was something that would go away in July," said Chemi Katz, Co-founder and CEO of Namogoo when speaking to CTech about Covid-19. "In July, (retailers) understood it was going to take much more time. We will see people still working from home or using a hybrid model and because they can't go out and buy in stores, but they will continue to purchase much more in the digital world."

Namogoo helps online businesses lower their risk of losing their customers by identifying and blocking unauthorized adverts, or 'hijackers', who seek to divert them to competitive sites and reduce conversion rates for sellers. In 2020, it became a top priority for 58% of participants that their CLV is maintained - in fact, 'a retained customer is more important than a quick conversion', the study deduces. Out of those surveyed, 52% of companies estimate that first-time shoppers will be more than 25% of their visitors in 2021.

While 70% of online businesses are investing heavily in the performance of their websites to attract and retain customers 52% of companies are investing in personalizing that experience, followed by 51% of those focusing on omnichannel optimization and 47% on product discovery and search options.

"Personalization is obviously a priority in order to be competitive, and the need to be competitive since Covid-19 has taken heightened importance," added David Abbou, Namogoo's Content Manager who conducted the research. "The users and customers are changing. You now have a major growth in first-time shoppers since the pandemic began... Having the data you need to personalize for first-time customers is a challenge. You need to be able to have a quick ability to collect the right data, to personalize effectively, and give them that experience.

The study was conducted in November 2020 and interviewed 100 senior eCommerce managers from 100 enterprises. They came from more than 11 industries, including electronics, specialty goods, home improvement, health and beauty, and department stores. The study was co-written with Astound Commerce, a digital commerce specialist with more than 1,200 experts in digital strategy, design, and marketing. Namogoo was founded in 2014 by Chemi Katz and Ohad Greenshpan (CTO), and has so far raised $69 million, according to Crunchbase.