Food For Mood: How myAir blends natural ingredients with artificial intelligence to manage stress
The company tracks your stress levels and provides personalized nutrition bars for your mental and emotional health each month
Israel-based myAir has developed what it calls the first nutrition bars that are scientifically proven to reduce stress - something that was undeniably felt by most of us in 2020. Based on super plant adaptogen extracts, myAir bars can help those feeling anxious or stressed based on their mood or behavior.
"Stress is the global silent killer," explains Rachel Yarcony, Founder and Co-CEO of myAir. "Many people don't talk about it, really, but most of us are suffering from stress." According to Yarcony, stress has a $300 billion effect on the U.S economy and is the number six killer in the world. After leaving a stressful job as VP of Marketing at the pharmaceutical company Teva, she founded myAir with her husband, Dovev Goldstein.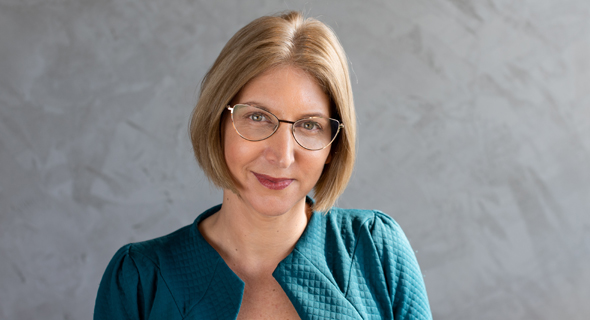 Rachel Yarcony Founder and Co-CEO of myAir. Photo: myAir

myAir's solution to stress is data-driven nutrition. The company claims it has developed a series of food bars that can be consumed to reduce stress levels. The bars are plant-based, vegan, and all-natural, and the company leans heavily into data insights from wearables to make sure you get the ingredients you need.

"The future of digital health is wearables," Yarcony asserts. She compares blending our stress with our diets to the adoption of GPS services. Five years ago, you didn't need a map to drive from your home to an office. However, today "the computer will always dictate routes better than you. The same is with the future of food. Big Data is going to control our decision making."

The process of signing up with myAir is relatively simple. After taking a 3-minute test online, the company sends personalized food bars right to the consumer's door based on those initial tests (this CTech reporter was recommended 'Calm Green' and 'Comfortable Blue' bars due to ranking high in restlessness and muscle tension). As the month goes on, your mood, heart rate, and sleep patterns are recorded via a Garmin or Fitbit device. Each month, new and different bars are sent to you based on whatever happened to you that month and how it made you feel.

"Since stress is an ongoing problem, we offer an ongoing solution," she tells CTech. "Every month you get the box that you need." In total, there are 36 different options since myAir sends two of the six different flavors depending on what your body is telling them what you need.

CTech received a tester box of 10 bars to taste and try, including 'Relaxed Purple', 'Sleepy Gray', and 'Focused Yellow'. Each bar has a base of Dates and Nuts, but then each variety includes ingredients like Passion Flower, Rosemary, or Sage. Although Yarcony warns that it takes a few days to 'kick in', the 95-calory bars did help contribute to a more calming and focused week - although it's hard to tell if the placebo effect also played a part.

"Food for Mood is the future for food," Yarcony tells CTech. "The first phase of nutrition was taking out sugar, salt, or oil. The next phase was 'functional' food - food that works for you. This is the phase of personal food."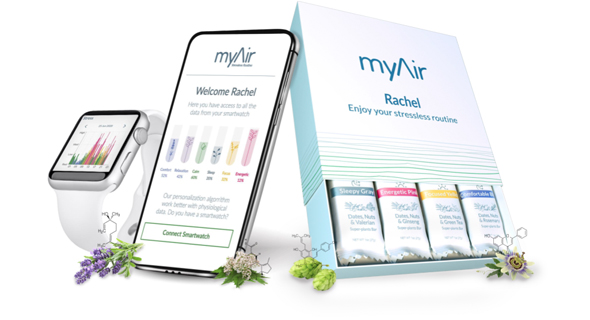 myAir blends natural ingredients with artificial intelligence. Photo: myAir

myAir currently only ships its bars within the United States from its facilities in California and Israel but has plans to expand to Europe and Japan. The cost of each box of 20 bars is valued at $40 dollars and while myAir cannot disclose how many paying customers it has, Yarcony confirms that it's in the thousands.

2020 may have been the perfect time for a company like myAir to flourish. Millions of people stuck at home and having relaxation nutrition bars delivered straight to their letterbox as they hide from a virus. If we weren't stressed before, we sure are now.

"Our stress is really creating an influence on our health and body all the time. If we don't manage it, it will manage us," she says.