Israeli Foodtech company Amai Proteins wins "Call for Wellness Innovations" award at the Global Wellness Summit
Broadcasted remotely from Palm Beach, Florida, the Israeli company beat out finalists from the U.S., Italy, Canada, and other Israeli rivals.
Designer protein company Amai Proteins Ltd. was the proud recipient of the first-ever "Call for Wellness Innovations" award at the Global Wellness Summit in Palm Beach, Florida. The event, which was held mostly online and sponsored by Israel's Welltech1, celebrated wellness trends and how the startup world can help us live happier and healthier lives.

"We are humbled by this vote of confidence," said Amai Proteins upon receiving the honor. Other finalists included Israeli companies Amkiri, FitV, and Kai.ai. In total, there were more than 80 companies who submitted their ideas for how their products can improve wellness around the world.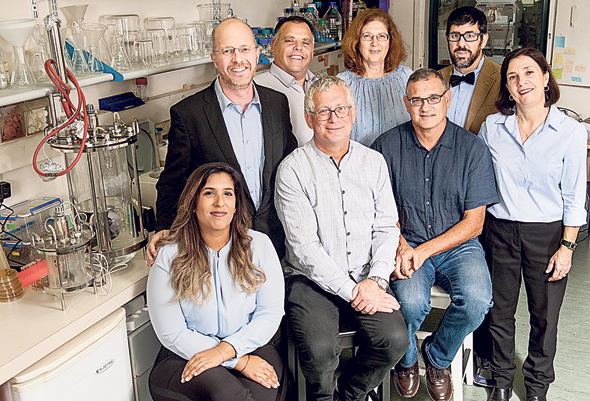 The Amai Proteins Team. Photo: Chana Nudelman Faust

"On behalf of the Global Wellness Summit and Welltech1, it is our pleasure to announce the winner of the first-ever Call for Wellness Innovation," said Welltech1 co-founder and CEO, Amir Alroy. "I really think we are in a historic time of both creativity and investment and this contest as part of the pavilion is the proof for that."

Amai Proteins is helping transform the food and beverage industry by providing 'designer' proteins that act as sugar supplements. The company takes sweet proteins from the equatorial belt and applies Agile Integrative Computational Protein Design (AI-CPD) and fermentation to make proteins suitable for mass food markets. Founded by Ilan Samish in 2016, the company has raised $2.5 million to date.

Judges from Israel and the U.S. reviewed the nominees and included Maccabi's CTO Ofir Frank, Welltech1's Co-founder Amir Alroy, and Facebook's Head of Lifestyle and Wellness Vertical, Hadas Spektor.

Welltech1 is a fund and innovation hub dedicated to the merging of technology and wellness. It has supported a myriad of companies and acts as a general gateway between technologies and 'Startup Nation.' It is the sole sponsors of the Innovation Pavilion, and the Global Wellness Summit will arrive in Israel for the first time next year largely due to their assistance.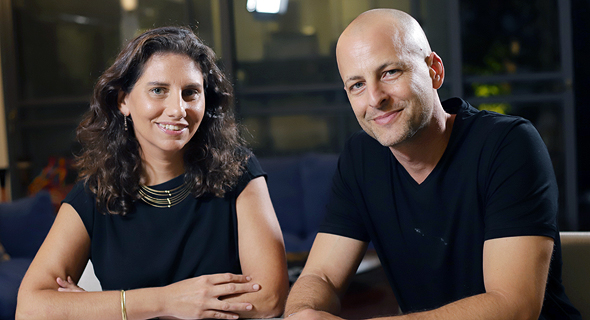 Welltech1 co-founders Amir Alroy Galit Horovitz WellTech1. Photo: Pola studio

As well as the "Call for Wellness Innovations" award, the Global Wellness Summit, which ran for three days, hosted a 30-minute 'special presentation' dedicated to 'Wellness Technology: Startups from the Startup Nation'. Presented and moderated by Welltech1's Alroy and Galit Horovitz, it included short presentations from Israeli companies dedicated to wellness and health. The following companies took part:
FitV is a social app helping users plan and implement training sessions individually or with their peers.

Fitto helps people design and drink personalized nutritional drinks and shakes, depending on their unique diet or requirements.
Newt is an AI-powered personal sports nutritionist that helps people reach their specific goals.
Seatback is a smart chair that helps users with their posture and reminds them to take regular breaks intervals
ToLive smoothies are vegan protein smoothies that are pre-powered - all that's needed is some water and a quick shake.
Amkiri is 'the world's first visual fragrance' whereby users can apply a tattoo-like design on their body that emits smells and fragrances.
Day2 offers precision nutrition and helps raise awareness of the importance of balancing sugar levels for each individual
Calmigo is a drug-free breathing device that regulates breathing in stressful situations and provides 3-minute reliefs when users feel overwhelmed by life's challenges
Popbase is a wellness-focused, subscription-based, interactive educational experience for children and caretakers. It combines TV, video, and social media to offer wellness activities.

The Global Wellness Summit is an international organization dedicated to creating a conference for visionaries that can share their ideas for solving problems facing our future. Since 2007 it has run discussions, panels, breakout sessions, and conversations from visionaries and entrepreneurs. Due to Covid-19, its 2020 summit was a hybrid model where participants were split between in-person and virtual attendance.